Dordogne Region Day 5
October 8, 2008
The Longest Day...
We are up early with the plan to be at the Chateau to meet everyone by 8 AM. Because of this, we have arranged an early breakfast with Caroline and when we get up and go out into the common room, there is our fabulous breakfast all neatly laid out for us. There is coffee, tea, juice, yogurt, fruit, all sorts of jams, butter and freshly made fruit bread. She apologizes because there is no baguette; the local bakery does not open until 7:30. Pah! Who needs baguette when you have all this?
The plan for today is to drive all the way to the Pauillac region to visit the Chateau Lynch Bages winery. We have an 11 AM appointment for a tour of the Chateau and the winery for a tasting. Obviously getting a large group of people together early in the morning is a challenge. Ultimately, there will be 10 of us going in 4 cars and the trip is supposed to take 2.5 hours. Three of the cars have GPS and of course, ours does not, so we will be following and will have Morton's large Michelin map book for all of France with us. In addition, Chris has hand written 2 pages of direction for us from his GPS unit.
Finally, around 9:30, we all set out together and for the first 20 minutes or so, everything seems to be going along by the directions with Chris and Morton in the lead car. Then, suddenly, we are not following the directions we have. I look at the map. Nope. We are not on any of the roads listed. Hmmmm, what to do? Everyone seems to be going along, so we follow. I can see we are going in the right direction in general, but at some point we need to head south to hit the main autoroute. We don't.
After about an hour, we need to make a pit stop, but there's no way to communicate with the other cars and we have no pre-arranged signal. We see a Intermarche and decide to stop there, taking off on a round about, flashing our lights. They keep going. We figure, we have a map, we can catch up! Our stop takes less than 5 minutes and we are back on the road again. We immediately take a wrong turn and realize we are on the wrong road. My mother makes a u-turn and almost gets us creamed by a semi. At this point we are pulled over on the side of the road looking at a map when we hear "beep! beep!" It's Carl and Kathy and they have come back for us, bless them! How they found us, we'll never know, but we can't thank them enough, because with out them, we would have been hopelessly lost.

We spend a lot of time following this little silver car, but really,
I took this photo for my friend Tris.
We continue to follow them, and while doing so, I am following the map. I can't figure out where we are going because it looks like we are headed straight for water and there is no bridge! Eventually, we get to the end of the road, and it is a town called Blaye. Blaye looks to be a cute town, and the local market is in full swing as we drive by. But unfortunately, they do not have a bridge to Pauillac and there is a large body of water, the Gironde blocking our way. What they do have is a ferry, for which we have missed the morning crossing, and the next one is not for another 6 hours. Our only option is to go south to Bordeaux so we can go north to Pauillac At this point I am seriously considering staying in Blaye and going to the market. But there are people waiting for us, so we push on, knowing full well we are hopelessly late. Our only consolation is that most likely the other two cars are as well.

Vineyard at 65kph.
It's around 12:30 when we finally arrive at Lynch-Bages winery. It's closed for lunch and we have a hard time finding anyone. Finally, we find someone who confirms that yes, we missed the appointment as did the other group. At first we have no idea where they've gone to, but then we learn they have tentatively rescheduled the tour for 4:30 and they've gone to a local restaurant for lunch. One which just happens to be at a Michelin 2-star Relais & Chateau hotel and restaurant called Cordeillan-Bages with chef Thierry Marx.
Back in the car and we drive about a half mile to find the hotel. We walk in and the restaurant is in the back. We have to wait at the front desk, feeling a little like the country cousins come 'a callin' while someone goes and gets Chris so we can find out what the plan is. We're told that we need to hurry if we want lunch because it's almost over. It seems to take forever and a day but finally, Chris comes out in his orange t-shirt and jeans and suddenly I don't feel so Beverly Hillbilly (I'm happy I decided to wear a nice jacket and pants today). He invites the four of us to be their guest for lunch. Unfortunately, the 6 guys have already been seated and have started their meal so we have to sit at another table.
The dining room is light, airy, and very gracious, with french windows overlooking the vineyard. The service is absolutely impeccable and everyone, from the servers to the bussers to the Sommilier speaks perfect English and can answer questions in detail about anything on the menu. The only awkwardness in the service was a Sommelier who seemed at a loss on how to recommend a "reasonably" priced bottle of wine.
And the menu! Whew! It's presented in a small blue square card stock cover which opens to a black and white photo of a slice of onion. Then, it opens further and there's the menu on creamy white paper, in French only with appetizers ranging in price from 40 to 48 euro, main courses 45-60 euro and desserts at 25 euro. Somehow, that makes the 3 course menu (any two courses plus dessert for 90 euro) seem like a relative bargain. We all opt for the menu since that's what the other guys are doing as well. Because the menu is only in French, we are taken through each offering by the server with a full description in English. The meal ends up being much more than the 3 courses we each order; there are multiple amuses, plus 2 extra desserts, plus petit fours. By the end (heck, by my main course) I am stuffed to the point where I cannot even contemplate a wafer thin mint. I really tried to pace myself, but it's so hard not to try everything.
I did not take notes, but I did take photos of almost every course and plate. I also have a copy of the menu. I will do my best to recreate it for those of you who are foodies and are interested in the details on another page.
For full copies of the menu and photos, course by course, go to the Day 5 Lunch Page.
The four of us, Kathy, Carl, my Mom and me, have a wonderful and fun time together over this meal and I can't even begin to thank Chris and Morton enough for their generosity.

Barrel room.
After such a big meal everyone pretty much decides they are too wiped out to do the tour of the winery and chateau. So, four of the guys leave to drive back to Ch. Marouatte and the rest of us recuperate for a while in one of the sitting rooms of the hotel. Then we go back to the winery so Chris can see about buying a Magnum of their wine for a friend. At this point, all I want is a nap, but we end up getting an abbreviated tour of the inside of the winery and a short tasting of two of their wines.

Lynch-Bages wine tasting room.
After the tour, Carl and Kathy say they are going to drive to Bordeaux, walk around and have dinner. Mom and I decide to follow Chris and Mort back to the Ch. Marouatte because they have GPS and we don't feel like trying to navigate another city. So once again, it's back in the car with the map, playing "follow the leader".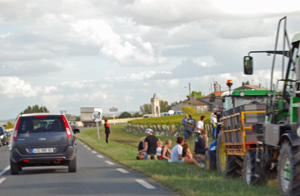 Scenes from the harvest.
On the highway going around the city of Bordeaux, we encounter a massive traffic jam because of an accident. I wish I could say it was a surprise, but we actually crossed over the highway and saw it, and yet decided to get on it anyway.
"How bad can it be? We only need to go about a mile on this road, according to the GPS." How bad? Really bad. It takes us almost half an hour to go one exit and we have to get off because Chris needs to get gas. Oh, and beware that not all French gas stations take US credit cards. They have to try two and eventually just pay in cash.
This endeavor takes almost another half an hour and we end up getting back on the highway in the same place we got off. Oh yeah, and it's raining!
Finally, we make it to the auto route toll road and we're able to go very fast for most of the way back.
Ultimately, it takes us almost 4 and a half hours to get home.