Paris Day 8
October 11, 2008
This morning we get a late start, but the goal is to head up to Montmartre. We take the metro to the Anvers station and walk up the uber-touristy street which leads to the Place Sainte-Pierre at the base of the Basilica Sacre-Coeur. Rather than taking the little tram, we walk up and up and up the steps to the church. Along the way, we can see they are setting up fireworks for the annual food and wine festival tonight.
When we get to the top, the view is enshrouded in clouds. There are already dozens of tents set up for the festival all around the perimeter of the church. There are wineries, bakeries and all manner of food vendors selling tastes. A foie gras sandwich can be had for 7 euro. There's a vendor selling raclette, another with a 6 foot wide pan filled with sausages and onions, and another selling oysters and wine together. But it is too early in the morning for me for wine and the foie gras or sausages just sound too heavy so we opt for a simple baguette with some tasty salami instead.
It's already very crowded here and we try to get inside the church for a look around, thinking it might be a respite from the hoards. It is not. The Basilica is full of people moving at a snail's pace in a clockwise motion around the church, snapping photos inside even though there are signs asking people not to. This is a pet peeve of mine. I want to take photos too, but I follow the rules. Why can't they?
We walk back down to the base of Montmartre where the carousel is and there are half a dozen young African men accosting tourists wanting to tie string bracelets on their wrists. They will then ask you for money, even though they say the bracelets are "for friendship". It never ceases to amaze me how many people fall for this and then stand there and argue with these guys. People really need to learn how to forcefully say no and walk away.
We decide to walk a bit down Boulevard de Rochechouart and check out all the Tati discount stores. We buy nothing and get on the metro at Barbes-Rocheechouart and go back to the 4th. We spend a little time looking for a cafe I have on my list, but aren't impressed with the menu once we find it. Instead, we settle for a seat at an outdoor cafe near the Hotel du Ville and have a mediocre lunch of goat cheese salad, omelette and a carafe of wine (26 euros). It feels nice to sit outside in the sun though so it may have been worth it.
After lunch we walk over to the Paris Photography museum (5, Rue de Fourcy, 75004 metro St. Paul or Pont Marie). This is a small museum located in an old mansion with exhibit rooms on 4 floors. It's very interesting and there is both a small permanent collection, and a larger series of temporary ones. There was one about shoe fetishism and a rather disturbing one with photos of people with raw meat in a room in the basement when we were there. Still, it's worth a trip if you are into Photography.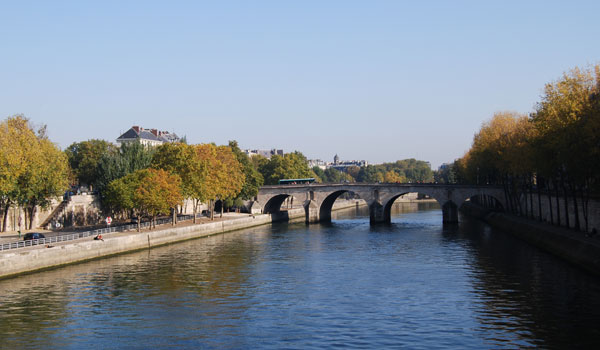 After the museum we wander the Ille St. Louis for a while and stop for a Bertillion ice cream cone. Honestly, I am not impressed with my Salted Butter Caramel; the scoop is miniscule for 2 euro and it's just not as fantastic as everyone says it should be. We walk back to the hotel to have a rest and stop in a tiny church which I think may be Saint Gervais (from looking at my map).
After our rest at the hotel we set out walking to get to the Vendettes du Pont neuf boat trip for the 7PM boat which would be perfectly timed for a sunset trip. Along the way, Mom wants to have a coffee and we stop by several Starbucks to try to get her one, but at each one the line is out the door! Who knew it was so popular and what happened to "cafe culture"?
I'd printed out a discount coupon from the boat company's website and this saved us 2 euro each. If you buy your tickets on line in advance you can save 4 euro per person. While the tour is touristy, we really enjoyed it. It only lasts an hour, the perfect amount of time to go up and down the river and see all the beautiful buildings as the lights come on.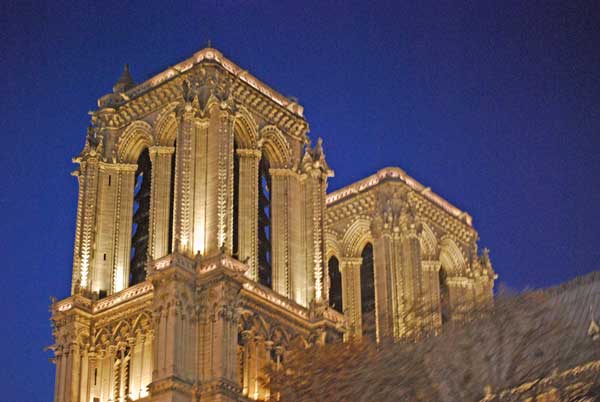 By the time we get off the boat we are hungry and want to check out a restaurant called L'Entrecote which serves, you guessed it, steak. That's all that's on the menu, steak, salad, fries. The address I had was in the 6th so we walk there from the boat and when we arrive, the line was down the block. People in line said they had been waiting quite a while and the line was not moving. We abandon our plans for steak and go to the restaurant next door, the Restaurant-Brasserie St Benoit, not wanting to march all over Paris in search of our last supper. The meal was decent, not spectacular. I got my steak frites and Mom had duck.

Grom Gelato~I was too busy eating to get a photo of the actual gelato!
The last stop on the food tour was Grom Gelato which I had read about on www.davidlebovitz.com . This was the best gelato of the trip! I had the Salted Butter Caramel again and it is served with Pink Himalayan Salt (ask for extra). It was fantastic; much better quality and value than Bertillion for 3.50 euro a scoop.
A note about David Lebovitz ~his Paris blog is fantastic fun if you are into food and cooking and want to read about a US expat Pastry chef's life in Paris. In addition, his recipe for Salted Butter Caramel ice cream is the best I've ever made. His books can be found on my Amazon Cookbook Page..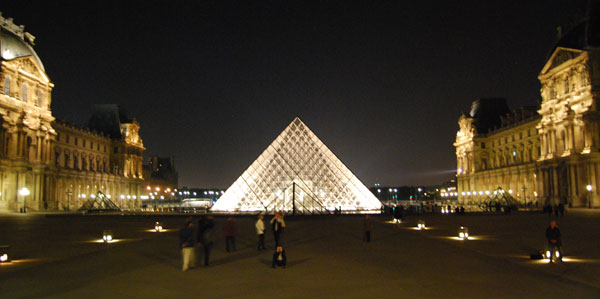 We ended up walking back to the hotel the long way. I thought we could cut through the Louvre and somehow we got a little turned around inside. But it was a fortunate misfortune as we got to see the pyramid all beautifully lit up at night.
Go to flight home...