Paris Day 1
October 4, 2008 $1=1.38 euro
Once on the train, I turn on my phone and call my mom's international cell. She's on a train from Germany, headed to Paris and picks up right away, though our call gets dropped after about a minute. She's not scheduled to arrive until 9:50 am at Gare de l'Est.
At the St. Michel RER stop, I switch to the #10 line and get off a few stops later at Cardinal Lemoine. It's 7:50 am and I walk purposefully out of the metro station and 6 blocks in the wrong direction! When I hit the Blvd St Germain, I realize I'm in the wrong place and take out my map. Now I have to walk about 10 blocks back up Rue Cardinal Lemoine dragging my bags in the opposite direction. Uphill. By the time I reach the hotel, the Hotel des Grandes Ecoles, I am sweating even though it's only about 45 degrees outside.
The hotel has a beautiful courtyard filled with flowers. Of course, it's too early for me to check in, but the lovely young woman at the desk says the room is vacant and just needs to be cleaned.
Suddenly, I am exhausted and can't fathom going back outside in the cold, let alone all the way to the Gare de l'Est to pick up my mom. I try to call her but we get cut off again so I call David and check in with him. I try to send texts to my mom, asking her to take the metro to the hotel and I will meet her at the Justeau metro stop. But I'm unaccustomed to this phone and inadvertently send the texts prematurely with only a few letters. Later, when I check my phone bill I will have spent $18 that day, much of it by mistake.
Because I don't feel like going out in the cold, I sit in the hotel's office/lobby on an uncomfortable chair outside the dining room where people are breakfasting. It seems like many of the guests are American. I feel like people are looking at me because I'm just sitting there, but I'm sure that's just jet-lagged paranoia creeping in.
Finally, when I think she should be arriving, I walk down to the metro stop to meet her and buy a croissant along the way. I wait, I take pictures of the area and I wait some more. I walk down the street and buy the International Herald Tribune and read it in the square. Finally, I call her and she's still at the train station trying to buy a metro ticket!
Eventually, she makes it to the square and we walk back to the hotel where our room is finally ready.

Justeau Metro stop
Our room is very small and on the back of the hotel. There's no TV and no refrigerator. The bathroom is tiny and the grout could use a good cleaning. Wall to wall floral wallpaper and drapes. Beds are not new, at least not this decade. But it's cute and in a good location. In the summer it would be lovely to sit in the garden, though there's no AC in the rooms. We almost never see the same person at the front desk. Most of them are helpful and nice, but not all. There is internet for a fee and it only works sporadically and has a very weak signal in the room. This later becomes a great source of frustration.

Lots and lots of flowers...
We decide to go out, because if we do not, I will lay down and never get up. So, what's the first thing we do in Paris, a city my mother has never been to before? Do we go to Notre Dame? No. Do we walk down the Champs Elysees or see the Arc de Triomphe? No. The Louvre? Non! We go to a market, the Saxe-Breteuil market to be exact.
The Saxe-Breteuil market is in the 7th, on Saturdays and Thursdays from 7:30-2:30. From the market, one can see a bit of the Eiffel Tower, so I guess it was a little bit of a "touristy" thing to do. The market is lovely, filled with all sorts of food vendors (meats, cheeses, produce, fish, wine) and a few vendors selling clothing and jewelry. I'm so tired I walk through it like a bit of a zombie, but not so tired I can't buy a cool 5 euro scarf.

From the end of the market toward the Eiffel Tower.
From there, we want to find a place for coffee or lunch, but it's getting late. We walk around the Ecole Militaire and the Invalides toward the river. We just want something light and most of the restaurants seem to be pretty expensive in this area. Unfortunately, all my research has not paid off this time and my notes fail me; I have nothing suitable for lunch for this area in them. We walk down the Rue Saint Dominique and check out all the cute little shops and restaurants.

Invalides
Finally, we end up at a cafe on the corner of Rue Saint Dominique and Blvd de la Tour Maubourg called Le Centenaire. All the side walk tables are filled. This itself is not unusual, but what is odd, is that the tables are filled with people who have giant dogs with them. The dogs are all the same breed and all about the size of a St. Bernard. I wish I'd taken a photo, it was almost surreal (or at least it was to me in my fogged-out jet lagged state).
I order a salad with smoked fish and Mom has an open faced sandwich with ham, cheese and and egg, all grilled and melted. Both are good, but my salad is so big I cannot finish it. So much for those "small" European portions. Lunch, including a glass of wine and a bottle of Pellegrino is 26 euro.
From there we walk up to the river and down along the Seine for a while until we come to the metro stop at the Musee D'Orsay where I finally figure out I have to go back to the hotel to take a rest. In the metro, the ceiling at this one is covered in a beautiful mosaic.
Notre Dame:

Gargoyle detail.
After a rest, we walk over to Notre Dame. The plaza in front is filled with people and there is a huge line to get inside. Suddenly, I smell incense and from right side of the church comes a procession of white robed priests. There must be at least 300 of them.
We have no idea what's going on, but we get in line with everyone else to go inside the Cathedral. This is where the Catholic Church excels; pomp, pageantry, incense, magic which is all broadcasted on TVs inside the church to the faithful and the tourists alike.It is so crowded inside that we cannot see anything except on the monitors so we decide to go and come back another time.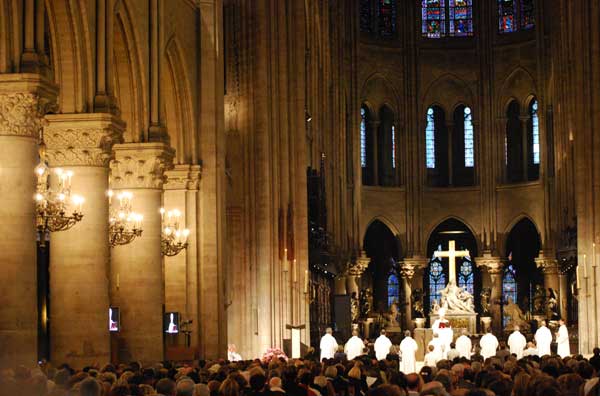 Once outside, I look back and notice the two center doors are wide open, giving a view all the way to the back of the Cathedral, something I'm not sure I've ever seen before.

Center doors, open.
Le Volcan:
For dinner, we go to a place recommended by the hotel called Le Volcan, only about 2 blocks away. Earlier in the morning, I'd heard someone checking out say, "we loved that restaurant you recommended so much we went there twice!".
Le Volcan (10, rue Thouin, 75005 Paris, 01 46 33 38 33, www.restaurant-levolcan.fr)
has an 18 euro, 3 course menu which turns out to be one of the best values of the trip.
Mom has Foie gras (+4 euro), salmon, and cappuccino ice cream and I have escargot (yum, garlic and butter!), a "gratin de aubergine" which is a ground beef and eggplant casserole (sounds odd, but it was really good) and a chocolate "charlotte" for dessert. The other diners are mostly French with a smattering of English speaking tourists. There is a table of six (French, locals I assume) which comes in shortly after we arrive. They are all attractive and tres chic, but
one of the men with them is so good looking in that effortless-5 o'clock shadow-too sexy
-French way that it's almost painful. It's hard not to stare and my Mom and I just laugh and wonder if it's legal to be that gorgeous.
Dinner for 2 was 57 euro including a glass of champagne (8 euro) and a 1/2 bottle of Sainte Madeline Cotes du Rhone (12 euro).