Dordogne Region Day 4
October 7, 2008
43 Indians on a Train...
We are up at 5:45 AM and out on the street for our pre-arranged taxi at 6:45. Unfortunately, there does not seem to be a convenient or easy to get to Gare Montparnasse from our hotel at that time of the morning via public transportation. It would be two metro line and a long walk. At the hotel, they told us when we booked the taxi there would be a surcharge for the early morning pick up and the meter would start running from where ever the cab came from to pick us up. There would also be a bag charge.
There's 11 euro on the meter when the cab arrives. Yikes.
The total cost for the trip to the train station is 19.5 euros.

Gare Montparnasse.
Once inside the station Mom gets a coffee and I get a croissant. There are dozens of little sparrow birds flying around inside the train terminal and they are quite aggressive when it comes to crumbs. In fact, after one keeps getting the crumbs I toss mid-flight, I hold out a crumb and the bird takes it directly from my hand. I wish we'd taken a photo, but sometimes I just try to enjoy the moment.

Gare Montparnasse.
We get on the train, #8507, TGV to Angouleme and points South. My first impression is, "these trains aren't as nice as the Spanish AVE high speed trains. Nor do they have the same airport- style security they have in the Madrid train station. I noted the security difference back in 2005 and I'm surprised it's still so lax compared to Spain. Then again, they did not have terrorists blow up their trains here in France.
The car is empty and then suddenly the door at one end opens and a mass of people begins to spill inside. They are all chattering away, loaded down with luggage, looking at tickets, stopping, clogging the aisles and all are dressed as if on expedition in the Swiss Alps with knit caps and scarves. They are obviously a tour group as they have matching caps or bags with the same logo on them. It's chaos.
A woman in her late 20's, along with her mother, takes the seats in front of us. She is wearing a t-shirt and Levis, the only one not dressed for the arctic. I ask her if she speaks English and where they are from. She explains they are all from India, specifically the hot southern part called Kerala, which explains the winter wear, even though it's only about 50 degrees outside. I ask if they are on a tour and she replies "Unfortunately, but now I am regretting it."
She is clearly embarrassed by her tour companions, most of whom have obviously never traveled out of their country before. There are 43 of them and they are on a Catholic tour of holy places. They are on their way from Paris to Lourdes. After that, they will go to Rome and Israel and Jordan. It exhausts me just to think about it.
She says the chaos is because the tickets the tour company gave them only have the car number on them, no seats, so no one knows where to sit and they keep having to move as other passengers board. She's very sweet and I would have enjoyed talking to her more, but unfortunately they have to move seats again before I can ask her where she learned such perfect English, including such colloquial phrases as "musical chairs".
The trip to Angouleme is uneventful after that, save the non-stop movement of the Indian passengers which included videotaping the entire train car, walking up and down the aisles sharing a big bag of spiced snacks and the afore-mentioned "musical chairs".
At the Angouleme train station, the EuroCar office is across the street. We roll on over there and the woman behind the desk is incredibly rude. I think she is pissed because we don't speak French. Or maybe she's just not a nice person.
She says "The car is brand new. You must return it perfect! It must be as clean as when you pick it up today or you will be charged". Since when do you have to wash and vacuum a rental car before returning it? But sure enough, there is a stamp on the contract that if the car is not clean we will be charged a "cleaning fee". We later learn this same woman is rude to some of our friends who pick up a car in the same place.
I have printed out Google Map instructions for every step of the way between Angouleme and Grand Brassac.
We set out from the parking lot and promptly get lost within 3 blocks.
We drive in circles around Angouleme for about a 1/2 hour until by some miracle, we end up on the right road out of town. In the end, we miss many more turns and it takes us 2.5 hours to go what should take an hour.
At one point, we stop at a Carrefour and I introduce my mom to the joys of the french Hypermarche. Kinda like a super-wallmart and always a toilet when you need one. Also a good place to buy clothes, food, house wares and have a meal in a decent cafeteria. David and I stopped at many while doing our RTW trip because the cafeteria meals were a really good budget option.
Finally, we arrive in Grand Brassac and find our B&B, called La Boisserie. It is an absolutely lovely old manor home. The owners, Dominique and Caroline de Mercey have lived here for 4 years and have turned it into a 4 room B&B since buying it. Both speak a fair amount of English. There is both a cat with a predilation for love nips if you pet her "too much" and a very happy big yellow dog.
Our room, the Agapanthe room shown on their website, opens out onto the garden in back. it is enormous and the bathroom is as big as my bedroom at home. Someone here is an artist, or very connected to the art world as there are modern art paintings on the walls of the common room and many art magazines and books. The decor is somewhat "modern" but done with impeccable style and taste and mixed with antiques. There's a pool for use in the summer and I find myself wishing I had a week here just to read, write and relax.
But we have things to do, places to go and people to see! So after a tour of the property by Caroline, we head out to find our friends and the Chateau Marouatte.
We find the Chateau with no problem. it is only a 5 minute or so drive from the B&B along a narrow country highway. We pull in through the gates and yep, it's a freakin' castle! Wow. After finding people in the kitchen and getting reaquainted with everyone, Chris gives us the grand tour. The place is incredible and absolutly huge. We get to go in all the towers, see all the rooms, even check out the pigeonaire which once housed 3000 pigeons! I find myself wishing David were here because I know he would love exploring all the nooks and crannies and opening every little door. The castle even has a resident cat named Lily. Much to everyone's joy, she is a big love and is completely spoiled throughout the duration of their stay.
I took so many pictures at the Chateau, they won't all fit here and I had a really hard time choosing which ones to post, so I had to make another page. For more photos of the Chateau, please go to the Dordogne Photo Page.
After our castle tour, we leave with a plan to return at 6:30 to join everyone for a casual dinner. We discuss the menu with Morton and then the guys are going to go shopping and come back with food for dinner. We offer our assistance with the cooking.
Before going back to the B&B, we take a drive a nearby town called Bourdeilles. It's an adorable little village with a river running through it and a castle of it's own. Unfortunately, the castle is closed on Tuesdays and it's starting to rain, so we make a quick stop in the tourist office, grab a map and do a short loop walk around town before leaving.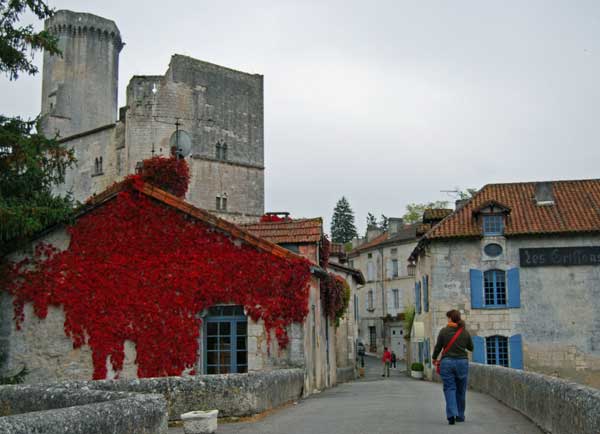 For more photos of Bourdeilles, go to the Dordogne Photo Page.
Cooking in a Castle
At 6:30, we go back to the chateau and of course the shopping party is no where to be found. After a some discussion about the possibility of dinner not being served until 11:30, Mom and I decide that we will insist on being allowed to cook dinner. We drink wine, and eat fabulous cheese and local pate while we wait. It's not exactly a hardship.
When the guys return, a little after 8PM, we grab the bags and Morton very graciously allows us to cook. Mom and I go into full party cooking mode (if you've ever seen us do Thanksgiving for 25 then you know...), with everyone else pitching in to help.
We make potatoes roasted in duck fat with garlic and herbs, sauteed haricot verte (green beans) with lemon and garlic, and Carl and Kathie make a fantastic salad. I make a green peppercorn a poivre sauce, substituting scotch for the brandy because we have none and it works just fine!
But the most fun to cook are the steaks. Morton has bought two huge packages of thinly cut beef steak. How to cook them all at once with no grill? Fortunately, in the kitchen there is a gas stove and a wood burning stove which has a flat surface on top. Chris' dad, Dean, stokes the wood stove extra hot and I cook the steaks, all 18 of them, on the flat top like I'm back in the restaurant ( I used to be a chef). Somehow we manage to get dinner for 14 on the table by 9:30PM.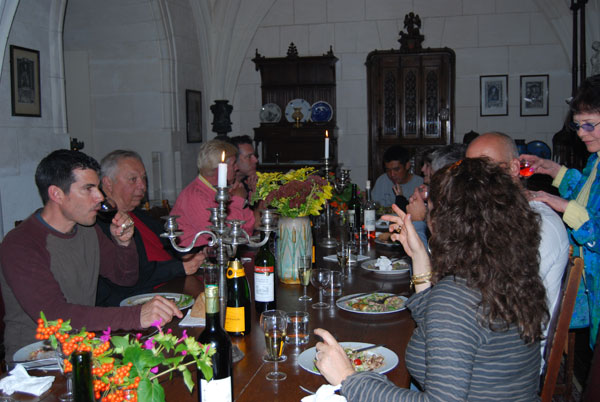 Morton and I sit together at one end of the table, the two of us celebrating our 40th birthdays this month. We all have a champagne toast and fantastic red wine (purchased at a local winery) with our wonderful meal. It's very late when we finally make it back to the B&B.