Paris Day 2
October 5, 2008
Museorama Day
Today is the first Sunday of the month in Paris which means most of the museums are free. This also means they are crowded, but no matter, I have big plans for us to take advantage of the cost savings.
You can see a list of what's free when here:
http://en.parisinfo.com/guide-paris/money/free-admission-and-good-deals/guide/free-admission-and-good-deals
At the bottom of that page are the links to what's free on the first Sunday of the month.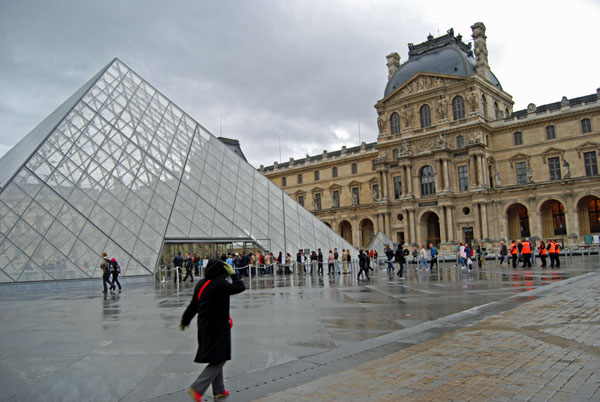 Armed with a list of which museums are free today, we set out for the grand-daddy of them all,
the Louvre. The goal is to be there when they open, 9AM and we arrive a few minutes shortly thereafter. It's starting to rain and there's a small line outside the pyramid, but it moves fast. It's already getting crowded inside. Because the Louvre can be overwhelming, I decide we are going to just hit the highlights and I've printed off a 1.5 hour walking tour from the Louvre's own web site. Look for the "accessible self guided tour and click on the printer icon on the first page to get a printable version.
This tour turns out to be a good way to see the "greatest hits" but it's not that well organized. It has us walking in circles, using elevators when we could be taking a much shorter route using stairs. Only now do I realize that the word "accessible" is key here. No stairs.
Anyway, the tour starts with the Venus de Milo and hits such highlights as the Mona Lisa, The Wedding Feast at Cana, the Odalisque, the Raft of the Medusa, and my own personal favorite, the Winged Victory of Samothrace.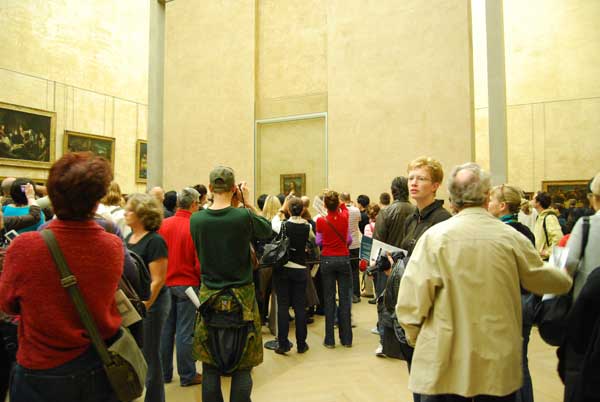 Big crowds surrounding Mona.
I think the tour is a good one, but some of the directions were misleading or just did not make sense. Use the free map they give out and try to go your own way as well.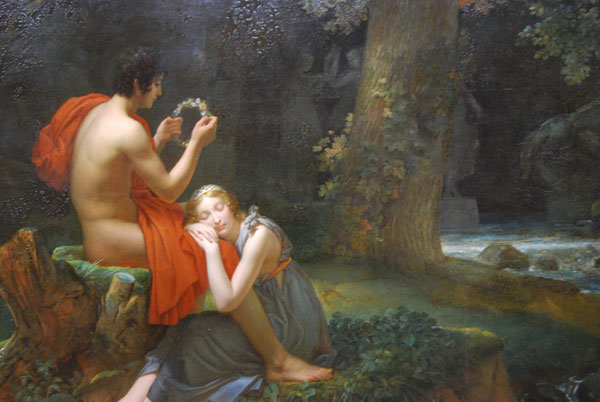 I loved the light in the painting. I wish I'd written down the name.
One interesting thing is that this is the tail end of "Fashion Week" in Paris when all the major designers are showing their lines. Inside the Louvre taking up an entire courtyard, is a giant tent where it appears some of the shows are being held.

The Odalisque by Ingres. Note the "distortion of anatomical reality "; she has 3 vertebrae too many and other odd preportions. The artist "gave priority to...pure lines and sensual curves."
After a couple of hours, we're exhausted and head to the cafe inside the Louvre for a coffee. Unfortunately, the "cafeteria" is closed and only the smaller cafe is open. There's a long line, but we are desperate. The coffee is horrible, out of one of those push button machines, and almost undrinkable. Bad coffee is an unforgivable sin anywhere in Mediterranean Europe if you ask me. But it's good to get off our feet for a few minutes.
The next stop on the Museorama tour is the Orangerie. For some reason, every time I've been in Paris previously, this museum has been closed so I'm getting to see it for the first time too.
To get there, we walk though the Tuilleries, taking time to stop and sit at one of the fountains, even though it's very windy and cold.
When we get to the museum, there is a long line outside, but we decide to wait because it's clear every time someone exits, they let some people in. The amount of people inside appears to be strictly controlled.
We wait for about 20 min and then we are inside where we find there is a coat check. This is nice, not to have to carry them around with us.
The museum is lovely and showcases Monet's extraordinary water lilies series, lit by skylights. Downstairs, there are other exhibits, but honestly, I cannot remember what they were.
After the Orangerie I look at my restaurant list and see one which I think should be nearby. it's a little wine bar called Le Rubis and it's on Rue du Marche Saint Honore. I look at the map and Rue Saint Honore is close by so it can't be that far, right?
Ok, here's where my list and my map fail me again. The address is #10. When we get to Saint Honore the addresses are in the 300's and we start walking. We walk all the way to the end, near Les Halles, and can't find the place! Somewhere along the way, my mother loses one of her gloves.
I realize that either I have the address wrong or we've missed it somehow so we head for a place across from St Eustache where I'd been on a previous trip. Today the menu did not appeal, so we keep walking. It's now becoming silly and we are in imminent danger of breaking Golden Rule #1.
After much discussion, and much more walking, we end up at Le Grand Colbert an old fashioned traditional bistro featured in the movie called "Something's Gotta Give" with Diane Keaton and Jack Nicholson.
The restaurant is full when we enter and we are asked to take a seat at the bar where we order a couple of glasses of Sancerre and Chablis and are given little cups of olives and freshly made potato chips to snack on. After about 10 minutes of sipping our wine and perusing the menu, we are seated at a table in the front window. We order all appetizers to share; an artichoke salad (12 euro), frogs legs with lots of butter and garlic (16 euro), Chevre with pears and figs (14 euro), and a side of french fries (don't ask why, but they were good!) (5 euro). Everything was enjoyable, though some of the food seemed slightly under-seasoned. Still, it was a relaxing and satisfying lunch. Le Grand Colbert (4, Rue Vivienne, 75002, 01 42 86 87 88, open 12PM to 1AM, non-stop, every day)
Next stop on the Museorama tour is supposed to be the Musee d'Orsay but by the time we get
there the line is absolutely enormous and looks to have about a 2 hour wait. Neither one of us is up for that. After consulting the list and seeing there's nothing else in the area we want to check out, we head back to the hotel for a rest. But first, we walk through the Place de la Contrescarpe and down Rue Mouffetard a ways. It's here that I can see why some people say the 5th is "too touristy" for them.
At the hotel, the wifi problems start. The connection goes in and out. The 24 hour card we bought loses time faster than the actual clock. The people down at the desk are different than those there yesterday and are of no help because they are unaware that everyone in the hotel who as bought a card has been complaining of problems. David manages to contact me on my computer via Skype, but we have a hard time keeping the connection and I have to move downstairs to the breakfast room. At least I am able to talk to him via the web cam for a few minutes before it disconnects for good.
For dinner, we set out with no reservations. Our first choice, a place called Le Petit Pontoise is full. We head out to another which doesn't grab us once we get there and we eventually end up at Brasserie Balzar where even though it appears full we are whisked inside and seated at a tiny table, surrounded by other tourists and given a menu in English.
Brasserie Balzar is a member of the Brasserie Flo restaurant group of which I am a fan. My husband and I have been to their restaurant Terminus Nord a number of times, as well as Bofinger and very much enjoyed our meals there. This, however, was a different story. The menu looked "blah" and uninteresting, and the restaurant was stiflingly hot. I mean, take-off-all-your-clothes and it's still too hot, hot. We look at each other, discuss for about 10 seconds, and get up and leave.
In short order, we are outside in the blessedly cool air and walking to another place called Bouillon Racine, recommended to me by my father in law as a good, basic brasserie. It was also very hot inside, but as soon as we entered, they turned off the heaters over the doorway. It's a very pretty place, filled with lots of Art Nouveau touches.
My mother orders the lamb which comes out braised and falling off the bone. I order the duck and 5 minutes later the server is back to tell me they are out of duck. So instead, I get the beefsteak and while it's perfectly cooked, it's a bit tough and both my sauce and potatoes are lukewarm when they hit the table. We each have a glass of wine and the total for dinner is 47 euro. Bouillon Racine, 3, Rue Racine 75006, 01 44 32 15 60, Open daily, Noon to 11PM