Day 5
Hue, Vietnam
July 8, 2009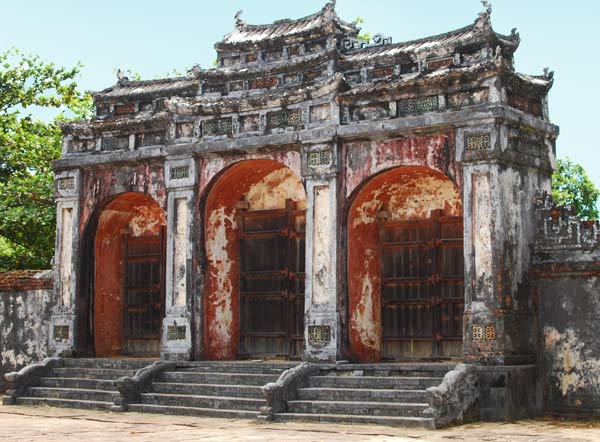 The entire time we're at at the Villa Hue we see almost no other guests, not in the public areas, hallways or at breakfast, even though we are assured by the young staff there are other people in the hotel. It's a little eery and odd. The breakfast, by the way, is a very good small buffet; home made yogurt, fresh pastries and breads, fresh fruit, and eggs cooked to order.
Today is the day we plan on visiting the tombs. Tombs, you ask? No, these are not creepy, mummy filled crypts, but rather, ornate structures on acres of land build by each emperor as a tribute to his life and as a grand resting place for his time in the afterworld. In the area surrounding Hue there are seven such structures, each with its own theme and style.
When I was researching how to see the tombs, there seemed to be a number of options on how to do this and yet, none of them appealed to me. Each one had issues, be it cost, time, or difficulty. Read more about them on Reid on Travel's Hue Page.
Budget Boat Tours
Bus and Boat Tours
High End Boat/Car trips
Hiring a private boat
On own by motorbike
We didn't want to take a cheap or an expensive package tour (anywhere from $7 (local) to $70 (Exotissimo) per person) because most of them lasted a full day and included "shopping" stops and/or high pressure sales along the way. We didn't want to rent motorbikes and do it ourselves. I wasn't interested in going part way by boat either which is a hassle because many of the tombs are not within walking distance of the river (which necessitates a motorbike ride each way). We really wanted to be able to move at our own pace and not spend all day doing it.
I could not figure out why no one mentioned hiring a car and driver for the day. Was it just too expensive?
We ask at the hotel on our first day, just to get an idea and are quoted 400,000 VND to visit 3 tombs with a private car and driver (this is about $22.75). It is slightly more for 4 tombs and less for 2. Admission prices are extra (55,000 VND each person, each site). I have no idea what any other hotels or travel agencies might charge for this, but it seemed entirely reasonable to us so we just book it and be done with it..
Our driver is waiting for us at 9am in a nice new Toyota Camry, the workhorse car of South East Asia. The first tomb we visit is Minh Mang's Tomb. It takes us about 1/2 an hour to get there and I think the driver choose it first for that reason.
We pull up to a parking lot area and he points us to a dirt road and says "walk". It's probably 1/2 a kilometer in beating down sun. This is our first day with an almost cloudless sky. While I am happy for the sunlight, it's already god awful hot and I'm wishing I'd brought the umbrella for shade and very happy I have my hat which I almost never wear.
Minh Mang was emperor from 1820 to 1840. There are ponds on either side of the pagodas, pavilions and temples which make up the site. Water and snacks are available inside at the far end near the bridge out to the tomb.


The only restrooms I saw (but did not use) were out near the parking area. We buy water and out by the car, bananas, hoping to replenish the potassium we have lost by sweating so much. Where is Gatorade when you need it?
The next tomb is Khai Dinh's Tomb which is known as the "Versailles of Hue". This one is accessed right from the road. Water and bathrooms are outside the site. It's the smallest one we visit but the most ornate. It's also the last tomb built in the area, between 1920 and 1932.
There's a courtyard mid way up with two sets of life size statues of soldiers, horses and elephants facing off, like a chess board. Visitors are forced to climb up many steep steps which keeps people looking up in awe the entire time they ascend. The views from the top are spectacular and we can see a large white buddha on the hill in the distance. In the shrine at the top, the walls are covered in ornate pottery mosaics. It's pretty over-the-top.
On the way to the final tomb, we stop at a stand selling incense, but only because I ask to take a photo. I go across the street because the light is better, and there's a girl at the stand there rolling incense. I really had no idea how it's made and it was fascinating to watch. She was so quick. She's also very chatty and somehow manages to talk me into buying a package for 15,000 VND.
The final tomb is Tu Duc's tomb, the Poem King. This site is said to be one of the most beautiful and I would agree. It's like a lovely park and was supposedly designed by the poem writing emperor himself. In fact, they say he used to come and spend more time here than at his palace. They say he had 104 wives and concubines yet fathered no children, but had the longest reign of all at 36 years of rule.

Game abandoned.

Emperor For A Day
On the drive back, we are debating what to tip the driver and I ask him if this is his car. As it turns out, the car is owned by a fancy hotel, La Residence, and he works for them. Because of this, we know he would not receive the bulk of the 400,000 VND so we tip him 100,000 at the end of our 3.5 hrs with him. I'd read somewhere that drivers only make about 10% of the cost of the trip if they don't own the vehicle.
Visiting the tombs reminded me of visiting the temples of Angkor; lots to see and explore, and lots of walking in the heat and humidity. It's nice to get back into a car with A/C in between. For not much more than the cheapest tour, and certainly far less hassle and time, this is a no-brainer. We are done and back at the hotel by 12:30pm. Had it been cooler, I could have spent more time at each place, exploring, or even visited a 4th, but honestly, I was happy to be done by then. We tend to move quickly through places and I'm glad we didn't have to wait around for a group tour.
We ask at the front desk for a recommendation of a place for lunch. They give us a card for a place called La Carambole and we walk over there. What we discover is the backpacker street of Hue, and a restaurant with a multi-page, multi-lingual, multi-cuisine menu. Alarm bells go off in my head, but we're hungry and sit down anyway. I ask for the local specialty, beef noodle soup, Bun Bo Hue. We are told they are out. We peruse the menu for a few more moments, debating the cheese sandwiches, hamburgers and spaghetti, look at each other, and get up and walk out of the restaurant.
Now I'm starving and we are perilously close to breaking Golden Rule #1. We start walking, looking at menus on tourist street and just nothing appeals. We're walking in circles and end up a few blocks from our hotel.
I say, "I don't care where we eat. I'm just hungry. I'm ready for anything. I could even eat Italian food (meaning, breaking with the goal of eating mostly Vietnamese), but we need to find a place owned by Italians." In all of our travels around the world, we have found Italian expats who have opened restaurants and most of them have been fairly authentic and good. I guess italian food is a cuisine which can be easily duplicated with most local ingredients. The same does not hold true for Mexican food, I'm sorry to say.
Within 5 minutes, there it was, an Italian place called Mediterraneo. We look at the menu and keep walking because I'm determined to have my Bun Bo Hue.
We find it at a place called Restaurant Co Do, at 22 Ben Nghe and it's basic noodle soup but good. 56,000 VND for two bowls of soup and 2 Huda beers.
While we are sitting there, the place gets filled with people, all seemingly together, celebrating something. A holiday? A family event? We can't tell. There's nowhere to sit and we invite a couple from Malaysia to sit with us and take our table while we get the check. The check takes a while so we chat with them. They are debating a $7 bus tour to see the sites and we tell them about our day's experience. Finally, we pay the bill and are on our way.
After lunch, David wants ice cream and I remember Mediterraneo has a sign saying "home made ice cream". We go there and end up meeting the owner who just happens to be there this week, sitting on the patio, working on his laptop (they have free wifi there too, I think). Usually, he is in Hanoi, at his other restaurant of the same name, located near the Cathedral. We have ice cream, David has his favorite Italian digestive (amaro), we chat with the owner for a long while, and decide to come back for dinner.
Instead of any more sightseeing (even though I really wanted to see the market) we opt to rest in the air conditioned room for the remainder of the afternoon. There seems to be quite a bit more to see in Hue (market, pagodas, museums) and we could have easily spent another day had we had time.
Once it is dark, we walk a couple of blocks over for dinner at Mediterraneo (#7 Ben Nghe St). They have two crucial ingredients for good Italian food; a wood fired oven and freshly made pasta. We order a Pizza Capricciosa and and a Linguine al Pesto. Both are very good, and yes, authentic. As much as I love eating local food where ever we travel, I find that after about 5 or 6 days I need a break. This place perfectly fit the bill.
With a liter bottle of Pellegrino, a Campari Orange and another amaro for David, the dinner is by far our most expensive yet at 395,000 VND (approx. $22.50 with the drinks about half of the total).
Before we leave Hue, we have another "guest post" from David. We call it "The Teachable Moment"
David's Diary:
Waking up at the Villa Hue is almost as creepy as checking in. I am now convinced that the hotel is deserted and that we are the only guests. Downstairs, the booze is back on the bar shelf and the same employees are bustling about. The emptiness of the breakfast room is eerie, but I try to tell myself that it is still early. There is a full banquet spread on the central table, and I see signs of a decent, albeit small, buffet breakfast.
Getting sick while on the road is one of any traveler's worst nightmares, so Kristina and I have always especially careful with the ice that people serve. It is not always from the same source as the drinking water (likely bottled) we rely on for hydration. About 20 years ago, my mother ordered a mixed drink from a restaurant in Sri Lanka, and was laid up with a nasty case of giardia. I have been extremely cautious ever since.
The freshly squeezed juices are inviting in the oppressive heat of the dining room, but there are large blocks of ice floating in the pitchers. This causes a simultaneous reaction of worry and desire, because they look so cold and wet and yet could be so dangerous.
Thus, the need to ask a question had arisen, "Is the ice made with filtered water?"
As we are the only guests at the Villa (Scooby Doo rule of thumb: always be suspicious when you are the only guests at the villa), the entire staff is available. My first victim is clearly the least likely to know any English (apologies for my lack of Vietnamese language skills), but is the closest. He looks puzzled, so I repeat with pantomime. After the second attempt, I get a grunt and he scurries off.
Kristina and I agree that he has no clue what I asked him, and will probably return with a glass of ice water. We have done this before. When the glass of ice water returns and I don't appear happy, the first victim is backed up by one of the girls from the bar area, who I think speaks better English. I try to explain what the nature of my question is and what it is I want. This time, however, I only need to try once before she disappears…and returns with a bowl of ice cubes- no water. At which point, they get their supervisor to attempt to decipher my apparent riddle of the sphinx. Smartly, she knows that she can not answer the question, for lack of comprehension, and summons "the teacher". The Villa Hue is, in fact, a high end lab hotel, a college for hospitality workers in the big and still growing luxury hotel and tourist industry.
Sensing we have come to the dramatic climax of an otherwise insignificant quest, I address my question to the teacher, who smiles and responds first with the words "purified water."
I had been asking if the ice was made with filtered water, and this was the linguistic stumbling block that had caused my query to climb up the chain of command to the top. She assured me that all of their ice was made from purified water, and that their vegetables and fruits were washed in the same.
Then, her attention turned to the group of students behind her, all six or seven of them. She quickly explained the issue, the language nuance, and the group all took note (one hopes), thanked the teacher, who in turn, thanked us. Not to be outdone, we thanked her, and all of them. Thanks all around, you might say. And then, finally, I poured a couple of quick glasses of fresh juice and drank them before sitting back down. Henceforth, I shall refer to potable water as 'purified', and hopefully will not be misunderstood.