Day 13
Saigon, Vietnam to Bangkok Thailand
July 16, 2009
We have a very low key morning. I'm still not feeling great after last night so we spend most of the morning relaxing in the hotel room. We've asked for a late checkout and get one for 3 pm. Our flight to Bangkok is scheduled to leave at 5:50.
Tomorrow, we have a tour with the wonderful Tong planned in Bangkok. We were going to go out to the "secret place," see swimming monkeys and the fisherman's village and have a big seafood lunch. Unfortunately, because I'm not feeling well, I just can't see spending the day on a boat and eating a bunch of seafood. I don't want to risk spending the day miserable so I email Tong to cancel and apologize profusely. I'm really disappointed. She's so much fun and I'd really wanted David to meet her. I offer to send her some money because we are canceling so late, but she won't have it. She's sweet and understanding and tells me to "get better" and she will see me next time. If you want to see the day my Mom and I spent with her in 2007, go here. She's a wonderful guide for Bangkok and I can't recommend her enough.
Eating at the Saigon Mosque
Who would have thought I'd go to Saigon and eat in a mosque? Right next door to the Sheraton is a mosque and behind it is a small restaurant open to the public. I'd read about it on A Girl in Asia blog and so we walk over to see what they have for lunch.
The first thing we notice are a couple of cats lounging about along with a few sleepy kittens. Instantly we are sold (we love places with cats and take it as a good sign). These cats are obviously well loved and happy and we see one of the guys who works there taking care of them throughout our meal. The restaurant is open air and has plastic chairs and picnic tables. They serve a south-indian style of muslim food. We order a couple of curries (chicken and goat), some vegetables (okra and potatoes) and some rice. It's all very tasty and filling, though surprisingly there is little "heat" to the meal. All that with a soda and a water is 153,000 VND.
After lunch and quick walk around the neighborhood, we go back up to the room to shower and pack. We stop in the club lounge to check on our flight and find out it's been delayed. The dragon-lady supervisor (from the wine incident the night before) begrudgingly extends our checkout by a half hour. When we are ready to leave, we check out through the club lounge concierge and it's quick and painless.
Our taxi trip to the airport is without incident and costs 100,000 VND. The check-in counter at Air Asia is a zoo. While our tickets SGN-BKK were only $12, the additional taxes and "fees" brought them closer to $45 each. This was still much better than the Thai flight, which while earlier in the day, was $175 a ticket. Part of those fees were an additional charge for checked luggage and so that we could choose our seats in advance. Air Asia, like so many budget carriers has very tight weight restrictions on luggage. Even though our bags were "carry-on" size we had to check them because of weight. And for this, we had to pay extra. It's best to do this in advance, because I think it costs more at the airport. In addition, if you go over the allotted weight for your 1 checked bag (15 kilos), the overage fees are enormous. For this reason, almost everyone was juggling items around in their bags. Add to this people with visa issues and I was glad we'd arrived at the airport when we did.
Once through immigration we go in seach of something to eat and have a mediocre snack at the Singapore restaurant called "Prima Taste." Perhaps we ordered wrong, but the best thing about this place was its giant glass windows with views of the runway. Oh yeah, and there's free wifi.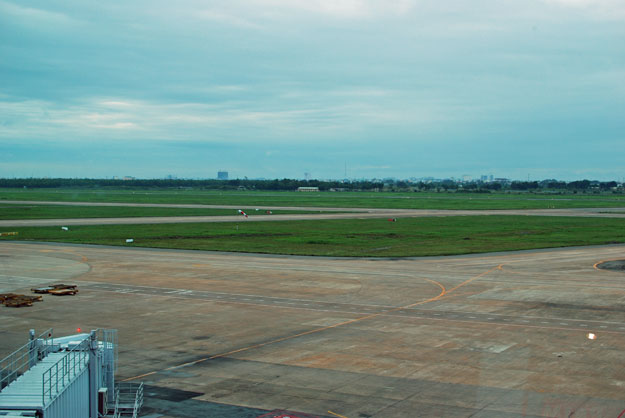 The flight was uneventful and we arrived into Bangkok after 8:30 pm. I had some baht left over from my last trip, so as soon as we got our bags and cleared customs, we found a taxi to our favorite hotel, the Peninsula. We used a metered taxi, arranged at the official taxi stand outside the terminal. The ride to the Peninsula (meter, plus toll fees) was 380 baht.
By the time we got checked in to our room (which I will write more about tomorrow) it was late and I was tired, hungry, and cranky. Instead of trying to go out to dinner, we went down to the Peninsula's riverside restaurant, ordered a burger and beer, pasta and glass of wine. The food was absolutely fine, though absurdly expensive for Thailand (the meal, with "service", was $1800 baht, almost $55). The setting though, was pleasant, cool, and relaxing, and it's always nice to sit along the river and watch the hotel boats bobbing their way from one pier to the next.