Day 11
Saigon, Vietnam
July 14, 2009
This morning we have breakfast in the Club Lounge. It's a buffet plus eggs and other items, both western and asian cooked to order. We could have gone downstairs to the supposedly larger buffet, but it was probably more crowded there so we never go the entire time we are here.
Today's plan was to meet up with a young local woman whom Lori has been put in contact with via a friend. We meet Lori in the lobby of the hotel at 9 am and shortly thereafter are joined by the young woman, a girlfriend of hers, and a male friend of theirs whom they said was "training." Training for what, we never do find out. She has the door man get us a minivan cab and we're off to go visit a "very old temple". What we did not know was that this temple is in district 11 and it was going to take us more than 30 minutes to get there in the taxi, weaving in and out of traffic.
We try and talk to our new friends/guides, asking them questions about Saigon and their lives in general. It quickly becomes apparent that none of them speaks English well enough to answer our questions, let alone have a conversation.
Finally, we arrive at Giac Lam Pagoda. It's the city's oldest, built in 1744. As we enter the temple, we're asked to remove our shoes. The inside is large and split into multiple rooms. Our "guides" explain nothing to us, but we think this may a training school for monks and in the first room there was a gigantic long table set up for lunch with each person's name carefully taped at their place.
From there we walk into the temple space, filled with photos of ancestors, statues, incense, and candles. There is an ancient monk standing near a large bell. Soon he begins to chant and with a giant mallet, strikes the bell, over and over. David takes a bit of surreptitious video to capture the sound.
We wander around the space, looking at all the bronze buddhas, offerings, and alters, and then suddenly I find myself swearing, "Owww! M$F&%$$@R! "
In my bare feet I have stepped on something sharp. I pick up my foot and check the bottom and there's blood, dripping bright, fat, red, dots onto the tiled floor. I have fleeting thoughts of "oh my God, what have I stepped on? I'm going to get blood poisoning/ hepatitis/ some unknown deadly disease where they're going to want to cut off my leg at the knee." Then I pull the shard of glass I stepped on out of my foot and calm down. Even though I was never a girl scout, I am always prepared and have an anti-bacterial wipes and band aids in my bag. One of the girls brings me some more band aids as I try to wipe up my spilled blood off the floor. I search for the piece of glass that had been in my foot, but can't find it. Needless to say, at this point I'm done with the Pagoda.
On the way out, we walk through an area of small monuments where previous abbots of this temple are entombed. Many of the tombs and gates have swastikas on them, an ancient buddhist symbol.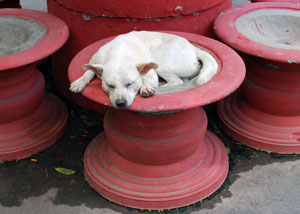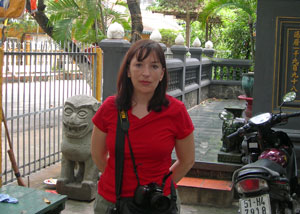 Clockwise from top left; Lori and our "guides", the Buddhist swastika,
Kristina (can you tell I was done by then?), temple dog.

I have no idea why I love this photo of ice, but I do!
We get back in the waiting cab and head to the Cholon Market, the largest indoor market in the Chinatown area of Saigon. They take us through a couple of areas, but aside from some of the raw foods sections, it's not that interesting. Plus, it begins to dump rain while we are there. I want to stop and try some of the grilled meats we see, but the girls look absolutely horrified that we'd want to do that. We tell them we'd like to go for lunch now and while they are trying to find us a cab, Lori and I agree that we're going to ditch them after lunch.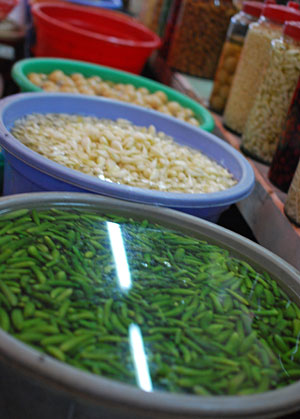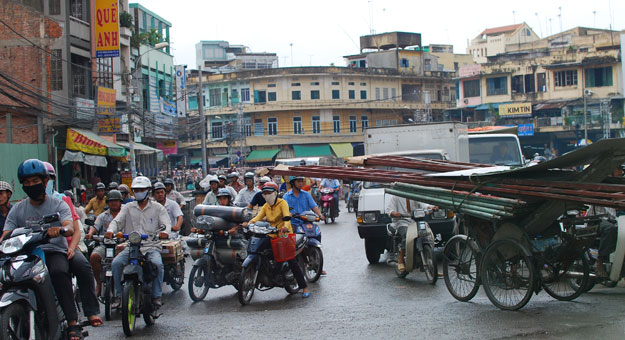 Not surprisingly, the place they choose is the well known and heavily touristed Quan an Ngon (138 Nam Ky Khoi Nghia) , the Saigon branch of the place we ate with Hanoi Kids in Hanoi. Our guides could have redeemed themselves by helping us order interesting food here, but basically it was "every man for them self." They order what they want and not to share, much to my dismay. Both here and in Hanoi we've been sat away from the cooking action and had to order by menu. Were I to return, I would make sure to sit in the main area.
Lunch was ok, but not stellar. David orders Bun Cha and is disappointed (but I'm not surprised because this is primarily a Hanoi dish). Lori orders a fish dish which arrives sizzling on a platter set atop a burner on the table. It's pretty good. I order the pork patties wrapped around sugar cane and grilled. They return with us to the hotel where we say goodbye. We all agree that we have no idea as to what that whole experience was about. Unlike the Hanoi Kids, they aren't in college, they're young working professionals. If they wanted to practice their English, they certainly didn't try. None of us could fathom why they'd give up a work day just for a free lunch. It was weird all the way around.
To shake off the weirdness, we decide to do some more sightseeing on our own and set out walking from the Sheraton toward the Notre Dame Cathedral and Central Post Office, both built by the French. It's at this point that my camera battery dies, every photographer's nightmare. I'm so ticked off and frustrated because it's my own darn fault I didn't charge it. To add insult to injury, David doesn't have his camera and Lori's isn't working right either. Aargh! Note to self; buy second battery (which I did as soon as I got home).
The Post Office and Cathedral sit directly across the street from each other. The Cathedral was closed, but the post office was interesting inside with two large murals on the walls depicting maps of the original telegraph routes throughout Vietnam. There is also the obligatory giant portrait of Uncle Ho. The room is cavernous and reminds me of an old bank in the French Colonial Style. In fact, this is a good place to do some banking as there are multiple ATMs and a money exchange. There is a Citibank ATM and I use it, thinking it will save us some money since we bank with them. No such luck, there is still a 3% "foreign transaction fee" on my statement when we return. I will stick with my Credit Union's flat $1 fee per transaction in the future.
At this point, we're in the mood for a bit of refreshment and set out in search of what we've dubbed "Ass Weasel Coffee."
All right, let me explain.
In Vietnam and other parts of of South East Asia there is an animal which depending on what you read is either a weasel or a civet cat. This animal lives in the highland forests, eating coffee beans right off the plants, and because the beans aren't digestible, "excretes" them out whole. Still with me here? The beans are then collected, roasted (killing off any nastiness you might be thinking about) and then ground and brewed. Apparently, the animal's digestive enzymes make for one smooth tasting coffee. Thus, we now have the coffee we've christened "Ass Weasel Coffee." We wander a bit, trying to found an outlet of a small coffee chain called Trung Nguyen, one of which is supposedly near by, but no such luck.
Our next stop is the Reunification Palace, forever stuck in all of its late 60's kitschy/tacky decorated glory. I am kicking myself that I can't take any photos, even though cameras are allowed in here. This place is certainly popular and not just with foreign tourists. It's filled with local school kids and Vietnamese tour groups. We wander around on own own and I'm amazed at the sheer size, from the cold-war era war rooms in the basement, to the professional size kitchen (lacking in professional equipment), to the formal meeting rooms filled with gilded and lacquer furniture, to the private quarters up on the 4th floor. Everything was last decorated right before the end of the war and there it stays; a testament to the swingin' sixties style. 106 Nguyen Du; Admission 15,000 VND open 7.30-11am, 1-4pm daily.

Because my camera battery was dead this is all I have for photos of
the Reunification Palace.
For dinner we head over to the Ben Thanh market where we'd seen all the outdoor restaurants setting up the night before. We choose one at random called Hai Lau where we can find a seat and sit down. The present us with a laminated menu book and we order a few selections and some beer. Suddenly, I really need to find a bathroom (I'm still plagued by intermittent tummy-trouble). I have a moment of horror thinking, "we're on the street at night, where am I going to go?" but I realize with all these people, there's got to be something, right? Fortunately, the large public restrooms for the market (entrance on the outside of the building) are open, even though the market is not. There's a small entrance fee and I'm glad I have my own package of kleenex. There's a large row of stalls and it's fairly clean, but the toilets are of the squat variety. Still, it's good to know it's there if needed.
When I return, the food arrive and it looks good, but I have little appetite. We've ordered some rice pancakes with pork, fried squid, and another large omlette-like pancake filled with bean sprouts, herbs and shrimp. Unfortunately, I wasn't in the mood to write anything down so I don't have the Vietnamese names.
To end the evening we go up to the bar on the top of the Sheraton. The view is spectacular for the 24th floor. As with most hotels, the drinks are overpriced. Lori's Grand Marnier isn't what it's supposed to be and we have to convince the waiter that it's not the right alcohol. She makes him bring another and he brings the bottle and pours it in front of her. It's the right stuff this time, but I'm not sure he ever understands that the first one wasn't the same.

View of the Rex Hotel and Hotel de Ville from the Sheraton's 24th floor bar.