Day 4
Hue, Vietnam
July 7, 2009
Today we have an 11 am flight to Hue. Instead of going by taxi to the airport, we decide to just book it through the hotel where an airport transfer is $16. I think by cab I'd read it's somewhere around $10. If this were the Peninsula in Bangkok, where the hotel car is $85 to the airport (and a cab is still around $10), there would be no way, but for $6 more it's just easier to take the hotel's car and not worry about it.
The domestic terminal at the Hanoi airport doesn't have much going on. Very little food for sale, a couple of drink stands, and some overpriced souvenirs. Our flight on Vietnam Airlines is uneventful and takes about an hour to get to Hue. At the airport, there is another driver waiting for us, this one booked through Tonkin ($17). As it turns out, he tells us he will be the same driver taking us to Hoi An in two days time.
The ride in from the airport takes about 40 minutes. It's now after lunch time and we're both hungry and impatient by the time we arrive at the Villa Hue Hotel. The Villa Hue is attached to the Hue Hospitality school and is staffed by young and eager interns. The hotel itself is quite lovely, and the rooms are an excellent value. Our Superior room is huge and costs us around $65 a night including breakfast (best rate was booked through Tonkin). The public areas are not air-conditioned and are very hot, but the rooms have A/C.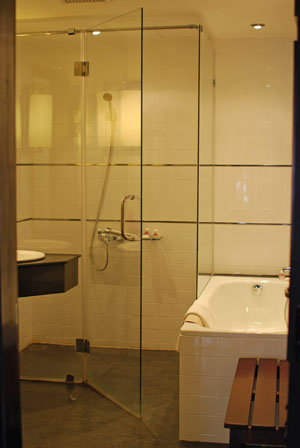 Our room opens on to a foyer with a closet in it, a luggage stand and four (!) doors; one to the bedroom, one to the bathroom, one to the tiny room with the toilet in it and the exterior door. The bathroom also has a door into the bedroom on the other side. The room itself is huge and has a french door leading out onto a tiled flat roof, but it's way too hot to go outside. There's a king sized bed, a desk, a mini bar, chairs and a table. There's a TV with satellite (and finally, CNN). The room has free wifi, but service can be sporadic.
The bathroom is also very large with two sinks in opposite corners of the room, a deep tub, and a very large, all glass, walk in shower. The white tile, white tub and sinks make everything look very clean.
We drop our stuff and head out to get lunch and plan on walking over to see the citadel after that. Here is where my planning fails me a bit. I have a map I printed from Google, but it's next-to impossible to find anything from my list on it. The map the hotel gives us is even worse and has a completely skewed perspective and distances. So we pick the place which appears closest and set out in the bright, humid heat, walking toward one of the recommendations on my list, called "Hang Me."
Hue is known for its Imperial cuisine as this was once the center of the Vietnamese royalty. It's where the Imperial City/Citadel was, where the emperors lived and where they built Royal Tombs as massive tributes to themselves before they died. According to Reid on Travel, it's said that of Vietnam's 1700 dishes, 1400 may come from Hue. Emperors being finicky eaters, insisted on new dishes to try and their chef's gave them many choices in the form of small bites, or, "Vietnamese tapas" if you will. We came here hoping to live like the emperors, to see, taste, and experience all Hue has to offer.
Hang Me is known for its glutinous rice dishes and only has 5 or 6 items on its laminated, oddly translated, photo-menu.
We started with Banh Beo, tiny plates of gelatinous rice with teeny dried shrimp and fried pork rind. We weren't't even sure how to eat them until one of the women who worked there showed us how to scoop it out with a spoon and dip it in the sauce. The other dish served on the basket was called Banh Ran and was described on the menu as "fried rice noodle, pig skin crispy."
The third dish we tried was Banh Lok, which was more gelatinous rice served in a banana leaf package with a whole dried shrimp and a chunk of pork fat tucked inside. While I enjoyed the uniqueness of these dishes I sometimes found the chewy texture a bit too much to go back for more. Lunch was 110,000 VND, including 2 cokes, about $6. Like many places in Vietnam, if successful, there is a copycat with the same name right across the street. If you go, make sure you go to the right place, Hang Me, #45 Vo Thi Sau St.
After lunch we walk across the bridge and toward the Citadel/Imperial Palace. It's overcast and extremely hot and humid out and given the lack of quality maps we have a hard time figuring out just how far we need to walk. None of the maps indicate the entrance so we just wing it, hoping we're heading in the right direction. Along the way, we see a guy pedaling a cyclo with a full size piece of furniture on it, a sideboard from the looks of it.
In the park, we see someone selling the usual war memorabilia, medals, dog tags, zippo lighters and such. Even though I know most likely they are fakes (as there is a huge market for such stuff), I am a little disturbed by it. Fifty seven thousand US soldiers died in Vietnam. I don't want their memory as a tourist souvenir. It seems disrespectful to me. If anything, those medals and dog tags should be home with their families, not bartered for on a sidewalk.
We cross the moat, go through the exterior walls of the city, and turn left. The first thing we come across is an outdoor "museum" of large military war vehicles, both Vietnamese and US. Basically, it's a bunch of tanks and armored vehicles on display. Interesting, if only for the captions on some which say things like, "Tank with 175 mm artillery. A modern war weapon of the US equipped to American and Puppet soldiers. Captured by the Liberation Army from the enemy...26 march 1975."
Citadel and Imperial City
Hue's Citadel reminds me a little of the Forbidden City in Beijing, albeit on a much smaller scale. Admission was 55,000 VND per person which seems to be the going rate for all sightseeing around here in Hue.
The exterior is a fortress and appears undamaged. Much of what is now empty open space, was once the living quarters housing the emperor and his hundreds of concubines. Called the Forbidden Purple City, it was heavily bombed by during the Tet Offensive in 1968. There are still plenty of pagodas, what was once a library, and another building which was the home to the Queen Mother's Residence.
We walk all over, spending about 2.5 hrs, and could have spent more, but we get too hot and too tired. Some parts of the complex are very isolated and interesting to explore on our own.
We especially enjoy the Royal Library, a building covered in pottery mosaics like Wat Arun in Bangkok. There is also a place where Vietnamese tourists pay to get dressed up like the Emperor and have photos taken.

Lac Thien
Despite being exhausted and dehydrated, we walk back to the hotel, much to the dismay of the taxi and cyclo drivers and the amusement of locals passing us by on bicycles. We stop at the well known Lac Thien (6 Dinh Tien Hoang St), owned by a deaf-mute family. Again, there is a similarly named place right next door, also owned by a deaf-mute family. Even though this place is listed in almost every guidebook, the food here was quite good and the place seems frequented by locals and tourists alike. Here we had our first local Hue beer called "Huda." I have to say, it was probably my favorite beer of the trip. The label says, "Brewed by Danish Technology."
We order another famous Hue specialty called Banh Khoai, which is an egg and rice flour "pancake" filled with shrimp, meat, and bean sprouts. We also have an order of Nem Luiwhich are "roll your own" spring rolls made with rice paper, grilled pork and assorted fresh herbs, lettuce, and star fruit served with a peanut sauce. We like this enough to order a second round, this time with chicken. Lunch #2 was 75,000 VND, including 2 large Huda beers, about $4.
For dinner, I think I have a great recommendation for the Hue's local version of Pho, called Bun Bo Hue. Unfortunately, after trekking what feels like all the way across town on a humid summer night, in the dark, over cracked pavement (can you tell I was getting cranky?), we find the place to be closed. This is one of those times when my research failed me. I had plenty of places listed, I just couldn't find most of them on a map. We end up eating at a place favored by guidebook toting backpackers called Phuong Nam (38 Tran Cao Van St).
We have more nem (spring rolls) and sauteed chicken and vegetables. They are both ok, but nothing spectacular and I wonder about the restaurant's claim to be "voted best food in Hue by International travelers." But it's cheap, and I can see why it's filled with travelers every time we pass. Dinner, with 2 Huda beers, is 61,000 VND (about $3.30).