Day 12
July 15, 2009
I never know what to write about places like the War Remnents Museum in Saigon. It's like visting S-21 in Phnom Penh or Dachau in Germany. War atrocities are hard to wrap your head around, and for me, even harder to write about.
We arrive at the War Remnants Museum in the late morning and because they close for lunch from 12-1:30pm, we only have an hour to rush through the rooms. Some of the exhibits are surprising, like the photos taken by international photographers and war reporters who died during the war, and others are painful to see like jars filled with babies deformed by Agent Orange. The photos of the destruction of life, and the exhibits of weapons used by and against the Vietnamese are shocking, heart wrenching, and emotionally exhausting.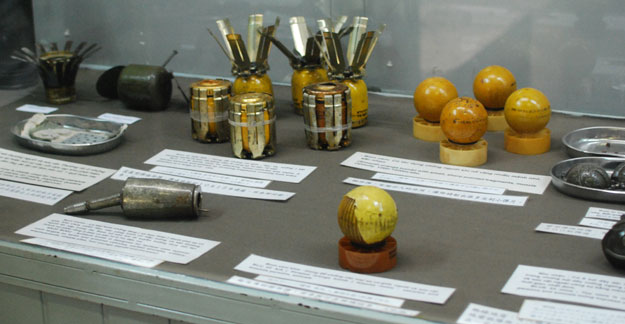 Still, like the sites I mentioned above, I feel they are important to to visit so that we can bear witness, learn from, and never forget. Personally, I find it very interesting to see this version of the "American" war. How do I balance this with visiting the Vietnam war memorial in Washington DC for example? I still don't know. War Remnants Museum, 28 Vo Van Tan St. Admission 15,000 VND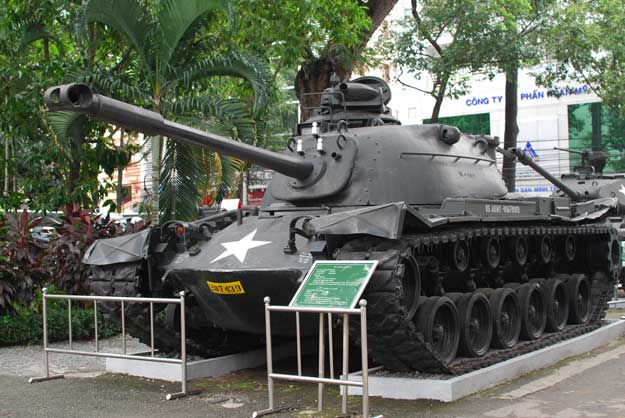 After that sobering hour, we head for lunch at a place listed in my notes; Bac Hai (25 Ng The Minh Khai St) famous for its Pho and featured by Anthony Bourdain on his show, No Reservations. It's very good pho, and we're happy to have some as we've been pho-deprived for a couple of days. This bowl of noodles is served with many more condiments and herbs, a different in style from those we had in Hanoi. Our Pho Tai Bap is 20,000 VND per bowl.
Walking past a huge high walled building with concrete pillars on the sidewalk, I wonder what it is. I realize it's the US Consolate when we see the flag and get a little twinge of happiness when I see it (my patriotic side coming out I guess). I've probably seen too many movies but I'm always comforted when I'm near a US Embassy or Consolute in a foreign country knowing that my passport will gain me entrance in an emergency...
(Cue movie scene; the heroine running toward the embassy gates, screaming "I'm an American! I'm an American!", the bad guys in hot persuit...).
This is the site of the former US Embassy where in 1975 crowds stormed the building trying to get on the last helicopters out.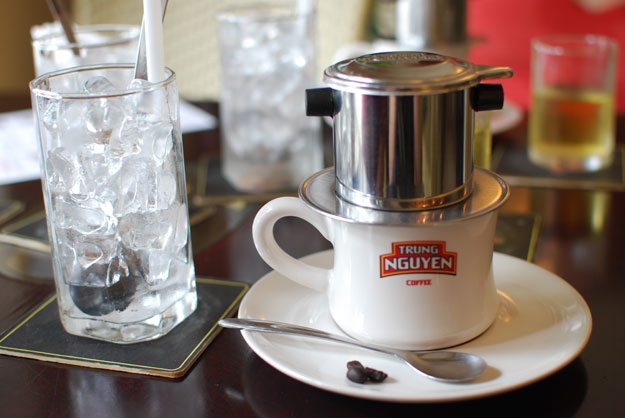 Once again, we are on the hunt to find (and try) ass-weasel coffee (also known as Ca Phe Chon). Lori has found the Trung Nguyen shop we had been looking for yesterday, and we go in for our special coffee. David and I order Ca Phe Sua Da and Lori gets hers plain without the sweetened condensed milk. It is very good, but is it worth the hype? Honestly, I have no idea. But we have a great time just sitting there, chatting and relaxing. The coffee is 45,000 VND per cup (other varieties are much less).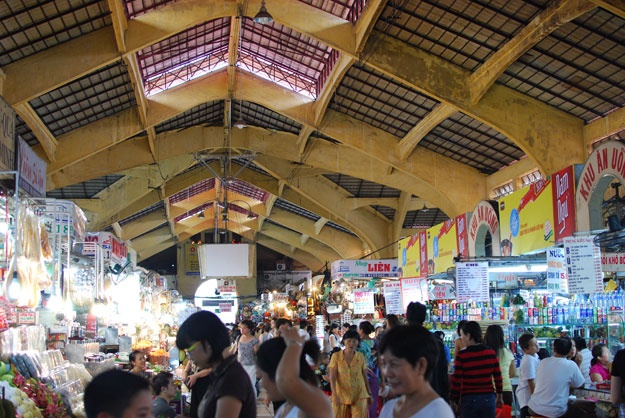 We split up at this point. David goes back to the hotel to confer with the concierge about finding a Ping Pong lesson given by a former Pro (I'd read about this in www.reidontravel.com) but ends up being unsuccessful in finding a place to play.
Lori and I go off to do a little shopping at the Ben Thanh market. She's looking for art for the guesthouse, and I'm looking for t-shirts for David's friends and scarves for me. I don't end up buying any shirts because the quality of the "cotton" is crap but we get practially mauled by the vendors in the back area of the market. My theory is that they don't see a lot of people back there so they're more desperate than the ones on the main aisles.They were literally grabbing us by the arm. It was too much and after I bought a couple of scarves (not as many here to choose from as in Thailand), we left. From there, we walked over to the backpacker district and it was pretty much like any other in South East Asia, filled with travel agencies, internet cafes, and cheap lodging.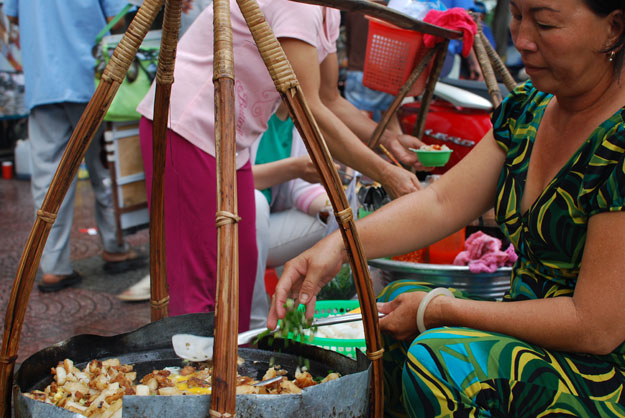 On the way back to the hotel, we stop again at the lady selling what we'd thought was fried potato and egg. While we sit on the little plastic stools waiting for our food, there is a very old woman, neatly dressed but begging. She is going from group to group of the people eating on the street nearby and just standing near them and staring and holding out her hand. Lori buys her a plate of food and the vendor puts it in a to-go box for her. She takes it with barely any recognition and totters off to continue her work.
We are enjoying our snack when I suddenly realize these are not potatoes we are eating. I spy a large white block of...well...I have exactly no idea what it is, except that this is what the cook is cutting up and putting on to the griddle. "What is that?" we ask everyone around us? But no one speaks English well enough to answer our questions. What ever it is, it does taste good and we're hoping it's not unhealthy.
Later, back in the club lounge, I ask one of the waiters if he can tell me what it is, showing him a photo on my camera. He's not sure. We confer with another waiter, and another. Finally, I get the name, bot chien. Ok, if you speak French, I know what you're thinking, but no, this is not dog. It's rice. More specifically rice flour that's been formed into a solid gelataneous block and then is fried on a skillet with scallions, egg, and sweet soy sauce. And it's good.
In the evening we have Lori come up and join us for evening cocktails in the club lounge. I want to make sure Lori gets enough cheese, an essential element of her diet lacking in Cambodia. While our drinks are free, the staff is very insistant that her glass of wine is paid for. At one point, I walk out to go back to the room for a minute and the supervisor practically chases me down to sign off on the check when David and Lori are still sitting at the table. It's so irritating.
For dinner we head to Warda, a Lebanese place in a small alley a couple of blocks away. We're ready for a change from Vietnamese food. The place has really pretty decor with a Moroccan/Middle Eastern vibe to it. It feels a world away from Saigon. We order all sorts of mezze for appetizers; hommous, eggplant, grilled skewers, etc.
I'm very excited to try everything and then suddenly, wham! I feel sick again. It might have been the smell of the spices on the lamb kabobs, but I find myself unable to remain at the table and I have to leave. I walk back to the hotel by myself in the rain, feeling better outside in the fresh air, but pissed that I'm missing out on such a good (and as it turns out, the most expensive) meal of our trip. David and Lori say the food was excellent. Warda, www.wardavn.com, 71/7 Mac Thi Buoi