Friday, October 16, 2009
He made me promise not to refrigerate the cheese…
Today we get a late start and only have a little coffee in the apartment buy no breakfast. The plan is to walk to the Andrea Doria market on the northwest side of the Vatican and hopefully find something there. It's quite a walk up the river, but it's a bright and chilly day and we enjoy the stroll.
On the other side of St Peter's square, on the walk around to the Vatican museum entrance, we come across a small outdoor market selling crafts and clothing, but do not buy anything.
We keep walking and at the street just perpendicular to the museum entrance, we turn right on Via Tunisi. About two blocks down is the large, modern, indoor market. It's about 1 block square and filled with mostly food vendors. The market is known as the "Andrea Doria" market, for the street on which the main entrance can be found but its official name is Nuovo Mercato Trionfale.
We enter though one of the back doors on Via Tunisi and find ourselves in the fish market section. We wander a bit, hoping to find some place to get coffee and a snack. Unfortunately, we find no such place inside the market. One of the salumeria vendors is slicing proscuitto and he offers us a taste. He's very friendly and we promise to come back and buy from him once we've found something to eat. We ask for a recommendation of where to go and he points us outside.

We head out, but it's really too early (around 11 am) to find any place open for lunch and I have nothing on my list close by. Eventually, we settle on Café Fiorentina, directly across the street from the Andrea Doria street entrance to the market (www.lafiorentina.net). We sit on their covered patio eating pastries, panini, and coffee and are refueled to go back into the market.
I have to say, I love this market. It's huge, has tons of choice, the quality of the food looked excellent and the vendors (with the exception of maybe the fish guys who seem to have a permanent scowl) all seemed friendly. We saw no other obvious tourists. This is a place I would frequent daily if I lived in the neighborhood. I wish we had such markets in my neighborhood at home.
We go back to our prosciutto guy who proceeds to ham it up for my photos with one of his co-workers. I buy "due etti" (200 grams) of prosciutto and a bag of mini buffalo mozzarella balls. As he's bagging the cheese, he warns me with all seriousness, "don't put this in the refrigerator. Eat it today." Italians believe buffalo mozzarella must be eaten fresh, within 24 hours of being made and this was no exception. I promised we would eat it today.
Since we were surrounded with so much amazing food, how could I not buy some fresh tomatoes and basil to go with that mozzarella? I find just what I need in another stall; beautiful vine ripe tomatoes from Sicily, a bunch of fragrant fresh basil, and the woman selling them with an infectious smile. The prosciutto, cheese, tomato and basil cost a whopping €8.
We also check out the incredible array of meats in the butcher section, including one guy who is rolling up a ground beef involtini with slices of prosciutto and fresh arugula.
Nuovo Mercato Trionfale (Andrea Doria Market); at corner of Via Tunisi and Via Andrea Doria. Open Monday-Saturday from 7am-1:30 pm.
After the market, we walk back to St. Peter's square and sit on the steps below the colonnade to enjoy the warm sun. There's a line to go through security to get into the basilica, but it seems to be moving fairly quickly. Warning; don't try to bring a swiss army knife in, we saw a bucket of them discarded.
When we are through the security, we make a pit stop at the bathrooms and while we are waiting, a woman turns to Jessica and says, "you would think in a place this large, they would have more bathrooms!" Jessica's head almost spins off until she turns around and sees it is the young woman we had met in the line for the Colosseum bathrooms. She had recognized Jessica and was repeating (joking) what we had all overheard the someone say while standing in line at the Colosseum earlier in the week. Small world.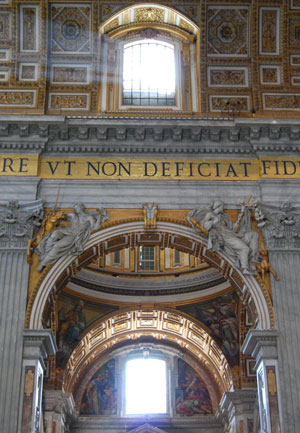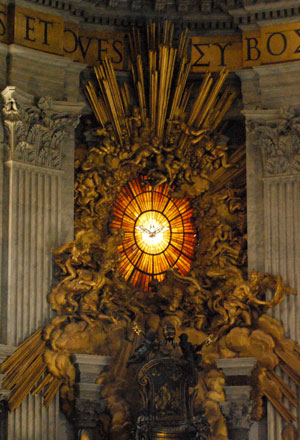 A little perspective; those letters in the gold band are 6 feet tall.
Once inside, Jess and Tris go off to take photos and my mother, feet hurting, goes into a small chapel to find a place to sit for a while. I wander and take my own photos. When we were here last year, it was Easter and different sections were roped off. The sheer enormity of space inside never ceases to amaze me. After a while, my mom is tired and we leave to take a cab back to the apartment.
Holy spotlight.
Across the street from the piazza is a cab stand. We walk up, tell them where we want to go and are immediately told "10 euro." I think, it can't possibly be that much, it's a straight drive down this side of the river. I tell the guy we want a metered cab. We get one and as soon as we get in, the meter starts at 5 euro. Uh oh! By the time we reach Piazza Trastevere the meter reads 10 euro. Later, I check online what the fare on the meter should be when you get into a cab and it appears we've been scammed, at least a little. I try to warn Jess and Tris by sending them a text but they don't get it and end up spending as much to get home too.

Piazza Santa Maria in Trastevere
Before dinner, Jess and Tris and I go out to have a drink in Piazza Trastevere. We arrive just before sunset and have a few Peroni beers in an outdoor café. It's lovely to just sit out there and relax. The colors of the buildings are so beautiful in the setting sun. After our drink we take a few minutes to do a little souvenir shopping and I buy David a hat with "SPQR" on it.
Dinner tonight is simple; the spoils of our market trip in the apartment. The only downside is that the apartment has no olive oil or vinegar to dress the cheese. I go downstairs to the little market but they have nothing but large sized bottles and I'm not willing to buy them just for one meal. We make due with some salt and pepper instead. It's safe to say this is possibly the best buffalo mozzarella I've ever eaten. We enjoy our meal with a bottle of wine and some piazza bianca from a local bakery.