The day had begun almost 36 hours earlier with the alarm going off at 2:45 am on the 10th of October. What followed was a haze of airports, bad airplane food, a ride into the city worthy of Mario Andretti, and a near-fainting. Fortunately, the day ended with the surprise of a catholic procession through our neighborhood and a lovely meal filled with laughter and hearty discussion among friends.
Because our flight is scheduled to leave at 6:10 am, I am up at 2:45 (yes, ouch!) for a 3:30am departure from my house. We arrive at the airport at 4:15 and because we've checked in online the day before, we are able to get in a different line to just check our bags.
Going through security still feels like undressing; Coat, scarf, shoes, belt, liquids, laptop, bag, purse, all come off and go throught the x-ray machine.
Hold on to that boarding pass!
Put it all back together on the other side.
Careful, don't forget anything!
At LAX, there is only one place open in Terminal 5 before 5am, and oddly, it's not a Starbucks. My mom buys us coffee and I pass out the bagels and cream cheese I have brought for our breakfast.
The flight from LAX to JFK is 100% full and I am thankful I have an aisle seat. At JFK we have a couple of hours and walk around the terminal in search of someplace we can sit down to eat. Unfortunately, the only place is Chili's. We sit and eat. 'Nuf said.
The flight to Rome is also full and I end up watching movies to pass the time, unable to sleep.
We arrive in Rome almost an hour ahead of schedule and have no problem going through immigration, getting our bags and clearing customs. The driver from Rome Cabs (www.romecabs.com) is there and waiting for us. He's not familiar with the street our apartment is on, but I'm able to show it to him on a map. Off we go! Zoooooom! It's a whirlwind ride into the city. We arrive at our apartment at 8:30 am, a full hour and a half before the scheduled time we are supposed to meet the owner.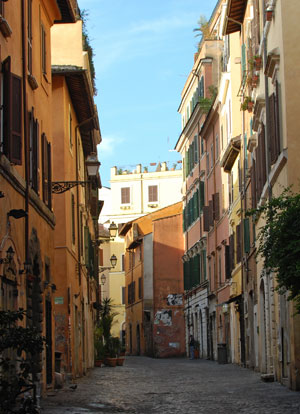 My mom and I take a wander around the neighborhood and can't find anything open where we can sit with our luggage for an hour or so. It's a Sunday morning and other than one small bakery (with no tables), nothing is open. We decide I will call the apartment owner at 9am.
At about that time, a car comes down our street and I say to Jess, "I want that car to stop and have it be the people to let us in." The car stops. It's the owners. The owner, S., says to me, "the agency didn't tell me what time you were arriving!"
Hmmm....I only confirmed this with the agency twice.
There are people upstairs in the apartment, but S. and her husband graciously allow us to go upstairs and drop our bags after the other renters leave. S. is dismayed we have to see the apartment messy. I'm just happy we can ditch our bags.
While we are there, we deal with the payment and discover I am 45 euros short. I had calculated the rate at 150 euros per day but somehow the agency had added on 45 euros and not detailed this in the email to me (though to be fair, their total included the 45 euros, I just hadn't noticed it). I think it was for a "cleaning fee", but honestly, I'm too tired to argue. We scrounge for extra money and get that all settled, along with $450 in US dollars (300 euro) as a security deposit we will get back at departure.
Then S. starts explaining to me the details of the apartment, specifically the 4 separate bins for different types of trash and recycling and suddenly, I feel like I am about to faint. I'm dizzy and my heart starts to race wildly and it's all I can do not to pass out on the floor. She must have thought I was crazy. I sit down for a moment, catch my breath, and we gather our things to leave for a few hours so she can finish cleaning.
"I've never seen you that particular shade of green."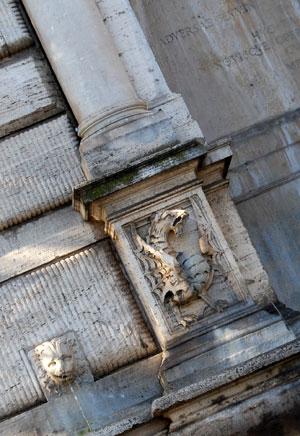 Piazza Trilussa at the Ponte Sisto
The apartment is only about a block from the Ponte Sisto, so we walk across and into the historical center. We find a cafe in little piazza about a block from the Campo di Fiori and everyone (but me) has a coffee and a snack.
I'm trying hard to hold it together, but I realize that if I don't get horizontal asap, I may truly pass out. It's a bit scary, and I'm having moments where I'm certain I'm going to die in Rome, but really, it's only lack of sleep. I just can't go 24 hours without sleeping any more. I'm too old for this.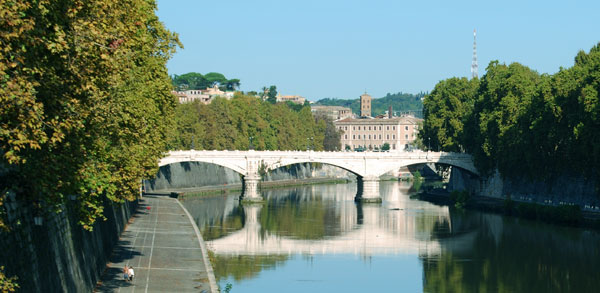 We decide Jessica will walk with me back to the apartment and mom and Tris will stop at a grocery store we've passed and pick up some supplies.
We are waiting to cross over to the Piazza Trilussa and Jessica looks at me and says, "I've never seen you that particular shade of green." I now know this is not just in my head. I am praying they are done at the apartment, but they aren't. Fortunately, one bedroom is clean and S. graciously allows me to lie down. As soon as my head hits the pillow I am instantly out.


Nothing signals one has arrived in Rome quite like the smell of incense wafting from a Catholic Procession.
Mom and the girls go have drinks at a cafe in the Piazza Santa Maria in Trastevere. They come back after an hour or so for a rest along with a story about how they'd seen some sort of religious gathering in the Piazza.

Suddenly, we hear noise outside and look out the bedroom window and down onto the street. It's the gathering they saw in the piazza, turned into a procession complete with priest, penitents carrying a heavy church idol on a platform (in this case a sacred painting), women carrying incense with their heads covered in white lace, and a marching band. It takes almost half an hour to move down our street and at one point the men carrying the idol stop for a rest right below my widow. The place and time could not have been more perfect. The smell of frankincense and myrrh lingers in my room for hours.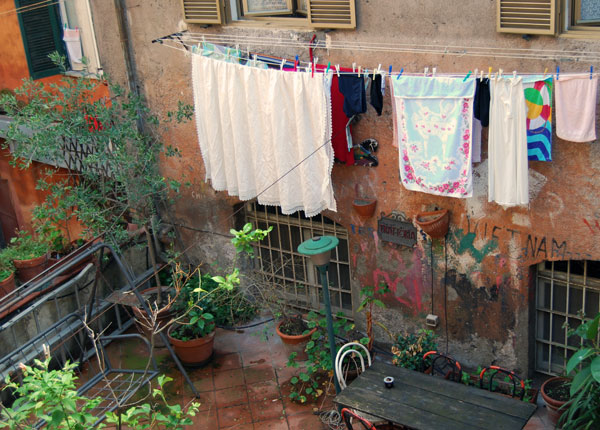 View from the kitchen into the central courtyard behind building.
At 3pm Jessica leaves to meet up with her college roommate, Mary, who now lives in Milan and has come down to Rome for the day. By 6pm I am feeling normal again and we all meet up to go out for a walk and dinner.

View of St. Peter's Dome from the Ponte Sisto at sunset.
First we walk over the the historical center and to our favorite gelateria, Frigidarium (112 via Governo Vecchio). But wait! Where is our guy Fabrizio (the owner)? He's not there!
Note: We discovered Frigidaruim when we were here last year and visited almost every day. We got to know it's friendly owner, Fabrizio and have kept in contact with him via email. When I let him know we were coming back he seemed genuinely pleased. He also told me my web site had brought him a lot of business. So I guess people do read this stuff...

Mary speaks to an older woman behind the counter in Italian and asks when he will be back. The woman eyes us all suspiciously and is deliberately vague as to when he will return.
Days? Who knows?
Only when Mary tells her I have written about Frigidarium on the web and that Frabrizio knows us, does she loosen up. I leave my card for Fabrizio. My guess is that this woman is the over-protective mother-in-law. Everyone agrees.

We wander a bit more and pull out my restaurant list and map to select Osteria al Pegno. We get lost trying to find it and when we finally do, discover they are full unless we have a reservation.
One thing to keep in mind about dining in Italy, the restaurant may look empty, but many times they are holding tables for specific reservations. Things are different here than in the US where many places will seat until they are full and make their reservations wait. Mary calls another place on my list, Il Fico, and they say they can take our party of 5.
When we arrive the outside patio area is full. They offer us glasses of Prosecco while we wait for a table. After a few minutes, we take a table inside, choosing food over the wait. We order a number of antipasti dishes to share and everyone orders pasta for their main course. While most Italians don't eat pasta for their main course, this was our first night in Rome and we were still getting into the eating groove.
We have an octopus salad, mixed grilled vegetables and two types of stuffed zucchini flowers; one breaded and fried, the other, which they called a "terrine", was not a terrine, but rather just the flowers stuffed and baked. The battered and fried ones are very good and came with the traditional anchovy tucked inside along with the cheese. I could eat those all day long. We also have an order of eggplant parmesan.

My pasta, buccatini all'amatriciana comes with a garlicky tomato sauce with guanciale (bacon made from the pig's cheek). It's excellent but comes in a shockingly large portion size. In fact, most of the pastas here are quite generous of portion and everyone is happy with their choice (not because of size, but because of taste). The frutti di mare is beautiful (top photo), the caccio y pepe is very good, as were the house made ravioli and the pasta with mussels.

I think we had dessert, though because there are no photos, I can't remember what it was. We had a liter (ok, a liter and a half) of the house white wine and it was perfectly drinkable. The service was friendly, if not a bit distracted. It takes us almost 45 minutes to pay our check, though we don't mind because we're having such fun and good conversation. To his credit, when the waiter realizes he had forgotten us, he brings us all complimentary glasses of Lemoncello. Dinner for five was approx. 95€
Il Fico Ristorante, Via di Monte Giordano, 49. Tel:06 6875568, www.ilfico.com
After dinner we get Mary into a cab back to her hotel and walk back across the bridge to our apartment. We find the street teeming with people walking, dining outside, drinking, etc. So, when in Rome,...we stop at a gelato place right across from the apartment called Cremi for a late night treat.