Monday, October 12, 2009
Today begins in a much more gentle way than yesterday with one small exception. While Tris is in the shower, the shower head blows off, spraying water everywhere. I have to call S. and explain this. She says she will send her husband over while we are out. When we come back later in the day, the shower head is fixed.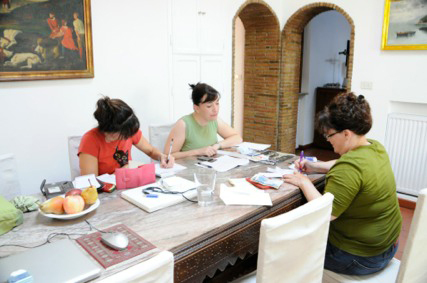 Trying to figure out where the money went yesterday...
My mom makes coffee in the apartment and then we head out toward the Coliseum/Forum/Palatine area. First we stop at the tourist information center on Viale Trastevere to buy our Roma Passes. www.romapass.it We had intended to buy the Roma e Piu Pass which includes some areas and sites outside of Rome but they tell us it's not available without a "reservation," something I don't remember reading on the web site. Now, when I check their web site it says it's not currently available at all.

Roma Pass
The Roma Pass costs 23 euro, covers entrances to 2 sites/museums and is good for 3 days. After the first 2 sites are used, admission is "discounted" which I've found usually means 50% off. It's most effective if used at the places with the most expensive admission prices first. Last year we used it for the Coliseum and the Borghese Gallery first. It is not good for the Vatican Museums.
It also includes a 3 day transportation pass good for buses, trams, metro and local commuter trains (like the one out to Ostia Antica), but not the train from the Airport. The museum pass and the transport pass do not have to be used on the same 3 days, but once you start using them, the clock starts ticking.
After buying the passes we walk toward the bus/tram hub at Largo Argentina and along the way stop at a small bar/cafe for some panini and coffee. Mom orders a "macchiato" which literally translated means "stained" and refers to an espresso with a spot of milk in it. This becomes her coffee of choice for the trip.
At Largo Argentina we walk around the outside of the ruins and have a chat with some of the local kitties who live in the cat shelter there. The Cat Sanctuary is open daily from 12-6 pm. We visited on our last trip, but did not make in down there this time. If you like cats, this is the place to go in Rome. To see more on the cat sanctuary, go here; http://www.wired2theworld.com/ROME2008Day2.html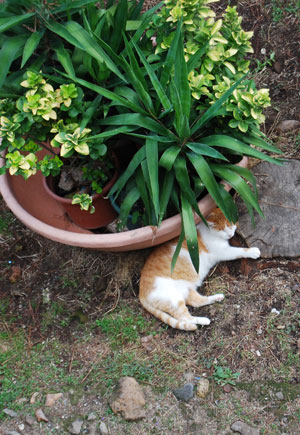 The white cat at right was hanging out up top looking for love (or food). He was very friendly, meowing at all the tourists and allowing me to scrach his head.
Once we have our fill of kitty love, we get on a bus going toward the Forum, validate our transportation passes in the bus on the machine, and now we are set for transport for the next 3 days. Once the pass is validated, you just have to carry it with you, not stamp it every time you get on the bus.

Fruit vendor on Via Dei Fori Imperiali. Can you tell what's real and what's not?
We get off the bus at a stop about a block from the entrance to the Forum on Via Dei Fori Imperiali. A bathroom is needed and we remember from the last trip there's one there at the entrance (around the corner from the ticket office, before the actual entrance). Once that's settled, there's some debate as to how we enter with our Roma Passes. Based on prior experience, I thought we had to show them at the ticket booth in exchange for a paper ticket. This is no longer true. Just walk up to the turnstile on the left, swipe the Roma Pass card in the machine, and we are good to go. This is only good for the first two "free" visits. After that, you have to wait in line to buy your discounted ticket, but some sites have different lines for Roma Pass holders.

Temple of Antonius and Faustina surrounding the Baroque Church of San Lorenzo in Miranda. The green door (seen in photo at left) is the street level in the early 1900's.




Three photos of Temple of Castor by Tris.
As we wander around the forum it suddenly gets very humid outside and starts to rain a little.We can do nothing but laugh at our misfortune; when we were here last year we toured the Forum and Coliseum with Francesca Caruso it dumped rain so much that we were unable to take pictures.
Jessica amuses herself by using her blackberry to take hilarious photos of two little toy cars, Luigi and Guido, from the movie "Cars" in front of the monuments.


I've never been up to the Palatine so I'm determined to get up there today. We head up the stairs, pausing to look at the grotto which because of the rain is flowing heavily.
At the top of the steps, we reach a formal garden and the skies unleash. It's not just raining, it's pouring and the old man is not only snoring, he's bawling. My mom and I huddle under an umbrella under an olive tree and Jess and Tris under another umbrella. I have no idea why we only had 2 umbrellas for 4 people that day. After about 10 minutes the deluge stops and the skies part. We are at a viewpoint which overlooks the Forum and most of Rome in the distance. The sun is shining on one side and the skies are threatening on the other.
It's crazy, chaotic and beautiful all at once.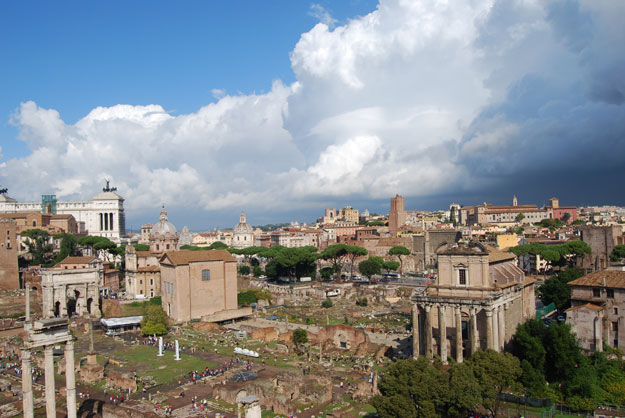 After we've had our fill of the view we walk around to check out the other parts of the Palatine. I really had no idea how large the area is and in the end, we only see a small fraction. We walk through a tunnel which has mosaic floors and an ancient artifact exhibit inside and then choose to leave and visit the coliseum again before it gets too late and we run the risk of breaking golden rule #1. I would have liked to have spent more time at the Palatine and will have to go back again (oh shucks!).
At the coliseum we don't have to wait in line, only put our cards in the turnstile machine and it lets us through. I'm worried that it will have charged us for a 2nd visit, instead of reading it as our first to be included with the forum. But I'm a worrier and I won't know the answer until we visit the second site, tomorrow.
Regular admission to the Forum/Coliseum/Palatine is 13 euro and the ticket is good for 2 days to allow you to see all the sites. I don't know if they let you return to the same place you've already visited on the second day however nor do I know how that works with the Roma Pass.


We enjoy ourselves walking around the Coliseum for a while, taking pictures. Unfortunately, it's impossible to walk the entire circumference inside, and there's only one place to go up to the second level. This means we end up walking on the bottom level all the way to the (only) exit, walking all the way back to the entrance, going up, coming down, and walking all the way back to the exit. And of course, the exit is on the opposite side of the coliseum from where we want to be for lunch.
My advice if you are going in without a tour, enter, go upstairs first, come down and work your way toward the exit. There is less backtracking that way.
There are a new set of portable restrooms inside the coliseum, right next to the ticket area. I think in the past one had to exit to find any. While waiting in the long line, a woman standing near us says, "you would think in a place this large, they would have more bathrooms!"
Yeah, right, let's convert this 2000 year old world treasure for your convenience. Would you prefer they drill right into the walls? How about putting the latrines down where they used to keep the animals? Would that be better for you?
We all marvel at this and even strike up a conversation with another woman in line near us who is also stunned by this example of the "inane tourist comment."
Hostaria da Nerone
Hostaria da Nerone is the type of place you really want to take the time to search out if you want to eat well near the Coliseum. Sure, you can sit at an outdoor cafe and gaze up at this wondrous monument, but not only will you pay a hefty price for the privilege, you will be sitting with hoards of package bus tourists and the quality of the food is questionable.

This restaurant sits on a leafy, tree lined street about a block north of the Coliseum. An extra bonus is that it's only another block from the famous San Pietro in Vincoli (St Peter's in Chains) Church which houses Michelangelo's famous statue of Moses (stunning).

We start with a bottle of Rose, perfect for the hot, humid weather, a couple of artichokes alla romana and a salad. The restaurant has a large anti-pasti bar and had we been paying better attention, we would have ordered a plate off of that. My understanding of how anti-pasti bars work in Italy is that one is given a plate and you can put on it what you want, but there's no going back for seconds. I would have liked to try their marinated eggplant, white anchovies, and just about everything else there. The artichokes were delicious.

We each order a pasta; fresh fettuccine with mushrooms, spaghetti alla vongole (with clams), canneloni al forno, and a special mixed plate for me with a little lasagna, gnocchi, and a single large ravioli. All are excellent and Jessica will not even share a bite of the vongole it's so good. We have two desserts, a "cheesecake" and an unremarkable "tiramisu" served in a glass cup. Skip dessert and go somewhere for gelato.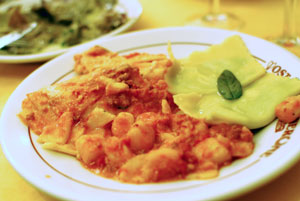 This is clearly a family run place with mom, dad, and their adult son running the floor. They've been there since 1929, and while it is located by one of the world's most famous tourist attractions, it still feels like a neighborhood place. The son waited on us and was very friendly. Lunch for four, including a 13 € bottle of wine, bottled water, and 10% service was 99€
Hostaria da Nerone, Via Delle Terme di Tito, 96. Tel:06 4187952

Michelangelo's Moses-photo by Tris
After lunch we walk over to San Pietro in Vincoli and marvel at the beauty of Michelangelo's Moses and the ceiling painting of St. Peter in Chains. Along the way we pass what looks like a crime scene, complete with yellow police tape and a coroner's van. Only after we see some people sitting under a pop-up tent do we realize it's a film shoot. Perhaps CSI Rome? I'd watch that!
Think of the story lines…
IIn the evening we have plans for another meet up. This time it's with someone I know through the Fodor's message board, Marcy, and her mother, and their friend. When we figured out we were going to be in Rome at the same time, we made plans to get together. It seems like we have taken several of the same trips in the past few years (Rome, Paris, San Francisco), so it was neat to be in the same place at the same time and put a face to the name.

We chose to meet at a wine bar called Cul Du Sac. This was a place I'd wanted to try on a previous trip as had Marcy. It seems to be very popular and I've seen it recommended a lot. Marcy agreed to check it out prior to our arrival, did so, and proclaimed it good. Our plan was to meet by 7:30 with them arriving early to get us all a table outside.

Unfortunately, with the rain earlier in the day, the outside tables were all wet and it was really too cold to sit out there. Inside, the place is so small and narrow there is no room for a table for 7 so we have to sit at two tables across the central aisle from each other. I sit with Marcy, her mom and friend while my mom, Jessica and Tris sit at another table. Needless to say, this isn't really conducive to good conversation between everyone.

In back, Marcy and her mom, front left, their friend and me. Photo by Tris.
We're so busy chatting, I don't take any photos of the food or wine. Plus, the tables are so cramped, there really isn't any room. There is a lengthy wines by the glass list as well as a bottle menu which looks like a book. The food is basic; meats, cheeses and pates. It's fine, but not stellar.

Unfortunately, this is one of those times when poor service can color the whole experience. Our server is not interested in us, or his job for that matter. He seems completely put out at all times. He ignores us, is impatient and disinterested. To be fair, Marcy said when they were there a couple of nights before they had great service. Frankly, there are too many other great wine bars in Rome and I'm not sure I get the hype over this one. It's possible we just got a guy on a bad night, so give it a try, at least for a glass of wine.

Regardless of the surly server with the pierced lip (oh yes, he had a stud) we had a lovely time with Marcy and I do hope our paths cross again.

After dinner, we walk up the street to Frigidarium to see if Fabrizio is in. Again, he is not, but we do meet his brother who is just as nice as he is. We all order some gelato this time and when I order 2 flavors in a small cup, he says "Ah, you've been here before! Most people don't know you can do that." Their gelato really one of the is the best around.
The brother tells us Fabrizio now has another job during the week and is only in the gelato shop on weekends. He says, "Everyone in my family has three jobs!" I gave him my card again and by the time we got back to the apartment I have two messages from Fabrizio saying he will be there on Saturday, so we will hopefully see him then.