Thursday, October 15, 2009
The attendant, who refuses to smile, takes our money, opens the door and disappears. We descend 2000 years down a stairwell on the back side of a "modern" Roman building.
It's about 9am on a Thursday morning and we are with Katie Parla, an American living in Rome and a woman of many hats. This is the start of our 4 hour private "Underground Rome" Tour, custom tailored just for us.
Katie says, about the man who let us in, "He's always like that. You could tell him he'd just won the lottery and he'd look the same."
Katie has a degree in Art History from Yale and a Masters in Food and Wine from the University of Rome. She writes for well known guidebooks like the Rough Guide, Fodor's and DK Eyewitness. She also does private tours and has works with Context Tours. Needless to say, she really knows her stuff and is very passionate about it. You can find her at her website www.katieparla.com

Inside the Mithraeum.

We've met Katie in front of the Church of Santa Maria in Cosmedin. This is the medieval brick church where the Mouth of Truth is located. We are now in a building behind the church, descending into an area called a "Mithraeum" which was used for meetings and ceremonies honoring the God Mithraeus. It is essentially underneath the Circus Maximus. The structure also housed official public offices. We are walking on floors almost 2000 years old and she shows us, based on differing methods of construction how to tell the age of the structure. We see carvings of the God Mithraeus who is usually seen killing a bull and altars for offerings.

From there, we walk over to the Circus Maximus, bordered on one side by the Palatine. It too has not changed much in over 2000 years. We continue walking, past the church of San Giorgio and the arch of Janus. There are rooms inside these mammoth arches. Who knew? They were used as fortresses in times of siege and offices in times of peace.

We make a stop at the Church of San Nicola in Carcere, but for some reason they will not let us go downstairs until later. From there, we walk to the Teatro Marcellus. This is a theater built by the Emperor Augustus and then converted into a palazzo during the Renaissance. It now has apartments on the top floors. I think it must be one of the coolest places to live, ever.

We walk through the Ghetto and Katie confirms my suspicions about some local restaurants which are over rated and my new found love of the Pasticceria Boccione. We end up at the Crypta Balbi which is about a half a block away from the ruins at Largo Argentina. Again, we are too early for our tour so she takes us out to see the ruins outside. Suddenly, they are all in perspective and I could picture them all along one street. While I've been here many times, I never really saw the site as a place which held four temples, side by side. For more photos of the ruins, please see http://www.wired2theworld.com/ROME2008Day2.html
Our friend, Mr. White Cat was still there, topside, looking for some love.

We go back to tour Crypta Balbi's substructure. There are a whole two floors of museums above ground here. I wish I'd realized that and gone back later with my ticket to see them. Underground are the remains of an ancient theater and a series of small ruins. Here we learn that it was not uncommon in ancient times for homes to be built on top of large pits into which garbage was thrown. Unfortunately, sometimes the decomposing trash would build up gasses and explode. Apparently, there are still buildings in Italy today with these trash pits beneath them.

Finally, we return and tour the ancient cattle market buried beneath the Church of San Nicola in Carcere. This time, the attendant there has no issues with letting us go downstairs. The market stalls, along with their built in ledges are still easy to discern even today.
Tip for touring; Have small bills for entrance fees. No one ever has change. Approx 3 euro each, each location. Our tour with Katie Parla was 250€ for a 4 hour personalized tour.
Lunch at Trattoria da Augusto
It's time for lunch and we had back toward the apartment, hoping to find a place listed in my notes. As we walk though Trastevere, we stop at four different places and all of them are closed! Finally we end up at Tratorria Da Augusto, which a few nights ago we had seen with a line snaking out the door. Today it is crowded, but there is one empty table right next to the front door and we take it.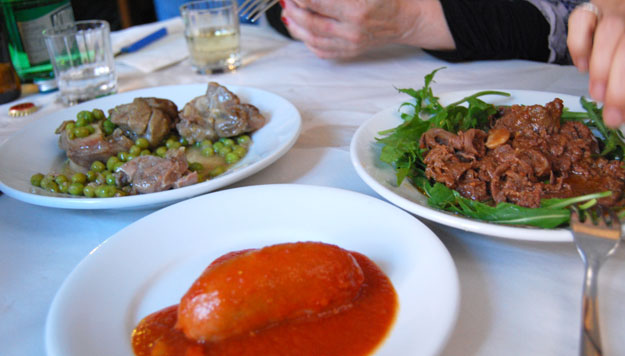 Both the menu and the food are very simple. I honestly can't remember much about what we had, probably because I had too much wine. From the photos I know we had gnocchi with a tomato sauce, osso buco with peas (which came to the table tepid), beef with arugula (a little soupy for my taste) and a sausage which wasn't what we thought it would be. We also had an order of their daily special which was a really wonderful, juicy and tender roasted pork. I think we had something else, but it's not in my photos. A note about the wine-we ordered a carafe of the house red and it came to the table ice cold. I asked if we could have white instead because I just can't drink red wine that cold (on a chilly day too). The woman waiting on us looked perturbed but took it back and brought us a liter carafe of while. Jessica was horrified but fortunately, I saw the red wine went to another table so it was not wasted. Lunch was 45€ for the four of us the total of what we owed was added up by hand on the white paper covering the table.
Trattoria Da Augusto, Piazza de Renzi 15, Tel:06 5803798

It seemed like such a good idea at the time.

After lunch we go back to the apartment for a rest and then go out early to walk around before 8pm dinner reservation at Armando al Pantheon. Our first stop is Piazza Navona and it's so nice to see Bernini's Fontana dei Fiumi fountain uncovered and clean.
From there we walk to the Pantheon and the sun is beginning to set. Inside it's very crowded. Suddenly I'm not feeling well. In fact, I'm downright queasy. I need to get outside into the fresh air and sit down. Tris wanders around snapping photos to her heart's content with Jessica and my mom and I sit on the steps next to the fountain across from the Pantheon.

I go to use the bathroom in the stealth Mc Donald's directly across from the Pantheon (I say "stealth" because there's no big sign and unless you are looking for it, you might miss it) but I don't feel any better. Jess and Tris head off to great purse shop they remember from last time and my mom and I go into a snack shop to buy a bottle of aqua con gas for me. All of a sudden I realize what the problem is.
Doh! I have the dreaded "Late Afternoon Hangover." This occurs when one has too much wine at lunch and not enough water! Four hours later I am regretting this. It seemed like such a good idea at the time.
Unfortunately, our reservation time rolls around and we're at Armando al Pantheon and I'm not hungry. I'm told to have a drink which will somehow make it me feel better and we order a nice bottle of organic wine from Sicily. It helps a little.

We order a mixed vegetable antipasti plate and two of their wonderful artichokes alla romana to start. We get two pastas; one, our favorite alla verde with aruguala, cheese and lemon, and one with asparagus and pomegranate (note to self; I must make for my food blog!). For our main courses we share two orders of oxtail which they only make on Thursdays and I have pre-reserved, an order of the lamb chops, and an order of sauteed chicory.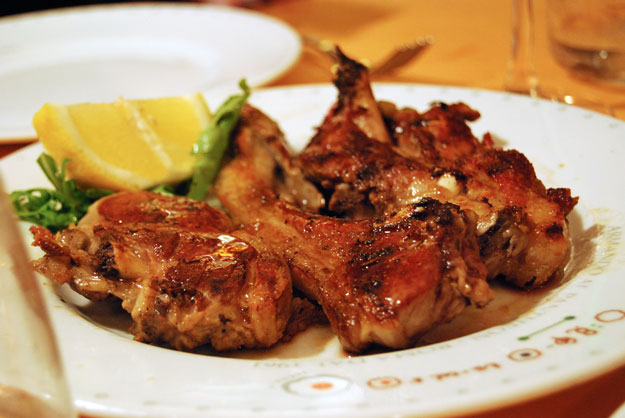 Everything is very, very good. Coffee and Amaro Lucano round out the evening. I'm not sure what the dinner cost because my incredible friend Jessica picked up the tab as a "thank you" for all my trip planning. Thank you Jess, for a lovely meal.
Armando al Pantheon is open daily for Lunch and Dinner, closed Saturday night and all day Sunday. Salita de Crescenzi, 31, tel:06/68803034

On the way home, we stop and gape at what may be the World's largest mortadella enclosed in a plexigass case in the doorway of a deli in the centro storico. Last call is gelato at Cremi across from our apartment. While it's not Frigidarium, it's very good.