Wednesday, October 14, 2009
We start the day with a breakfast of pancetta, eggs, toast and coffee in the apartment (yay for vacation apartments!).
Today is the last day our Roma Passes and transportation passes are valid, and we want to make use of them, but we choose to start with a walk over to the Campo di Fiori market.
It's probably 10 am by the time we arrive and the market is in full swing. It may be predominately for tourists, but the food here is good quality nonetheless. I am so impressed with the time the vendors take to artfully arrange the produce in their stalls. Everything looks so beautiful.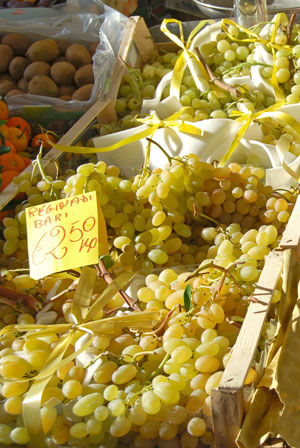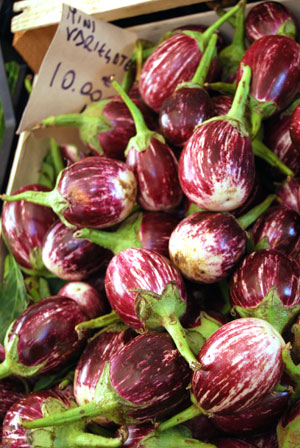 There are also a number of non-food vendors selling clothing, hats, small kitchen wares, and jewelry. We are particularly taken by an older gentleman who is selling is special slicer/dicer. He has his spiel down perfectly in English, down to the jokes. Everyone who watches buys something from him.

From the guy selling hats, I buy 2, one in green, one in brown (16 euro each). Tris and my mom buy hats as well. We also spend quite a while looking at a never ending assortment of Murano glass necklaces (there had to be thousands, all different) and everyone buys something there as well. At the dried spice guy I buy a bag of arrabiata spice for a friend living in Cambodia.

One of my favorite vegetables, hard to find in the US. It's called "puntarelle" and it's
a bitter green. On the left, whole and on the right, cleaned.
It's usually served as a raw salad with a lemon-anchovy dressing.

Window of the salumeria. Yes, that's prosciutto with the foot still attached!
After an hour or so, we are done with our shopping and make one last stop inside a salumeria on the southeast corner of the Campo. Mom buys a couple different cheeses and we walk back to the apartment to drop our spoils. Along the way I have to stop and buy a couple of bottles of Amaro Lucano as a gift for my husband. We had this Amaro last time we were here and it became everyone's favorite. Tris found it again in a market on our first day for only 9.90 euro a bottle. It's almost impossible to find in the US, and when we did, it was $35 a bottle, so I know David will be happy.

After a pit stop at the apartment to drop our purchases, we are on our way out one again to the Baths of Diocletian. The plan is to take the bus over to the general area and then stop for lunch at a nearby restaurant.
Once again, we take tram 8 to the Largo Argentina stop and then transfer to a bus which we think will take us to where we want to go for lunch. It's a long hot, crowded ride. Jessica is watching a map and following our progress so we can know when to get off the bus. Suddenly, the bus takes an unexpected (to us) turn. We're not sure what to do. We look at my bus map. This doesn't make sense.
Finally we figure it out; the bus has a long and convoluted route ahead and will eventually circle back to where we need to go. Do we stay on and wait it out or get off? We jump off at the next stop and start walking back toward the museum, but it's a long way away. We keep walking along the bus route and finally one comes so we hop back on. We get off to the stop closest to our destination, a restaurant called Cantina Cantarini.
As we walk up there I am praying we will find it open. I don't have a lot of options otherwise in this area, and it's already getting late for lunch given our little bus adventure. Fortunately, Cantarini is open and they have a table for us. But it's tiny and quickly filled. We are the only tourists in evidence here and I like that.

An older gentleman who we think is the owner waits on us. He rattles off the specials in rapid fire Italian. When he walks away from the table, Jess asks me, "what did he say?" I have no idea past the first couple of items, but she says I look like I understood.
We order an arugula and tomato salad and a caprese salad along with two penne arrabbiata, a buccatini alla amatricciana and an order of liver, plus sautéed chicory and an order of broccoli. The salads and pastas are both good, especially the arrabbiata which is very flavorful without being overly spicy. I could eat the sautéed chicory every day.
Those who had the liver (not me) enjoyed it. For dessert, we have panna cotta with chocolate sauce (odd) and one tiramisu (excellent). The owner's wife and teenage daughter are there working as well. Teen exasperation is clear in any a language. The girl clearly does not want to be there. We are all amused watching her roll her eyes when asked to do anything, sigh, and begrudgingly make espresso.
Half bottle white wine, 1 L bottle of water and 3 coffees is about 75 euro for four people. Cantina Cantarini-Piazza Sallustio, 12-Tel: 06 485528 Closed Sundays.
From there, we walk about 5 blocks to Baths of Diocletian (the photo at the top is from the outside, taken by Tris). This is part of the Museo Nazionale Romano and tickets here are good for the 5 museums of this group (also including the Palazzo Massimo, Palazzo Altemps, Aula Ottagona, and Crytpa Balbi) and are valid for three days. However, because we are using our Roma Passes on their last day, the ticket is only good for today. This is a bummer because tomorrow we go to the Crypto Balbi as part of our tour with Katie Parla and will have to pay full price admission. Looking back on it, had I thought it through, I should have just paid the admission in full today and had my ticket for tomorrow.
The Baths of Diocletian are interesting, but not exactly what I expect. There's a museum filled with statues and a cloister from a Carthusian monastery designed by Michelangelo which we check out first. Then we find the area where the baths were, but there's not much left except the exterior walls.
Since our tickets will get us into the Palazzo Massimo museum for free, we go across the street (to the right on the diagonal when exiting the Baths). I have now reached my Roman-Bust-Saturation-Point but there's some interesting sculpture and mosaics here nonetheless. Actually, the mosaics are truly stunning in their size and complexity and the bronze sculpture of the boxer is quite moving. In addition there is the beautiful dining room from Livia's Villa, the walls of which are completely covered in frescos of a garden.
After the museum we are all exhausted and from the Termini station next door, we catch a bus back to the apartment for a well deserved rest.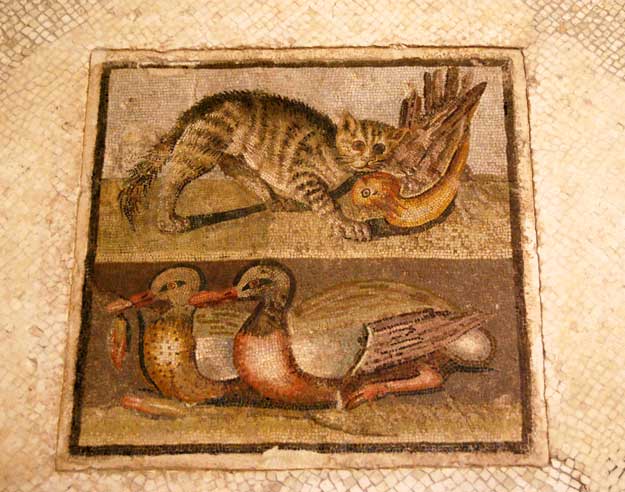 In the early evening we go out for a walk around the neighborhood and end up buying some amazing pizza bianca at a little shop with no name located at #1 Via di Santa Dorotea. It's hot, salty, and brushed with olive oil. Absolutely fabulous. None of us are particularly in the mood for a large dinner after our late lunch, so we buy more piazza Bianca and bring it back to the apartment to have with a bottle of wine, the cheese, and some pears, purchased earlier in the day at the Campo di Fiori.