March 6, 2007-Trip to the eye doctor
Mom woke up this morning with an irritated eye and after changing her contacts it just got worse. Hoping it will calm down, we go out and on the Graben, we stop in an accessory shop so she can buy sunglasses. I spy a beautiful blue and green scarf on sale for only 8 euro and buy it as well.

Next, we head to the Hofburg Palace where we wander around a bit before finding the entrance. We buy tickets for 9 euro each which cover the Silver collection, the Sisi Museum, the Imperial Apartments and come with an audio guide included.
The Silver collection includes all the Hapsburg china, glass, silver and gold, plates, utensils, serving ware, everything. The sheer volume of items is overwhelming and even includes a 30 meter long gold centerpiece.

The "Sisi" museum is all about Empress Elizabeth, wife of Emperor Franz Josef. She was a remarkable women for her era; well educated, opinionated, athletic, independent, well traveled and a poet. She married at the age of 15, had many children, and in later years, refused to spend her time in the Vienna court. It was clear that her husband loved her very much, but unclear if his feelings were returned. She was also vain-obsessive about both her weight and her waist length hair and refused to be photographed after the age of 32. A very interesting woman and exhibition.
The Imperial Apartments are well furnished and even include Elizabeth's bathroom, the first of it's kind with indoor plumbing in Vienna.
I always find myself wondering why we cannot see the kitchens or servants quarters whenever I've toured a palace or castle. What was life like behind the scenes?

By now, Mom's eye is no better, so we walk back to St Stephan's square from the Hofburg to where she remembers seeing an eye wear shop with what looks like medical equipment in the back. It turns out, they are not allowed to look at her eye, she has to go to an optometrist. They recommend one, and of course, he is back near the entrance to the Hofburg.
Dr. Georg Burggasser (Herrengasse 6-8) speaks perfect English and tells Mom that she's been wearing her contacts for too long and she's badly irritated her eye. He gives her a prescription for drops and ointment and asks her to return tomorrow for a follow-up. His fee is only 30 euro, and the prescriptions at a pharmacy, another 8 euro. Would that have been possible in the US without insurance?

By now it is almost 2PM and I'm delirious with hunger. We stop at the famous Cafe Mozart across the street from the Albertina. Looking for something light I order the Caesar salad with chicken and it arrives on hot plate, overdressed and wilted. The waiter brings another, but it was not much better. Mom's soup is good and with
the white house wine and a lemon soda lunch is almost 25 euro. Again, I find myself wondering if it might not have been better (and cheaper) to have wurst at one of the local stands.

At this point we decide we need to go back to the Pertschy get our bags and roll on over to the Hotel Austria.
Our room, #203, is a "classic" room, and what the front desk clerk refers to as an "apartment" (it's not). There are 2 rooms, one with two twin beds, an armoire, and a tv, and another with a single bed and tv. The ceilings are at least 16 feet high and the bathroom is very small with a tiny stall shower and a light that's on a dial timer. We are each given a little amenity pack as we check in rather than finding them in the bathroom. In all, an ok room, neat and clean, but lacking in personality.
We dump our bags and take the metro down to the Museum Quartier where I've been dying to see the Modern Art museum (MUMOK). I'd seen it in an article in the LA Times a few months ago and the grey basalt cube of a building had a upside-down house implanted in the top. That house must have been a temporary exhibit because it was gone. In addition, this week they were in the process of changing the exhibits so half the museum was closed to the public. At this point, I decide not to go in since my mom doesn't really appreciate modern art anyway.
We walk across the street to the Natural History museum only to find that it's closed on Tuesdays. Ooops! Well, what's a girl to do now? It's strudel time!


For today's coffee and strudel, we take the u-bahn to Cafe Demel for melange (coffee with milk) and apple strudel for 11€.


Unable to bear the thought of another heavy meal, we ask at the front desk for a recommendation of something else, perhaps Italian? She recommends Rossini's, an Italian place about 2 blocks from the hotel.
We are greeted with a "Buona sera!" as we walk through the door. I'm instantly happy. The menu is in Italian with German translations and with my limited Italian, and a German phrasebook, I can translate almost everything. Our waiter is adorable and jokes with us in Italian the entire night. He brings the bottles for the wines by the glass to our table since they are not detailed on the menu. We each have a glass of Palio- Montepulclano de Abruzzo which is on the menu only as "corvo rosso"
For a starter, we share the "antipasto misto della casa"-carpaccio, Parmesan, eggplant, mushrooms,etc., drizzled with olive oil, it's just what I want.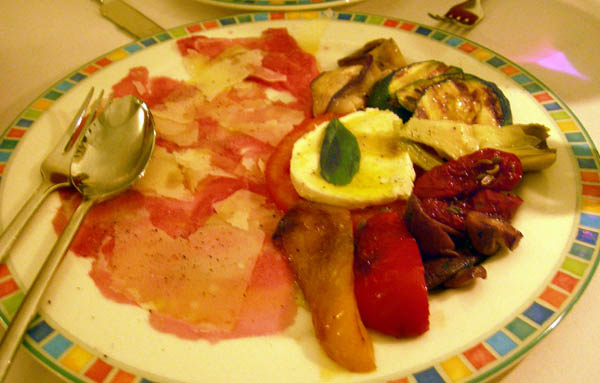 I order the "gnoccni alla sorrentina" from the Daily Specials list and it comes with a fresh tomato sauce and buffalo mozzarella.
Mom has the "linguini alla piva" with garlic, olives, and eggplant.
With our pastas we each order another glass of wine; Ritocco-valpolicella valpetena 2004 and Salice Salinto-rosso Maiana d.o.c 2004.
I usually won't order Tiramisu in restaurants anymore, but tonight it turns out to be one of the best I've had in a long time and obviously homemade.

Total for dinner was around 50 euro

Pedometer for day 5- 6 miles