Budapest-March 3, 2007-Sunshine and Rain
We begin the day with sunshine out the window and breakfast downstairs in the hotel bar.

First stop is the magnificent St Stephen's Basilica, whose dome we can see from our room across the river. On the way, we walk through the beautiful Four Season's Grisham Palace hotel. The lobby is stunning with a vintage wrought iron and glass ceiling.

St Stephan's in the largest church in Hungary and was built over a 50 year span in the mid 1800's. It, and the square surrounding it were refurbished in 2003. The inside was beautiful, and for a few moments we had the place to ourselves as it was almost completely empty, save one docent and a man praying quietly. As we left, a large group of Japanese tourists were heading up the steps.
Next, we head toward Deak Ter ("Ter"="Square"), hoping to maybe buy a metro pass and find a travel agency which reportedly sells train tickets. We make it to the square ok, decide to pass on the passes, and then proceed to get lost and walk in circles again. Finally, we find the next square we're looking for called Vorosmarty Ter where we find both the coffeehouse we're looking for called Gerbeaud's and Budapest's only Citibank office where I get some cash. The travel agency turns out to be closed for remodeling.
Gerbeaud's (Vorosmarty Ter 7) is one of the old Grand Cafes of Budapest, dating back to 1858. Inside is huge, with many rooms and tons of tables. The pastries are beautiful. We have cappuccinos and a cheese pasty which is pretty good. It does appear that most of the patrons are tourists as I see lots of maps and guidebooks on the table but no mind as it's nice to just sit at a table, look out the window and sip our coffee.
After coffee, we head down Vaci U., a pedestrian only shopping street filled with a pan-european collection of clothing stores. We window shop a bit, stopping to look at paprika in a shop and scarves on the street (much more expensive here than NY or Paris), finally arriving at our destination, the Great market Hall, or "Kozponti Vasarcsarnok".

This market has been said to be too "touristy", and yes, parts are, but we say plenty of local families doing their weekend shopping. In fact, one deli stall just to the right of the main entrance was three deep with local customers the entire time we're there. The upstairs level is filled with local crafts including lots of cotton embroidery work.
There are also a few snack shops up there. The street level is filled with fruit and vegetable stands, meat and sausage vendors and one special, very popular place selling only strudels of about a dozen flavors. of course, I had to try it and get a good sized piece of sour cherry/apple strudel for only 175 ft. It was very good, but almost too heavy on the fruit and not enough pastry. Still, worth a try. The basement level has fish vendors, pickle sellers, and a good sized "regular" grocery store.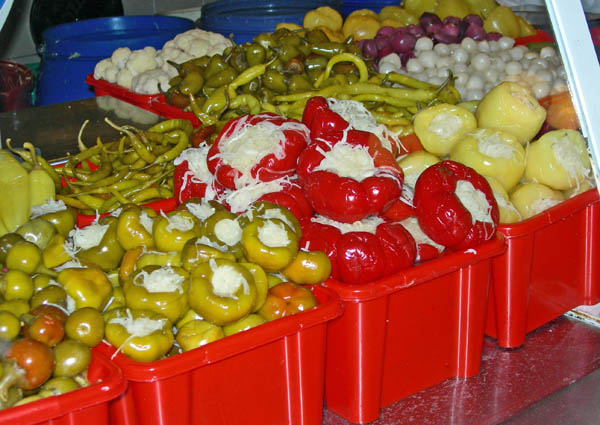 By now, it's about 1PM and dumping rain. But of course, it's also time for more food-lunch!
I'd read quite a few good reviews of a place in the square just behind the market called "Borbirosag" (5 Csarnok Ter). This place is all about the wine, with about 50 bottles on the list, most by the glass. The menu is varied and most dishes have a number pairing them with a section of the wine list.

We have the "borbiro plate"-hard sausage, goose cracklings, and goose liver pate-1950 ft., goulash-650 ft., and wine;
from Szekszaro-Cervaes 2004-Heimann Csaladi Birtak
from villany-Gunzer cuvee 2004-Gunzer Zoltan.
Total 5906 ft incl tip
Whew! After that we walk all the way back to the hotel, stopping briefly at an overheated internet cafe where all I can do is check email.
House of Meat -Dinner at Carne di Hall-
Who would think that a restaurant loosely translated as "House of Meat" would be as lovely and refined as this one?

Carne di Hall is located about two blocks from our hotel. I chose this place based solely on a single glowing reference on Chowhound.com. It was well worth the risk.

We began with two glasses of white, both Hungarian. Wine is ordered by 10 cl (3 oz). These are smaller pours, letting us try more than one wine.
Gellavllla Glaszizling 2004/5, Balatonszolos (400-ft)
Nyakas Budai Cuvee 2004, Etyek-Buda (400-ft)

For my appetizer, I was already craving something light after all the heavy food we've had. They had four salads on the menu, but all had some sort of meat or fish with them. I asked if it was possible to get just a plain salad. " Of course" was the answer. What came to the table was a huge bowl of undressed baby lettuce accompanied by some bottles of olive oil and vinegar. I asked if I could have it dressed with a mustard vinaigrette listed on one of the salads on the menu and it came back perfect. It was exactly what I wanted. Mom ordered a cream of pumpkin soup which was also very good.

Red wines with main courses:
Vylyan Portugieser 2004-Villany-400 ft-This was decent, but not as good as the
Takler Trio 2003-Szeksard 700 ft- an excellent blend of3 wines.
Mom also ordered the Konyai Cab Sauv 2004/5 Balatonlelle- 600 ft-tasty and I ordered a glass of the Trio (best wine of the night).

For my entree, I selected the duck breast with mashed pumpkin and homemade noodles (which were more like dumplings cooked on a griddle. They were finger shaped and were so good). Everything on the plate was tasty and the duck perfectly cooked.
Mom had Filet medalions with grilled goat cheese polenta cakes and a shallot sauce. The polenta has the most pronounced corn flavor I've ever tasted. Again, everything is wonderful.
Too full for desserts, though they sound great.

13380 ft with tip included on the check (approx $72) makes this the most expensive meal yet. Still, a bargain compared with LA prices. Excellent service too.

Pedometer reading for day 2-5 miles