The view of St. Stephan's from our room.
Sunday March 4-Sometimes It's Just Time to Go
We head out for Sunday market at Battanany Ter which is a disappointment. Nothing is open but a regular supermarket. We buy day pass tickets for the bus, metro and tram and take the bus across the river to the Opera station with the intent of going to use the internet and then going to the House of Terror Museum.
The "Internet Cafe" at 46 Andrassy is the same on we used our first night and it's open 24 hours. They are actually closer to the Octogon stop, right next to a Burger King (which has nice restrooms should you need them because the internet place does not). An hour later, and I've posted the last two day's entries and lots of photos to the blog.

House of Terror Museum
We set out up the street for the House of Terror museum which chronicles the Hungarian experience with the Nazis during WW2 and the Soviet regime up to the 1956 revolution. It's a very interesting place which uses technology and modern art to the fullest extent. The building was used by both the Nazis and the Hungarian secret police to interrogate and torture people they suspected of being in the Resistance. Even with some explanations in English we were still confused much of the time.

I believe my feelings are colored by an unfortunate experience at the outset with a museum guard.
We buy our tickets and enter the central courtyard of the building which is filled with a humungous tank sitting on a giant block of black marble with what looks to be oil oozing from underneath in a "fountain" like fashion. The surrounding walls are filled up to the third floor with black and white photos of dead 1956 Revolution fighters. It's a very shocking piece and incredibly interesting. I get out my camera and suddenly a tall man in his early 50's approches quickly with voice raised and finger wagging.
"Nem! Nem!" (NO! NO!)
So, I look at him, lower my camera and say "Ok".He continues to wag his finger at me and say "No photo! Nem!" in a loud voice. I smile and say, "ok, ok" putting my camera back in my bag. He continues to yell at me. Now, I'm getting pissed. What is his point? Finally, he storms off mutterring to himself.

This man would have been right at home in the interregation rooms in the basement. He missed his true calling by about 50 years. I can't even begin to explain how angry and intimated he made me feel.
This is something I've only seen in Europe; men here have a way of wagging their fingers at women in a scolding motion which should be reserved for small children and dogs. I've never seen this in the US, but I have all over Southern Europe (especially Italy and Spain) and it's completely insulting.

I know he wanted to tell me photos were not allowed. That's fine. But find a better way. There were no signs anywhere stating, "No Photo". Nothing on the ticket. Nothing told to us as we entered.
All this before we've even seen an exhibit. It leaves a very bitter taste in my mouth, but we move on. Later, I think, after viewing some of the installations, "was this some sort of sick performance art?" Unfortunately, I don't think so.

After touring the museum top to bottom, we need fortification and set out for a coffee house. Two cappucinos later (and more apple strudel!) we try to decide what to do with the rest of our day and tomorrow.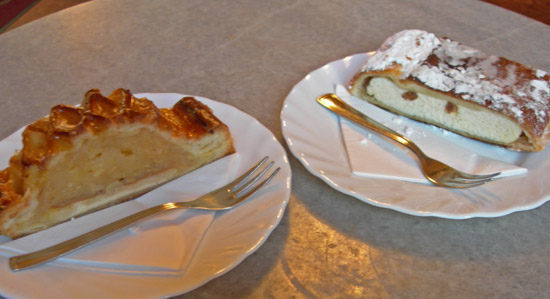 We could do a spa day. We could go to the fine art museum. Do a day trip tomrrow. We're both feeling a bit apathetic about our options and discuss the possibilty of leaving Budapest a day early. I'm really torn about this; I hate to "give up" on a city, but sometimes it's best to move on. It's been cold and rainy most of out time here and I think we'd be more interested in being out and about if it were warmer outside. Plus, I'm starting to think we were going to short change Vienna with only a day and a half.

We head back to the hotel to investigate our options. We can check out early with no penalty so we call the hotel in Vienna to see if we can arrive a day early. Unfortunately, they are full. The lovely, very helpful, Gabrielle at the front desk recommends the Hotel Perstchy in Vienna which I've read about in my pre-trip research. We call, and they have a room for 100 euro per night with breakfast. We're sold.
The two "international" calls from the room to Vienna are shockingly cheap for a grand total of 300 ft (about $1.50).

Determined to get the most use out of our daily transportation pass (1350 ft) we take a tram down to the Gellert Hotel to check it out and see the spa. The hotel is in a Belle Epoch style with a little bit of Spanish Gaudi thown in. It looks like it needs a good scrubbing on the outside and the inside has a touch of "faded glory". The spa entrance is around the right side of the hotel. We go in to find it's already closed for the day but were able to peer in and it looks lovely. It would have been nice to spend part of a day there but we just didn't get to it.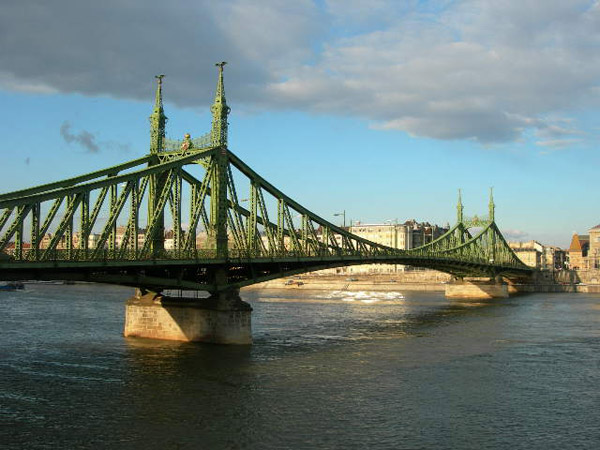 We take the tram back to the Chain Bridge and then a bus up to the top of the hill near the Palace. The Palace is now home to three museums and we have just enough time (1 hour) to see the Budapest Museum before it closes. I think this was a good choice because it covers the history of the palace area from pre-history, to Roman, to the Middle Ages and through the turn of the century. There are hundreds of artifacts (pottery, glassware, jewelery) all excavated from under the Palace and the surrounding hill. Though we walk through quickly because it's clear they are closing, we could have spent a bit more time exploring the basement area with the ruins from the Middle Ages. I really like this place.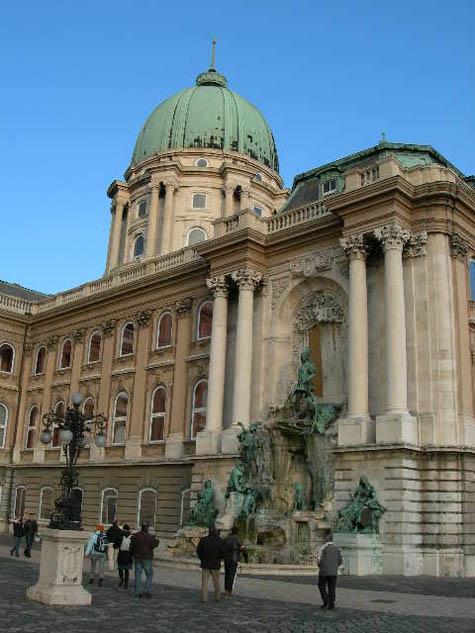 Before we left home, I'd done a lot of research about restaurants at our destinations. One place I really wanted to try was called Kempiro on a street of the same name near the central market. I'd emailed them for a reservation, but received no response. When we arrived, I asked Gabrielle to call for us, which she did but no one ever answered. I suppose we should have taken this as a sign, but undeterred, we head down there for dinner assuming if they are closed we'll find something else.

It's 8:15 on a Sunday night, and not only are they closed for reconstruction, but so is everything else because it's Sunday. We head up the pedestrian street, thinking "we'll find something there", however nothing is open but super-touristy resaurants with "Special Hungarian Tourist Menus". Ick.

We walk, and walk, and walk and end up near St. Stephan's were we wander and find a few very expensive hyper-trendy restaurants. Not interested. Well, there's always an old failsafe. No, no McDonalds, but the Four Seasons Gresham Palace Hotel. Can't go wrong with a Four Seasons just about anywhere in the world. We rationalize this with, "we have a credit card" and "we didn't eat lunch!" and head in. Their high-end restaurant Pava is closed but the Gresham Kavehaz is open. It's still expensive, but has some things that look good on the menu.
We each have a glass of white wine and at 1600 ft, it's 4 times as expensive as last night, but it's good (Vlona Helmann es Fiai Szekszard- a blend of Viognier and ?)
I order Chicken Paprika which is a breast, perfectly cooked, wrapped around a slice of red bell pepper and comes with a creamy paprika sauce, Galvska noodles (again, like handmade spatzle) and a cucumber salad.
Mom has Monkfish with Chantrelle Mushrooms and Crayfish in a Reisling sauce. She practically licks the plate.
Dinner for 2 with tip-aprox 14,000 ft.

Pedometer reading for day 3- 7 miles