In the morning after breakfast at the hotel, we're up and out early, determined to find the Charles Bridge and walk up to the Palace. We've booked our two hour tour with the hotel concierge, which turns out to be one of those local minibus tours where everyone wears headphones speaking "20 different languages" for an hour on the bus and then an hour walking tour of the castle area. We're not exactly thrilled about this, but we have until 2 PM to decide to bail out of we want.

Our first stop is back at the market we found last night.

We continue walking, this time actually following a map and find ourselves in Klementium Square. I turn around, and there is the Clementin Hotel, a place I considered staying. It's a 13th century building, one of the oldest and thinnest in Prague.
Through the narrow streets, and suddenly I can see the tower at the edge of the bridge. Finally! We are not lost!
It's a beautiful morning and we are blessed with clear, cold weather and a relatively empty bridge. The souvenir vendors, painters, and sketch artists are just beginning to set up shop. It's filled with perfect opportunities for photos, including one of me (with my new hat) and the castle in the background!
Once we get to the end of the bridge, we decide to follow a (modified version) of a walking tour in our guidebook and then head uphill toward the castle area. During the walk, we get to see the famous "John Lennon wall" On the way we pass by Restaurant David and check out the menu, deciding we will return for dinner.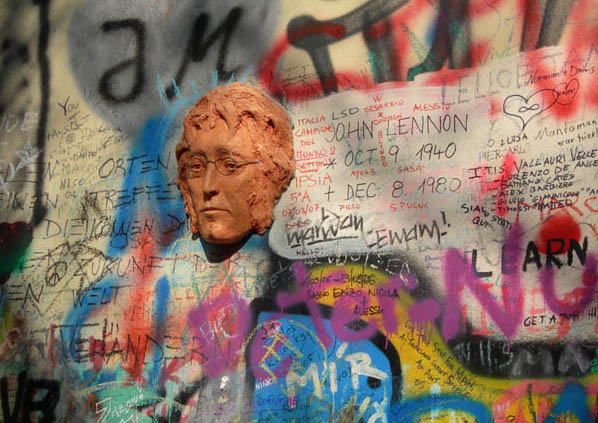 We walk up and up and up, eventually arriving at the top. We check out St. Vitus Cathedral. It is possible to go inside without paying. If you want to go further than 20 feet in however, you must buy a ticket. We decided to forgo the ticket, enjoyed the view from where we stood and then exited to admire the outside.
Café Lobkowicz
There are a number of cafes at the top of the hill and we stopped at the Café Lobkowicz which is inside the Lobkowicz Palace, near the North end of the Palace complex. This turned out to be an excellent choice. It was quiet, close to empty (not usually a good sign, but today it was) and had an amazing view of the entire city from the terrace. We each had a latte (90 kr ea) and shared a bowl of tomato soup (85 kr) and a grilled mozzarella, tomato and basil sandwich (195 kr). All were excellent.
On the way back to the hotel we stop at the kiosk for the tour company. We get a free tour of the city with our hotel package and it turns out to be with a local company called "Premiant". The tour we are offered is the "Prague Panoramic" which is a 1 hour bus tour combined with a 1 hour walking tour of the castle district (with no entrance into anywhere that needs paid admission). Unfortunately, we've already seen everything they offer just by walking around on our own. So, one of the tour touts offers to let us switch out the tour for the "Vltava River Cruise with a Drink" tour valued at the same price (390 kr or $20). Great, we think.
We go back to the hotel and switch rooms to the "junior suite". This room is essentially not different from the other one and might be smaller. It is, however, on the exterior of the building, so it gets lots of natural light and we have what turns out to be the only balcony on the building. We decide to keep it.
At 2:30 we board a claustrophobic mini-bus which drives us in circles, complete with guide and narration, until we arrive at the river boat docks. We're then given tickets for our "free drink". The "cruise" moves excruciatingly slow down the river to the Charles bridge and then back up. We could have walked it faster. The tour is narrated by a recording that repeats everything in 6 languages and provides absolutely no useful information.
I have four words for this experience; Massive Waste Of Time.
The tour ends at the boat dock so we have to walk back. Yes, as usual, we eventually get lost. Finally, we get to Wenceslas Square and stop at one of the many sausage stands. We buy a sausage and it's excellent. The sausage and a bottle of water cost only 70 kr.
The experience is marred only by my being shorted 100kr, or about $5. I know it happened at the sausage stand because I gave them a 1000 kr note and when we got back I only had 800. I thought I had counted it, but in my haste I obviously miscounted. We didn't stop anywhere or spend any other money. It's a valuable (and expensive) lesson. I never think it's a good idea to stand and count a bunch of money in public. On the other hand, if you don't, you risk being shorted.
Restaurant David
For dinner we take the tram back across the river and walk up to Restaurant David, around the corner from the US Embassy and the Alchemist hotel.
We arrive and must ring a bell to be admitted. We hadn't made a reservation and we are greeted with a look of shock when we admit we don't have one, but we're still given a table. I'm unable to tell if the look was serious or not. As it turns out, the gentleman who answered the door is the only one we see all evening serving food and my guess is that he was a tad bit over-worked.
It's a small restaurant with two (maybe 3?) little dining rooms and they are about ¾ full. The room we're in is filled with foreigners, some American, some British, and a table of 2 Portuguese couples who are clearly having a fantastic time. Later, an American woman at a table across the room is so loud that I by the end of the evening I feel I know her entire life story, what she likes to eat and drink, and what she does not like to eat and drink. I'm horrified- she's such a cliche of the typical "ugly American tourist" I just want to cringe.
The menu looks modern and creative for Prague. We order the fois gras appetizer to share and mom orders a glass of Clos du Choi du Roy Sauternes (150kr) to go with it. The server seems a bit disappointed when we do not order a bottle of wine, as there are decanters sitting on each table, obviously meant to entice diners to order full bottles.

Before any food or wine arrives we are served a little amuse bouche of some sort of unknown liver terrine. It's rustic and good.
The foie gras comes with caramelized apple and red onion marmalade and turns out to be a good sized portion 390kr. I love fois gras torchon. The caramelized apples are in the center of the triangular torchon and the red onion "marmelade" is the color of beets.
For my entrée I order rabbit roasted w/polenta and bacon -450 and a glass of unknown french cabret-190kr.
Mom orders veal with morel mushroom cream sauce and gratin potatoes-590kr
Both are very good, with generous portions we cannot finish. No room for dessert. Too bad we could not bring home the leftovers. With 2 small waters, the total bill is slightly over 2000 kr Credit cards are accepted.
If you're looking to plan your own trip, try Otel.com for cheap hotels in Prague and save some money for the wonderful food!