Before we left I purchased a 4 night package on Luxurylink.com for the Hotel Palace Prague. It included 4 nights in a double deluxe room with upgrade to Junior Suite if available, dinner for two in the hotel's "Gourmet Club Restaurant", two tickets to the Mucha Museum, a two hour city tour, all taxes, and other complimentary do-dads. I paid $815 total for this and I think it was a fantastic deal considering that similar packages on the hotel's website start at about $300 per night.

We arrive in the center of Prague at the Mustek station, go up the long escalator to the top and come out at the top of Wenceslas Square closest to old town. There are multiple exits for this station about a block apart so it took me a moment to get my bearings on the map. Once I figure out where we are, it's only a 2 block walk to the hotel.

The Hotel Palace Prague is a historical hotel right across the street from the Alfons Mucha museum. It's a member of the "Leading Hotels of the World" so it has to meet certain standards. Thus, the entire interior has been renovated. We check in and they do not have a Junior Suite available. If we are willing to share a King sized bed, we can have one tomorrow.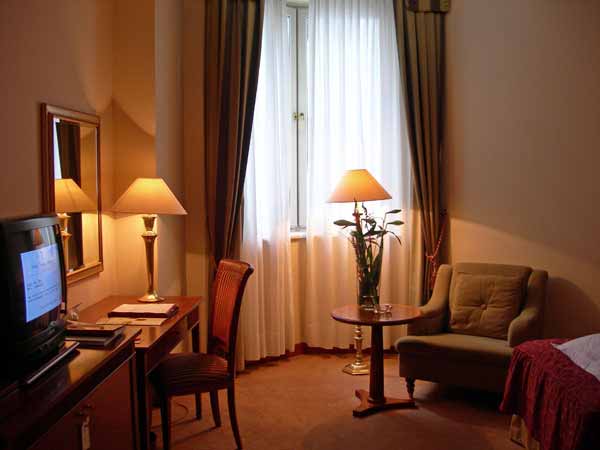 We 're shown to our room and it is lovely and fairly spacious but has no view except that of an interior light shaft. There are two big closets in the entryway across from the bathroom, a small safe, and a comfortable chair along with a work desk. The beds are very comfortable and have 3 big down pillows each. The bathroom is all gray and white marble with decent amenities.

At check in, we're given our restaurant voucher, a voucher for two welcome drinks in the bar, and a voucher for 25% off another meal in the restaurant. Once we're in our room, the bell rings 3 more times, each time with someone bringing us something else (a plate of petit fours, a book about Alfons Mucha and our tickets to the museum, a boxed set containing two tiny cups and a full sized bottle of the Czech liqueur Becherovka). We also get a free newspaper daily and I opt my favorite, the International Herald Tribune. We're supposed to get a chilled bottle of sparkling wine, but we never end up ordering it.

Before they can ring the bell again, we head out into the streets to get our bearings. It's chilly and overcast and though our goal is to find Old Town Square and the Charles Bridge, we immediately go the wrong way. Yes, getting lost is a theme here.
Old Town Square and the Astronomical Clock
Eventually we end up in front of the Municipal Building, a landmark which puts us on the map and allows me to figure out how to get to old town square. The buildings are beautiful here- a mix of art nouveau, medieval towers, and 18th century baroque.
As we get closer to Old Town Square, I am stunned at the crowds of tourists here. It's winter and I can only imagine that summer would be wall-to-wall bodies. It must be insane. We arrive in Old Town Square just in time to see the hour change on the Astronomical clock. It's certainly amusing watching the apostles pass by and the skeleton clang his bell, but there is a big crush of people here, all looking up at the clock, so beware pickpockets.
The square is enchanting, even with all the tourist trappings. It's easy to imagine what life would have been like here in the 15th century when the clock was built, or even later when some of the brightly painted mansions which surround the square were built.
Great Cafe and worst meal of the trip?
Of course, we get lost trying to find the Charles Bridge. In fact, today, we never do find it! However, we stumble across an outdoor market in Havelska square, a couple of blocks off Old Town Square (henceforth referred as OTS). It's mostly filled with tourist souvenirs, but it also has some fruits, vegetables and flowers. The vendors are closing up shop, but I a score a cute (and warm!) black wool hat with a green flower for 200 kr.

We wander back through OTS, and as the sun is setting decide it's time for a coffee break. There are about a dozen restaurants lining the square, and given their fantastic location, they have equally fantastic prices. A quick check reveals a cup of cappuccino for 130 kr ($6.50). I look at my notes and see a recommendation for a café in Tyn Square (a.k.a. the Ungelt) called Café Ebel.

The square is charming, and only one block from OTS, it's a quiet respite from the hordes. Café Ebel is different from all the "traditional" cafes we'd been frequenting. There's blues playing on stereo, tattooed servers in casual dress, and they roast their beans daily. It's more like a college town cafe and it's very homey and comfortable. As it turns out, they have 5 locations in Prague, but the one we go to is at #2 Tyn Square. We each have a cappuccino (60 kr here) and share a wonderful bowl of homemade vegetable cream soup.
By the time we leave, it's dark and we walk back through OTS where all the buildings are brightly lit. I'd been given a recommendation from a coworker for a restaurant called U Pince, right off Wenceslas Square, so we walk over to it to check it out. They are already busy so we make a reservation for 8:30. When we return, we are almost seated in the bottom dining room, but are then shuttled upstairs to make room for a party of 12 Italian tourists. Upstairs, we are ignored for 5 minutes and then finally seated in one of the small dining rooms at an unclean table with no menus. We wait for 15 minutes (no exaggeration, I timed it) and are never approached, never given a menu, and the table is never cleaned and set. In fact, though the dining room is full with other people, no one is eating, nor is anyone else served while we are there. We figure that even if we are ever given a menu, it will take at least an hour to get food so we get up and leave.

I have another recommendation for a restaurant called U Radnice, off OTS, which is supposed to have great pork and dumplings in a big restaurant with communal tables. The restaurant is almost empty, and ignoring my misgivings, we decide to stay anyway. Instead of allowing us to sit at one of the bigger tables (all empty) near the front, we are sat in a hidden back corner next to two other women who are eating and smoking. Yes, we should have asked to be moved but we didn't. Mom orders pork and dumplings and a glass of red wine and I order duck leg and dumplings and a glass of beer. The wine is undrinkable, the beer of course is just fine. The pork is mediocre and my duck is cooked beyond recognition to the point where there is barely any meat on the bone. Our introduction to Czech "dumplings" reveals them to be akin to slices of white bread. It's a rude awakening. The meal is about $30 and gets both our vote for the worst of the trip.