December 6, 2007
$1USD=$1USD (=4000 Riel)
Siem Reap
Knar School
We are up bright and early. The plan for the day is to go to Banteay Srei in the morning and stop at Knar School on the way. Lori is going with us and we're bringing along some food for the kids and a donated sewing machine which has been retrofitted to work on "pedal power" rather than electricity. This will be used to help repair the kid's uniforms.
While waiting for them in front of the hotel, I walk across the park to check out the fruit bats hanging from the trees. They are screeching a raucous cacophony flying from tree to tree in the early morning sunlight. There seem to be thousands of them and they are quite large with the wingspan of a large bird.
Park workers enjoying their breakfast.
If you'd like to see video of the park and the bats, click here for the Video Page for Day 3...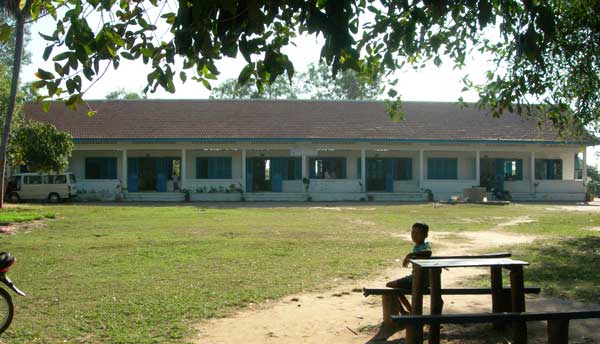 Knar School, new building.
We arrive at Knar School after about half an hour in the van. This school, has one that has been on the PLF.org rooster for over two years and is one of the first schools they supported.
This was to be a good opportunity for us to witness first hand the good things the Foundation has been doing for the kids there. The school, while very poor by US standards, is filled with kids in each of it's 3 newer classrooms (building in photo above). The fourth room is used for the principal's office and is where the sewing machine will go.
The "old" classroom building is still being used for classes, but this one is much darker and more dilapidated.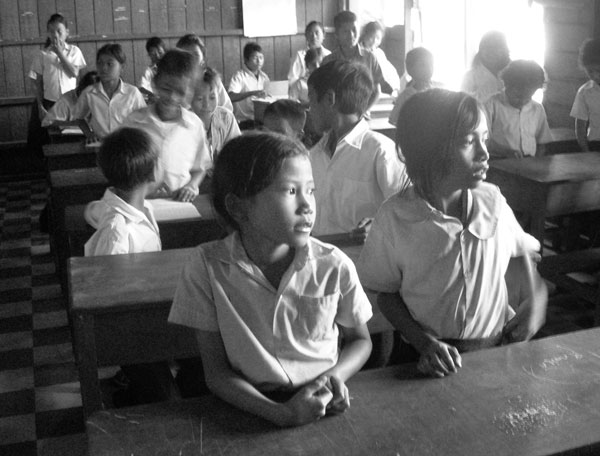 We brought snacks for the kids and passed them out. Each child, in a clean uniform of white shirt and blue skirt or pants, stood up and said "thank you" in Khmer with a bright smile as we passed out their noodles and drinks. Because the kids were hard at work and we did not want to disturb them, we leave and go to Banteay Srei temple (see below) and return later to distribute snacks.
This school does have needs however; there is a breakfast program in place, but the outdoor shelter where it is cooked over an open fire leaks when it rains (it's patched together with pieces of old metal with holes in it. The breakfast program is important because it puts food in the bellies of the kids who come to school making it easier for them to learn, and it's one less meal their parents need to provide them (extra incentive to send them to school).
The breakfast kitchen.
The older classrooms are in need of some white paint as the brown wood walls make them very dark and dreary. Of course, there is no running water or electricity. However, they do have two wells for water and they've planted a garden (which is in need of an irrigation system).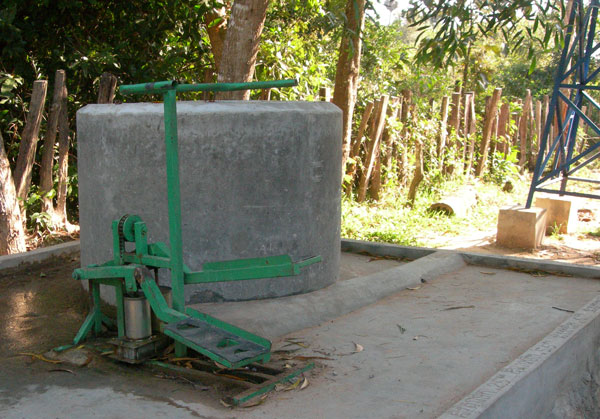 The well gets pumped by food power. Stairmaster, anyone?
There were toddlers in some of the classes; many of the students are responsible for caring for their younger siblings or face not being able to go to school so they bring them along.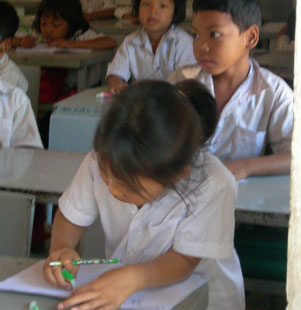 Hard at work, above.
~~~~~~~~~~~~~~~~~~~~~~~~~~~~~~~~~~~~~~~~~~~~~~~~~~~~~~~~~~~~~~~~~~~
Knar School Update 12/21/07
The new shelter for the Knar school kitchen was built and new stoves installed (see photo, left)! Solid roof, no leaks! This one should last a long time!
~~~~~~~~~~~~~~~~~~~~~~~~~~~~~~~~~~~~~~~~~~~~~~~~~~~~~~~~~~~~~~~~~~~
Banteay Srei Temple
Banteay Srei temple is from the 10th century is often called the "temple of the women". It is a small temple, on flat ground, and carved entirely of pink sandstone. The last time I was here there were maybe 20 tourists. This time they are here by the busload and the entrance has a disneyland-like atmosphere. However, I find if you wait long enough, you can usually get an uncrowded photo. A note; coming out to Banteay Srei is quite a distance from town, so it's usually an extra $10 for the driver per day.
As we walk toward its causeway I hear traditional cambodian musing being played in the trees to out right. We see this at many of the temples; musicians, most of whom are landmine victims, will be playing traditional music for donations.
If you'd like to see a short video and hear some of this haunting music, click on the Video Page for Day 3...
Causeway and moat leading to temple entrance.
Temple Entrance. I never could get a clear shot here without people in it.
Inside the temple compound.
After visiting Banteay Srei, we go back to Knar School for a while (see above). Then its back to the hotel for a rest and lunch by the pool. While by the pool I am able to access the hotel's WiFi and via Skype, have a video conversation with David at home who holds up one of the cats for me to see.
Afternoon:
Mebon Temple
Below, the detail of a lintel carving and the holes in the stone once used to help the plaster adhere.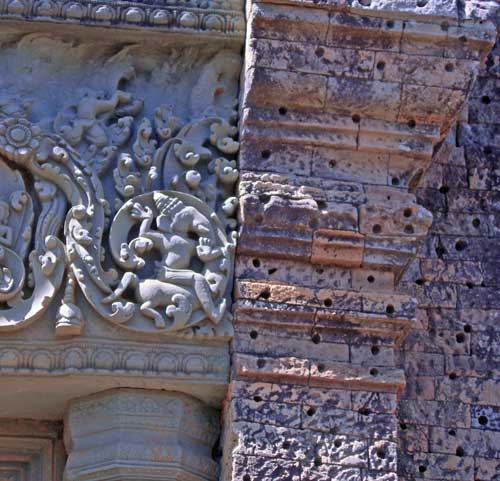 The gentleman below is 86 years old. My mother is so taken with him she stops to talk to him, with Ponheary translating. He says he doesn't want to be a bourdon to his family, so he comes to the temple most days hoping to sell a few souvenirs to tourists to make a little money.
Banteay Kdey Temple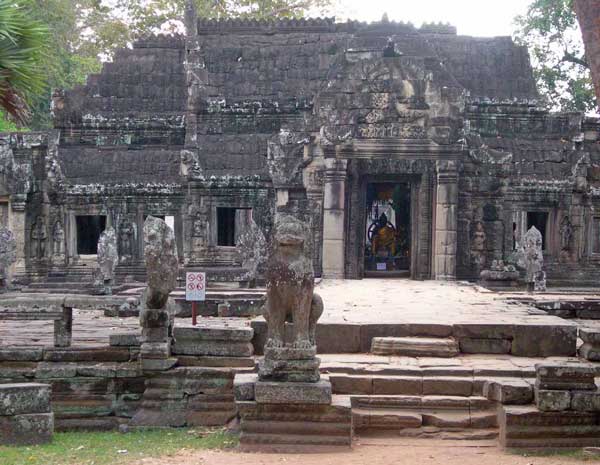 I love the colors of the stones!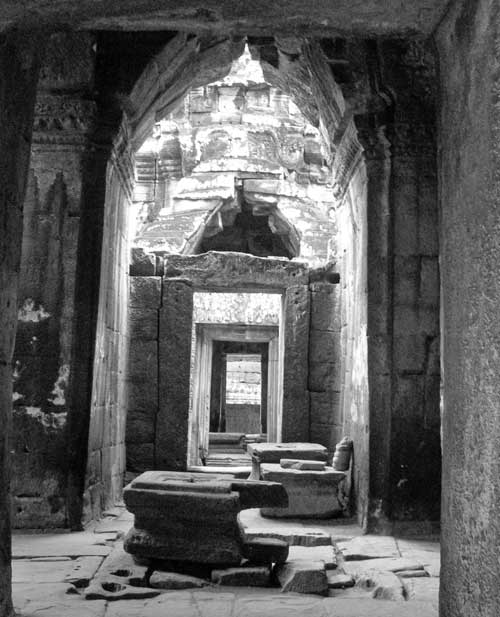 Note the missing head the carving above. Most have been "poached" and sold to antiquities dealers on the black market.
Ta Prohm Temple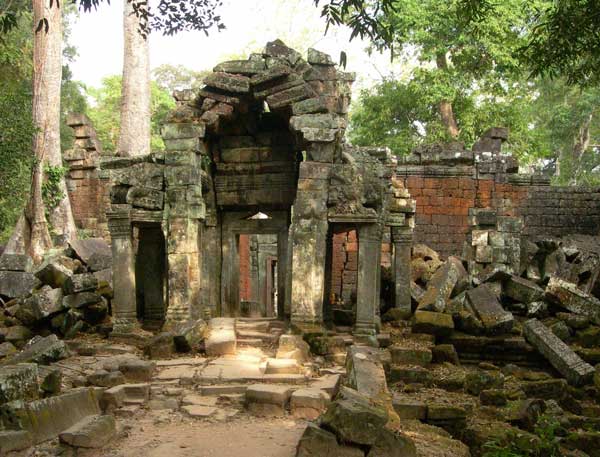 If you think you are going to go to the temples and that they will be devoid of tourists, you are mistaken, especially at the vastly popular Ta Phrom. However, a little patience and the right position will net you an empty photo (like above) rather than the one at left.
Prasat Kravan
The Dawn Rooney book refers to this as the "Cardamon Sanctuary" and it's from the 10th century. Ponheary told us the French helped with the reconstruction of the temple and even had new bricks made for the exterior by local workers. These bricks have been stamped with a "CA" for Conservation d'Angkor.
We were the only tourists there it's very small, with just the buildings you see in these photos.
What makes it interesting are the carvings below. They were done directly into the brick, instead of into stone which makes them unusual.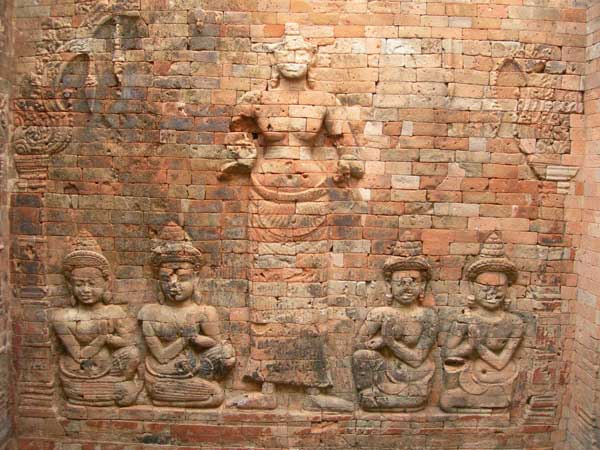 Inside the North Tower, above and left.
What were we thinking....
...ordering Moroccan food in Cambodia? For dinner we head into town and have sit down at the Soup Dragon on Pub street. Why do we order Moroccan food (grilled chicken skewers and a Mezze plate)? I have no idea except that it sounded more refreshing that a blazing hot pot of soup everyone else was having. The skewers were quite good, but the mezze plate was a disappointment. Someone needs to explain that hummous is not normally served warm.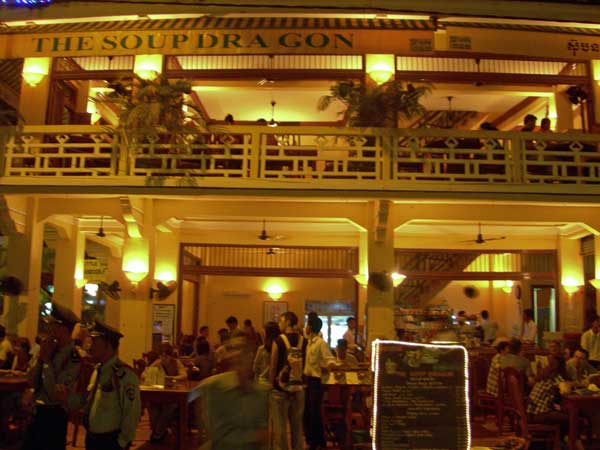 After dinner we walk over to the Night Market where we buy (you guessed it!) more silk scarves and a silk purse. We take a tuk tuk back to the hotel for the regular $2.