December 4, 2007
$1USD=$1USD (=4000 Riel)
Bangkok to Siem Reap
Our flight to Siem Ream does not leave until 11 AM, yet we're told we need to leave the hotel no later than 8:30 in case of "traffic". Before leaving, I go downstairs to the LINK lounge with my laptop and I'm able to get online wirelessly. I connect with Skype and I'm able to see my lovely husband via web cam at home. We have a nice chat and he holds up one of my cats for me to see. It's a fun, and free, way to keep in touch. I had planning on buying a world phone before leaving, but didn't and it turns out I will not need it on this trip.
When we check out of the hotel, there's no receipt because we did not buy anything and the room was paid in points. Nice. When we get in the cab, we ask the taxi drive to use the meter and the trip only takes a half hour. With tolls, it costs exactly the same as the trip in from the airport, minus the 50 baht surcharge, 300 baht.
At the airport we check in with Bangkok Airways, the airline with the lock on the Bangkok-Siem Reap route. Later, I am told that the reason the "own" the route is that they helped pay for the new terminal and runways at Siem Reap airport and were given the route for 10 years in order to recoup their costs. This lock expires in the next couple of years and I expect then the fares will drop substantially. My roundtrip fare was about $350. My mother's was quite a bit less because she bought it as part of a 3 segment Bangkok Airways Discovery Airpass. I'm also told that Bangkok Airways pays the Cambodian government not to pave the road from the Thai border in Poipet to Siem Reap to discourage overland travel. I'm sure this too will change in the next few years. Once that road gets paved the land route will be much easier and faster.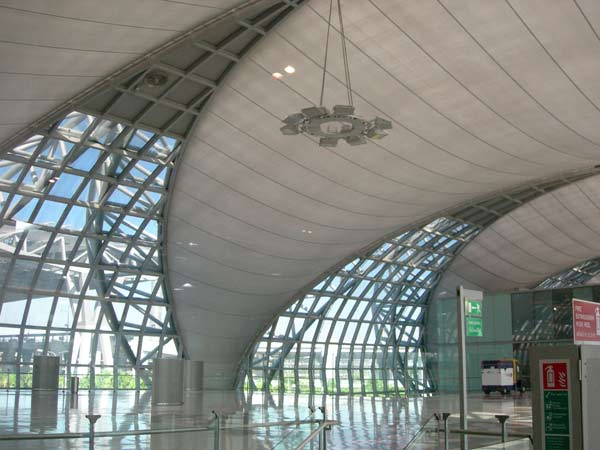 We have plenty of time to walk around and check out the new airport. We go over to the Bangkok Airways Lounge, but honestly, it's not really worth the trek. There's water and coffee and some icky pastries and the room is quite hot. It does have a couple of free computer terminals if you need an internet fix. When we go through security, the guard takes every single item out of my "liquids" bag, looks at it, and then puts it in another zip lock bag. Massive waste of time. The departure gates are very cold and sterile with no food or water options after security (and you can't bring water in with you).
Siem Reap
The flight is short, under an hour, yet they still manage to do food and beverage service. We get a little boxed lunch with a mystery meat sandwich in it. I'm shocked by the new terminal in Siem Reap; it wasn't here 5 years ago. It's actually a quite lovely Khmer style building from the outside. The inside is nice too, for a small airport.
Siem Reap International
We walk into the immigration area and because we are the last off the plane there is a HUGE line for visa on arrival. We bypass this line and head straight for passport control because we have acquired the new e-visa in advance. There are only a couple of people in line ahead of us. When it's my turn, the control officer shakes his head and complains to me (in Khmer) about how the Thai officials improperly placed the visa stamps in my passport. I shrug my shoulders and he squeezes his stamp in the location he wants it to be, other stamps be damned! We're out fairly quickly, but we still have to wait about 10 minutes for our luggage. There is no one at customs control to take our customs forms and we walk out into the sunshine to see Ponheary and Lori waiting for us.
Another new change is that Ponheary drives now! She has her sister Marina's car and we all pile in for the trip to the Victoria Angkor Hotel. It's really nice to see Ponheary again, she has not changed a bit, and it's fantastic to finally meet Lori in person. Lori is the president of the Ponheary Ly Foundation, a non-profit set up to raise money for local schools. She has recently chosen to leave her job and life in Texas and move full time to Cambodia to run the foundation. She's an inspiration and one of the reasons I chose to come on this trip. She's also very funny and it's great to hear her experience and insights on life in Cambodia.
Check in at the Victoria Angkor takes longer than it should, especially since the room is pre-paid. We are asked to wait in the lobby and Ponheary and Lori wait with us. Someone brings us three glasses of fresh juice and gives one to me, one to my mother and one to Lori. Ponheary looks up and asks (in Khmer), "where's mine?" with just a hint of mirth. Her drink never materializes. It's evident that though the government is primarily Communist here, the class system is still in full effect. It's about 1PM and we agree that Ponheary will return at 3PM to take us to the temples in the afternoon.
The hotel is beautiful, decorated in the Khmer/Colonial style with lots of dark wood, wicker, and local artwork. The pool area is surrounded on all sides by the hotel and lots of green foliage; it's very pretty. The room is a nice size with a balcony overlooking the pool. We'll never use the balcony because of the mosquitoes, but more about that later. There are two twin beds, glossy hardwood floors, a desk, armoire with TV (more channel choices than the Sheraton), and a safe in the closet big enough for our laptops. The bathroom has lots of wood, a toilet separated by a low wall, and a tub/shower combo.
About the bathroom; when we use the shower the drain is so clogged, we end up ankle deep in water after only a few minutes. The sink too is clogged and does not drain. The shower head points at the back wall and sprays all over the floor and because the curtain is so short and does not reach the edge of the tub, the water runs down the side onto the floor there as well. The next day a maintenance person comes and attempts to unclog the sink by using his palm as a plunger. He gets the sink cleared but looks overwhelmed and unsure how to clear the tub. My mother shows him how to get the stopper out (unscrew it) and he manages to clear another big clog. He also adjusts the wall fixture so it points down instead of up. Nothing to do about the shower curtain (except get a longer one) so we still wind up with water on the floor every time, but at least the tub drains now, the spray from the shower does not hit us in the face, and the maintenance guy learned something new!
Because we have so little time, we have lunch at the restaurant overlooking the pool. This is the hotel's main restaurant which has both a Western and Asian menu. Breakfast, which is included with the room, is served here. There are two other restaurants; one classic French and one with a traditional Khmer dance show each evening. We never eat in either of the other two as they seem very expensive. They bring us a beautiful bread basket to the table and we learn in short order that one of the lasting positive effects of the French occupation here is excellent bread. Breakfast pastries turn out to be very good too. We both have sandwiches which are fine and come with fries for about $6-7 each.
Ponheary shows up at 3PM, still driving herself as she is unable to contact her driver for today. She has her 11 year old nephew in tow and he is not happy about being with us. He'd rather be home playing scrabble she says. But she wants him to come along to hear us speak English and to watch the car while we are in the temples. He pouts and won't talk to us just like any angry pre-teen boy.
Our first stop is to buy our 3 day temple passes which cost $40. Another new change; we do not need the passport size photos we'd brought with us. They take your picture (horrible!) with a digital camera and print it right on the pass.
Roluos Group:
We drive out to the Roluos Group which are temples I did not get to see on the last trip in 2002. Ponheary has chosen well for the first temples; I get to see something new, and my mother sees some of the earliest temples (from 800 AD) which predate Angkor Wat. It's nice to put it into context when we see the "bigger" ones which come later in history and in our trip. Most of these early temples are Hindu and were dedicated to Shiva.
Before I begin about the temples I have to admit that I am now writing this from home. I'm extremely glad I have my book from the last trip "Angkor" by Dawn Rooney, considered to be the definative book about the temples in Cambodia. Without it, I would be lost. On our way to Koh Ker I made sure to have Ponheary list for me all the temples we'd seen on the prior days. I knew that I could at least look them up when I got home. What I did not know is that the distant temples we would visit are not included (at least not in that edition) as they were only recently cleared of land mines.
Lolei Temple:
The first temple we saw was called "Lolei" and was originally on top of a hill sitting in the middle of a baray, or resovour used to irrigate the fields. Instead of a moat around it with a causeway like Angkor Wat, it was completely surrounded by water. Today, we can drive right up to it and walk up the main steps.
It's a rather small group of of four towers dedicated to King Yasovarman I's father. There are some nice carvings in the doorways (see top of page photos) and some original wood lintels inside some of the smaller towers. There are also some intact carvings of figures and interesting fake doorways.
Fairly common site; monk on cell phone.
Surrounding the old temples are "newer" buildings; a temple for local worshipers and buildings which the monks live in. The the temple is a weird mix of old and new; the roof is a couple of hundred years old, the walls have been newly (re)built.
Preah Ko
This temple is known as the "Sacred Bull" temple and dates back to 879 AD. It is a funerary temple built for the king's (Indravarman I ) family; parents, grandparents and previous king.
This temple sits on reatively flat ground and is very easy to walk around. Again, there are some lovely carvings, still intact and more fake doors. My mother walks around saying, "this is just amazing" and I say, "just wait until you see the others...".
As we're leaving Preah Ko, down the road comes a herd of cattle, being moved home for the day from where ever they had been grazing. They move down thr road like a unstoppable freight train with a God given "right of way" over anything in their path be it cars or people.
We drive a little way up the road and Ponheary asks if we'd like to stop at a leather workshop. Now, Ponheary is not one for "shopping stops", so she's got me curious. Turns out this workshop is a school for very poor boys. A local man, working by himself, has taken in these boys, given them shelter, and taught them a trade. They are required to attend school half days (like all Cambodian children) and then they work in the shop the other half of the day. They get to keep the proceeds from their work and send it home to their families. I could tell Ponheary was very impressed with this man and what he was doing here. We looked through all the selection and each chose a piece to buy. The boy who created it had his name on the back of the work and Ponheary called out their names. We were able to personally thank each one for their work and hand them their earnings.
Bakong Temple
The next, and last, temple of the day is called Bakong and was also built by Indravarman I in the late 800's. This is a far larger complex than the others. It reminds me of Angkor wat in that it has a moat, two enclosures, and is built to resemble a mountain (which means you must climb to get to the top).
There are giant nagas (7 headed snake figures) which line the causeway. Ponheary explains that you can tell this temple was built earlier because the nagas lay on the ground instead of being elevated as in the "younger" temples like at Angkor Wat. The main structure is a giant square platform with many levels stacked one upon the other with a large tower at the top. At the corner of each level stands a huge stone elephant facing out. The structure is surrounded on the ground level by smaller towers.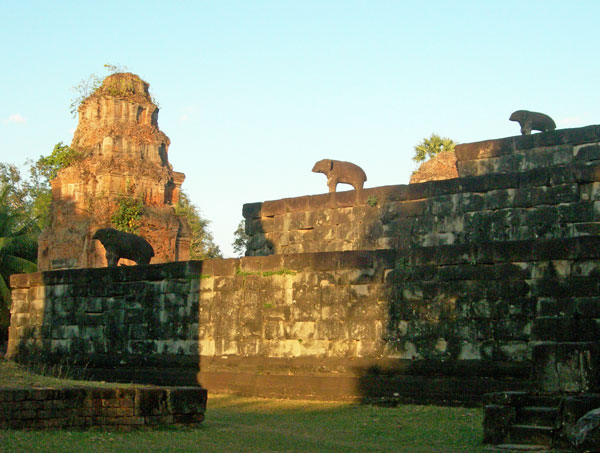 It is possible to climb all the way to the top of this temple. There are no guardrails, nothing to keep one from toppling over the edge but one's common sense. Be very careful when backing up to take a picture of those elephants! This is not the land of litigation the US is, and I am thankful we have the opportunity to experience it to it's fullest, "dangers" and all.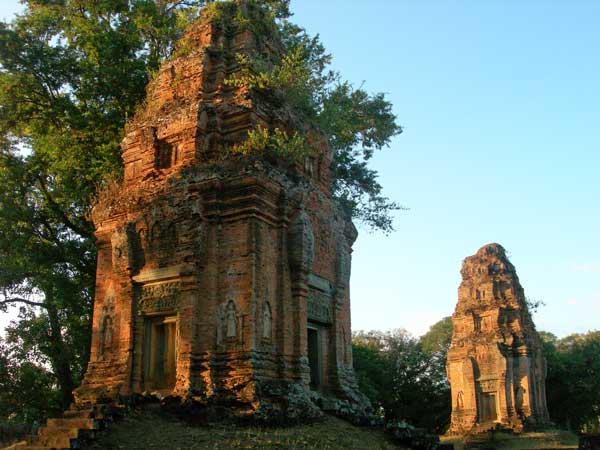 After Bakong, we go back to the hotel, exhausted. At that point, I'm not even very hungry, much less in the mood to leave the hotel so we decided to eat there. We start in the bar area, outside with a couple of glasses of wine and some appetizers which take forever to come. In the meantime, my mother makes an appointment for a massage at the spa and I fend off mosquitos. When she has her massage, I nap, and after, we eat again on the patio, this time from the Asian menu. We noth have some sort of (different) noodle dish and both are very good. I think their Asian food may be better than the Western menu (no surprise there).
Mosquitos:
That night, I get eaten alive by mosquitos in the room. They attack my arms and hands which are outside the covers. My repellant must have worn off. I have dreams about Dengue Fever and Malaria which thankfully do not come true later. The mosquitos in the hotel are horrible. I don't know why as this is supposed to be the "dry" season with fewer mosquitos. In fact, last time we were here was in the "wet" season, July, and we were not bitten once. Ponheary's theory the more folliage a hotel has, the more mosquitos. Of course, her guest house has very few mosquitos, being all concrete block and plaster. Luxury hotels tend to have more greenery and this one even sits in front of a large park. We did see them spraying around the pool one morning, but I don't think they spray in the rooms.
In subsequent days we would see swarming hordes of mosquitos in the lobby, especially in the early mornings. This is why we would never open the doors to the balcony and every night after this one I would go on a mosquito killing rampage around the room before turning out the lights. Oh, and I never forgot the repellant again.