December 3, 2007
$1USD=33.56 Baht
Bangkok-Markets
Again we are up early, even after our long day with Tong, so we head out to a market I'd read about which is supposedly very active in the morning. We take the Express Boat a few stops north from the Si Phraya stop next to the Sheraton. The Si Phraya pier has a funny souvenir stand-slash-someone's living room on it. It's a place where you could book a klong tour, buy a postcard, or sit with the family who runs it and watch TV if you want. I do believe they sleep there at night and cook and shower in the alleyway alongside the hotel as well.
The market is called Pak Klong Talat and it's located alongside the Chao Phraya river, right next to the Memorial Bridge Pier (Tha Saphan Poot). It's primarily a wholesale market for fresh vegetables and flowers. To get there, get off the boat and walk under the bridge to the left and then straight ahead.
Because it's a wholesale market this means everything is sold in bulk and presented in huge wicker baskets like the chilies below.
We wander a bit, in search of breakfast. I'd really like a steaming bowl of noodle soup, but for some reason there's none to be found. I'm sure it's there, but can't see any.
In general, people seem to be very nice, smiling, not minding us farang taking pictures. We try hard to stay out of the way because even at 7AM, it appears that many are already closing up shop for the day. Hint: If you come here, make sure to wear closed shoes. It's wet and messy on the ground and if you wear sandals, you will regret it.
After a while, we're starving so Mom buys a piece of fried chicken from the guy below for 25 baht. The chicken is still hot, tastes good and is not too greasy.
In my notes I find mention of a walk listed in Frommer's that starts at Wat Prayoon which is right across the river from us. Supposedly there are turtles to be fed at this wat. Unfortunately, that's all I know because I can't find this walk listed online. We decide to go anyway, and armed with a map we head across the bridge on foot to find the wat. We have no problem find the wat, it's fighting traffic to get across the street that proves to be the problem.
Besides the sign with the Wat's name on it, we know we must be in the right place when we see the two giant statues of turtles at the front gate. We step inside and find ourselves in what looks to be a grotto, filled with niches, photos of the dead, and spirit houses. There is a pond with koi and turtles and many buddhas. It's a tranquil place and we spend a few moments wandering around. We exit onto the greater area of the Wat proper where there is a large white Chedi and lots of children on their way to school somewhere on the temple grounds.
We come across a stray dog who is clearly very sick. Someone has propped him up on the balustrade surrounding the chedi. He can barely hold himself up, but if he does not, he'll fall. I'm torn and it breaks my hard. Ultimately, I know not to touch an injured dog and pray that one of the monks will help him. We exit onto the street out a side gate and walk back to the bridge. Through the temple walls we can see a large cat kennel where there must be 50 or so cats in cages. I hope that this temple rescues stray animals and that's why the cats and the sick dog are there.
We head back across the bridge to the pier and take the Express boat back to the Oriental hotel stop. There's another market I want to see called Bang Rak market, but I'm not sure exactly where it is (other than that's it's close to the Oriental Hotel). We decide to make use of the hotel's concierge and restrooms, both of which are lovely. The concierge gives us a map and shows us how to get to the market.
The Bang Rak market is a very small, dark, covered market for locals to do their daily shopping. It has produce, meats (all unrefrigerated), a barber, clothing and small wares stalls. We were the only farang there with the exception of a group of 4 being led by a guide. I think this is the market they take you to when you do a cooking class at the Oriental Hotel.
At the back of the market is a man searing pig's legs (with the hooves still attached) with a blowtorch. I'm not exactly sure why. Perhaps to sear off any hair? Again, this is a place where you will want closed toe shoes.
In the center area are some cooked food vendors and finally, I find my soup! The couple running the stall are sweet, and when I point to the various meats available, they answer us with either the appropriate animal noise or a show us a small animal figurine. I order a soup with noodles and pork and it comes in a clear broth.
While we are eating it, the woman brings us another bowl, this one with a darker broth, thick rolled noodles, pieces of duck and other mystery meats in it. Both are very good. She then proceeds to bring us more little tidbits of meat and skin to put in the soup. She wants us to try everything. When we're done, I ask how much, holding my breath because once again we have eaten without asking the price first. She says "20 baht". She only wants payment for one bowl; the other was a gift. She has restored my faith in the kindness of street food vendors.
From here we go over to the Central World Plaza via sky train to see the temporary photography exhibit "9 days in the Kingdom" in honor of the King's 80th birthday. Apparently the King was an avid photographer himself. Who knew? The exhibit, now closed (sorry) was excellent and an enjoyable hour in a cool environment.
Next up is a multi-boat journey to get back to the hotel. We take sky train back to Taksin pier and the Peninsula boat across the river so I can buy David another Peninsula baseball cap (he wore out the last one). We miss the hourly Peninsula boat to River City by mere minutes so we take the Peninsula boat back to the Oriental pier where we go back into the hotel and wait 10 minutes for the Oriental's boat to River City.
By now we need a foot massage and we head over to the Gallery Cafe. But we only want a half hour foot massage and they look at us like we're crazy. Somehow, we don't want to spend 350 baht for an hour's foot massage (looking back, I'm not sure why). We end up on Si Phraya road (the road that runs to River City and the Sheraton) and go to a storefront massage place called "Happy Massage" (no, not that kind of "happy", get your mind out of the gutter). We still have to get a 1 hour massage, but here it's only 250 baht. After the massage, we are hungry again and across the street is a small restaurant serving, you guessed it, noodle soup! This one is also good, but the place does not have a name in English. It's on the left as you walk away from the river, about a block up.
For dinner, we go by taxi to a restaurant I'd read about called Taling Pling on Chowhound.com. It's located at 60 Pan Rd, off of Silom, around the corner from the Hindu temple and Soi 13. Phone #0-2234-4872. They do take reservations and the concierge made one for us. They are open for lunch and dinner.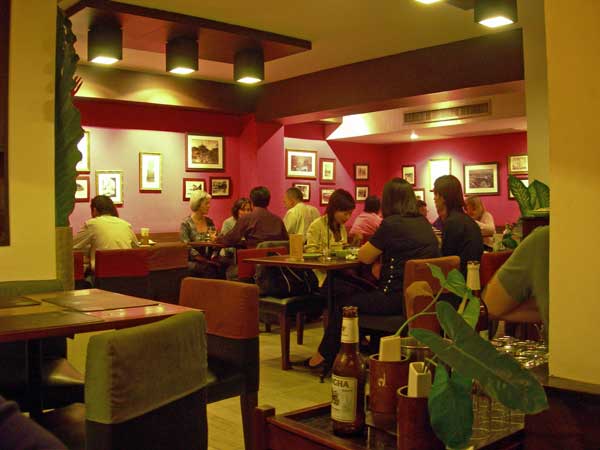 The restaurant has a cool, modern vibe and is filled with a good mix of foreign and locals, some of whom appear to be on "business" dinners. The menu is large and filled with photos of each dish. We order the old standby favorite red curry duck and an order of green chicken curry with roti. I've never seen green curry served with roti before this trip and now I see it everywhere. Mom has a glass of white wine and I have a beer. The check is 680 baht. After the meal, I'm not feeling well. I think the spicy food is starting to catch up with me. We walk down Silom to the old Holiday Inn Crown Plaza (where we stayed in 2000). It's now another hotel (can't remember the name) and we catch a cab there back to the Sheraton.