December 5, 2007
$1USD=$1USD (=4000 Riel)
Siem Reap
Angkor Wat
We're still waking up early due to the jet lag so my mother decides to go downstairs to try to get online in the lobby with her laptop. According to the hotel's web site, there is free wireless access for guests. She spends almost an hour down there and is unable to connect. She returns very frustrated and because it's so early, the people at the front desk cannot help, except to sell her a $3 pass code for an hour of access in the room. At least this works and she is temporarily appeased. She must connect with work each day lest she go into withdrawal.
We have breakfast in the hotel which is included in the room rate. The breakfast is fabulous. The breads of yesterday were just a preview of the morning's selection of freshly baked breads and pasties (love the chocolate croissant), fruit, cereals, eggs cooked to order, veggies and fruit juiced to order (a different blend each day), Asian choices, bacon, sausage, fresh yogurt, etc. It's really quite a spread.
We are ready for Ponheary at 8 AM and today she comes with a driver and a different car. We are headed to morning at Angkor Wat. Most people go in the afternoon because the temple faces West (therefore the sun sets behind it) but we are willing to forego the light in order to avoid some of the crowds.
Yet this is Siem Reap and there will be crowds. Throughout our stay Ponheary and I will constantly compare Siem Reap now to how it was when David and I were here in 2002. So much has changed and not all for the better. In 2002, they had 250,000 visitors. This year it will be 1.7 million. The building boom had just started in 2002, now it has run rampant. There are hundreds of new hotels and yet in high season, they are all full and there is need for more rooms to accommodate the demand. Ponheary is particularly vocal about the new influx of Korean tourists whom she says contribute nothing to the economy and who are loud, and unaware of their surroundings when touring the temples. She says they bring their own tour guides instead of using local, stay in Korean owned hotels, eat only in the hotels, and shop in Korean owed souvenir stores. She is much more complimentary to the Japanese who have started community schools, taught locals to speak Japanese and then hired them as tour guides and pay them well.
Anyway, back to Angkor Wat. There is much written already about this temple as it is certainly the most famous one here. It is Cambodia's icon; it's on the currency and it's the main tourist draw.
The temple of Angkor Wat was built in the first half of the 12th century by King Suryavarman II and was Hindu, dedicated to Shiva. The temple took almost 30 years to build and there are parts of it where the carvings were never completed. It is a mammoth complex, surrounded by a moat. I think it's like an onion, there are so many layers, every time you think you get to the center, there's more.
Unlike traditional Christian churches, or even Greek or Roman temples where you walk in the front door and you are inside, the ancient Khmer temples are different and this one is no exception.
We start by walking across the causeway with the moat on either side. There is a large building in front of us and it's easy to think, "oh, that's it!". No, it's not. It's just the entry tower building. This building is a long gallery with columns and apsara carvings.
Click here if you would like to see a video taken while standing on the causeway.
When we walk though it to the other side we come out to another causeway with vast green spaces on either side, and in front of us, another gigantic structure. But first we have to walk across to get to it. We pass smaller buildings to the right and left. These are ancient libraries. In front of the temple entrance is more water, large pools which reflect the temple at the right time of day.
Temple reflected in pool with lotus flowers.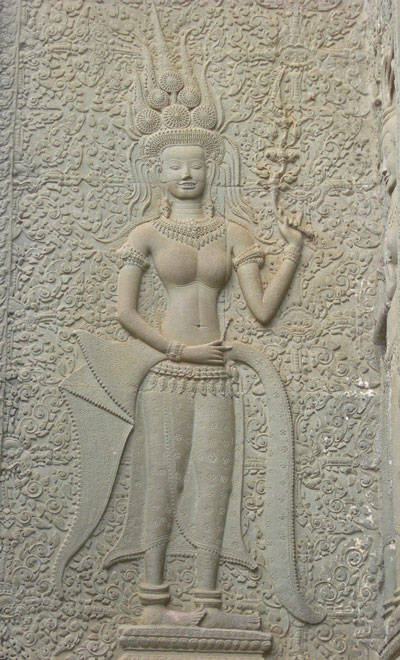 Apsara dancer carving. She is unique in that you can see her teeth in her smile.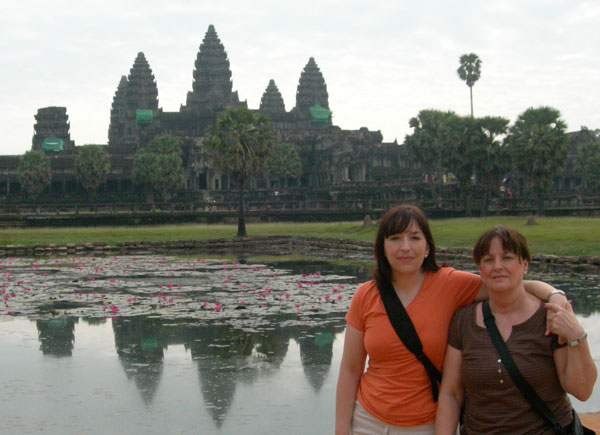 Us, in front of the pool.
Once across the second causeway, we are in the first level of the temple. There are more colonnades and what feel like miles of carvings on the walls. I can't even begin to go into details on the stories in the carvings here. We run into Ponheary's sister Marina who is guiding a French speaking Swiss woman. Marina primarily guides in French.
Through the entrance hall we come out into the first level below. We must climb those stairs to get to the second level.
This is up on the first level (above).
We walk up to the second level where I learn that we can no long climb up to the final top level of the temple. Ponheary explained that there are too many tourists now to allow this, to much damage is being done, and it's dangerous (a couple of people slipped and fell last year). I'm glad we were able to see it last time.
Click here if you would like to see video of the inner part of Angkor Wat.
After exiting the temple, we decide to make a restroom stop. There are brand new restrooms built in a house-like structure to the right of the grassy area (while facing the temple). There are western style toilets and they are free to pass holders. Very nice and quite a change from 5 years ago!
On the way back to the car, we find the a pass to the temples in the grass. The photo on it shows a white man. Ponheary goes ahead to try to find him or to give the pass to someone. Passes are not replaceable if lost. When my mom and I reach the entrance building, we see a man and woman frantically looking around on the ground while walking toward us. The guy looks like the one in the picture. I call out "excuse me, did you lose a pass?" He looks shocked. She says, "did you find it ?" We all find Ponheary and the guy gets his pass back. He seems embarrassed and does not say much. His wife says she will keep the pass in her bag for him from now on.
By this time it's only 11 AM so we decide to head into town to check out the old market and have some lunch. Ponheary and the driver drop us at the market and we agree to meet later at the hotel for more temples in the afternoon.
In the market, I'm on a quest to find another raw silk chinese-style top like I bought last time. I hope to buy a few more in addition to the many, many scarves I've already bought and plan to buy. I find the tops in a stall and the woman who run it is mute. She makes some sound, but does not really speak. However, she manages to drive a hard bargain and my mother and I have a difficult time getting the price down. We go back and forth with the calculator and finally come to an agreement on two tops and two scarves, all good quality silk, for $24. Please, no one chastise me for paying "too much". You did not meet this woman.
After that, we walk through the produce and meat part of the market. Once again, there is meat of all sorts out without refrigeration. I'm looking at the pig heads when I hear a low, pitiful, small "mew". I follow the crying and it's a teeny, tiny siamese kitten in a clothing stall. I don't see the mother anywhere. I don't see food. I try to talk to the girl in the stall, but she just shrugs at me. I have to rip myself away, it breaks my heart.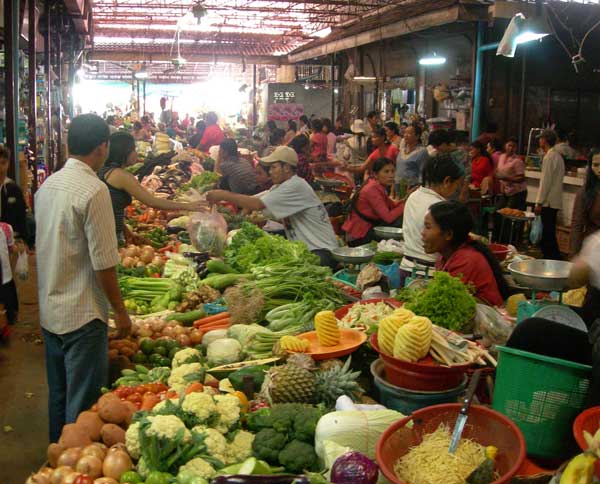 We have lunch at the Khmer Kitchen across the street from the old market. I know this place comes highly recommended, but I don't get it. Maybe we just chose the wrong items. We had possibly the worst fried spring rolls of my life. They were pasty and tasted like they'd been cooked yesterday and then micro waved. The chicken amok with rice was ok, but not special. It was cheap however, $4.20 for lunch.
However, the best part of lunch was that while waiting for food, we saw Lori Carlson from the plf.org pull up across the street on her bicycle. We call her over and she sits with us, telling us hilarious stories about being an American living in Siem Reap.
After lunch we take a tuk tuk back to the hotel ($2 anywhere) and rest before Ponheary comes back to get us.
Bayon Temple
Our first stop this afternoon is the Bayon temple which is Buddhist and built sometime in the 12th century about 100 years after Angkor Wat. The temple has 54 towers with over 200 giant faces on them. The faces all have these gorgeous serene smiles on them.
It's a bit crowded, but we manages to get some photos without people in them.
The stones have different colors due to the different types of stone used and the various molds and algae that's grown on them.
Don't you love her smile?
Elephant Terrace and the Leper King
From Bayon we drive over to the Elephant Terrace. This place is huge and almost 1000 feet in length. There are full size carvings of elephants running down the entire length of it.
Legend has it that the King would sit atop the terrace and watch processions pass by.
Monkeys!
Driving back to the hotel we encounter a large troop of monkeys by the side of the road. Of course, we have to stop and check them out. There are lots of little babies who are so cute tumbling and playing with each other but they're so fast I can't get a good picture.
For dinner that night we meet up again with Lori to discuss the foundation and what's going to happen with our donation. We go to a place on "Pub Street" called The Paper Tiger (but the name is actually in French and I don't know the translation) which is known for having good pizza. Indeed, they even have a wood burning pizza oven. We had a basic pizza margarita ($6) which was decent and a couple of drinks (Angkor beer on draft is only 75 cents). Pub street is now closed off to car traffic at both ends and as Lori says, they seem to have done something with all the beggars ("done something" as in moved them someplace else, not solved the problem). Still, it's a bit of a tourist oasis in that there are a multitude of tourist oriented restaurants to choose from without fear of being tasseled at your outdoor seat.
After dinner we take a tuk tuk (Lori rides her bike and beats us there!) over to the FCC to have a glass of wine. The FCC is a very "modern" style boutique hotel. According to Lori they have the fastest wifi access in town. We sit in the open air bar and have a carafe of Spanish red. It's a nice way to end the evening.
Tomorrow Bantey Srei, Knar school, and more!