December 1, 2007
$1USD=33.56 Baht
Bangkok
We arrive at the hotel around 7:45 our room is not ready yet, but we've been told that we're upgraded to a "preferred floor". We ask about a tower room and are told there's construction going on and the other room will be better.
We need coffee, so we go around the corner to the French Bakery across from River City. The coffee is horrible, but the mini croissants and pain au chocolate are fabulous. We still have time to wait, so we go upstairs to the business level on the hotel and are able to get online. There are free computers for hotel guests and wifi access if you bring your own.
At about 9AM we get into the room. It's on the 19th floor and has a northern view of the river. It's nice and we're happy it's free with Mom's SPG points.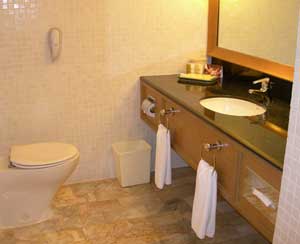 We shower and formulate a plan for the day. Mom wants to have glasses made and Tong's husband has an optician shop near Khao San Road. We take the Chao Praya Express boat from Si Praya pier to Prha Athitin Banglamphu. It's 13 baht each on the boat. From the boat, we pass Wat Arun, and it's a nice "Welcome to Bangkok" moment. Below is some video taken from the Chao Phraya Express Boat.
We get off the boat at Banglamphu and as we walk though the backpacker ghetto with its guesthouses, fisherman pant vendors, and shady travel agencies, I am glad I no longer feel I have to stay in that area. I think about how all the backpackers sneer at "tourists" staying in nice hotels and how "they don't see the real Thailand" and wonder how much of the "real" Thailand they see while buying bootleg CDs and eating banana pancakes on KSR. I am a bit nostalgic however when I overhear a girl tell a travel agent, "we're going to go get something to eat and then talk to our friends about where we want to go next". I do miss those carefree days where the most pressing decision was whether to go to Nepal or Vietnam (we chose Nepal).
Anyway, Tong's husband is very sweet and accommodating, but my mother can not find a pair of frames she likes at a price she wants. She finds a fabulous pair of Gucci frames but at 5200 baht just for the frames they are out of range for prescription sunglasses. I'm sure they are less expensive than they would be in the states, but she's not the type to spend that kind of $$ on sunglasses.
From the shop, we walk down to KSR, walk the length of it to Tanao Road. I am now on the quest for lunch at Chote Chitr. Fortunately, I have been before with David, so I know where we are going.
Along the way we stop and check out the goings on in little shops. One man is making crushed ice, feeding big blocks of ice into a shaver which dumps it into large woven plastic bags. This confirms I need to remember not to drink anything with crushed ice. Another man is running coconut meat through a shredder, I assume which will later be used to make fresh coconut milk (take freshly grated coconut, mix with water and squeeze the coconut).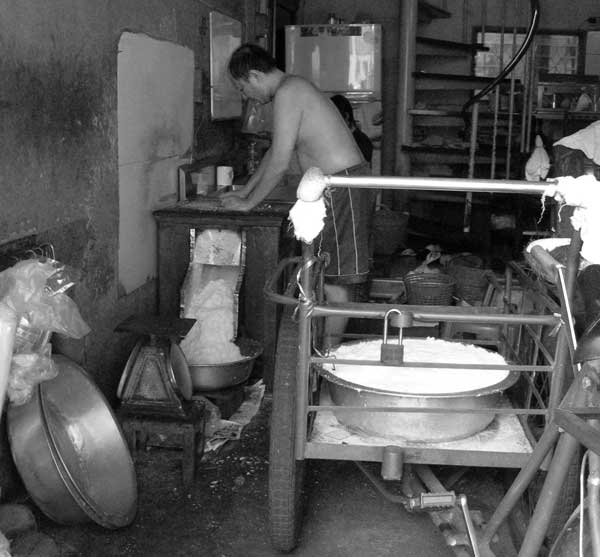 Coconut Man
At the Chinese temple we see vendors selling all sorts of offerings; boiled eggs, sweets, incense, slices of raw bacon (this is an odd one) and even caged birds to be let free. We step inside the temple and it's packed with people making offerings and lighting incense.
Birds to be set free.
Down a tiny alley we see some exotic looking roosters and walk down a bit to check them out. As usual, a man asks "where you from", but instead of trying to sell us something, he just launches into a long speech about his daughter who went to the US for 8 months to study in Houston after spending 2 years in Spain. She's now back in Thailand teaching Spanish. His English was very limited, but he was trying and it is obvious he is very proud of her.
We arrive at the tiny restaurant of Chote Chitr around noon. Only one of the five tables is occupied by a family of four. We take a seat, and Tim, the owner, comes out to greet us and ask us what we want. I tell her I was here last year with my husband and now I've brought back my mother. She does not offer us a menu, but instead suggests the restaurant's signature dishes; banana flower salad, mee krob, etc. and a new dish, a fish baked in red curry custard. I tell her I really want the eggplant dish I'd had and she frowns when I do not order the banana flower salad. We get the eggplant, the mee krob, and the special fish dish.
The eggplant is as good as I remember. It's smoky from roasting the eggplant, and tangy from the vinegar in the sauce. It's also a bit spicy and has sliced pork in it. The mee krob is just ok honestly; it's sticky-sweet and there are just a few bits of tofu and a couple of small shrimp mixed in. The fish in red curry arrives in little banana leaf boats, the red curry mixed with egg to thicken it, tons of fresh basil, and a few pieces of fish and then baked until firm. It's good, very spicy and a little fishy.
The three resident dogs are in attendance; two shitzu and a little Chihuahua who one of the restaurant workers puts up on a table for me to see. She's adorable.
The meal costs a total of 280 baht for the dishes above, and two cokes. I leave feeling a bit conflicted. It's very good, but I get the feeling that the owner does not like you to stray from her recommendations. She expects you to order the signature dishes the restaurant is known for. I later have this feeling confirmed by Tong who says she had been a few times with clients and the items they ordered which strayed from the "regular", including basic pad thai were not very good. Tong is not a fan. I know many people love this place, and I would still recommend it, but I don't if I will make it a regular stop every time I return to Bangkok. I would, however, return for the eggplant dish.
Spicy Roasted Eggplant with Pork
After lunch we decide to keep walking down toward Wat Po because I have not seen the Reclining Buddha since my last trip here with my Mom in 2000. While it's certainly a walkable distance, it's much farther than we expect. Don't let the maps fool you; a "block" is a long way here. Along the way I hit the jet-lag wall and begin the feel ill as I tend to do when overly tired. Still we press on, and what trip to Bangkok would be complete without a tuk-tuk driver telling you that where ever you are headed is "closed until 3PM"? We laugh him off knowing better, just as we see the signs a few steps later stating that the Wat is open from 8am-6pm every day.
We pay our 50b admission and go in to see the Buddha. He's a beautiful and serene as I remember. We admire his giant feet, inlayed with mother of pearl images. I give a small donation and pick up a cup of tiny coins to drop in the copper bowls long the back wall of the temple.
Me, donating coins in Wat Po.
After the Buddha, I am too tired to see anything else and we head back to the hotel on the Express boat.
We take a short rest, which is interrupted by construction being done on 27th floor. How is it we can hear the drilling so clearing down on the 19th floor? Remember, this is why we were supposedly not offered a tower room. On the other had, we can clearly hear the boat traffic up here as well which includes the whistles of the Express boat, long tail boat engines roaring, and at night, the loud music of the neon covered dinner party boats.
After the rest, we walk down the street from the hotel and go the the Gallery Cafe for a massage. It's 350 baht per hour for Thai massage and the setting is lovely and tranquil upstairs in teak covered rooms. The massage is good and painful at the same time.
We have no plans for dinner so we head over to the Suan Lung night market which is still in full swing despite the rumors of it's imminent closure. We bargain for a couple of scarves and eat not in the main "beer garden" food area but over in the smaller set of food stalls next to Metro entrance. My pad thai is ok, but Mom's duck with rice is only mediocre. We take the Metro and Skytrain back to catch the 10 pm last Sheraton boat back to the hotel.
Making Pad Thai.
A note about the Sheraton boat; It only runs every half hour, departing on the half hour to Taksin Pier so sometimes waiting for the boat can feel like an eternity. The Sheraton website says the last boat is at 9PM, but it's now 10 PM here. The trip takes about 10 min. While the Peninsula and Oriental boats seem to be more frequent, I like the seats on the Sheraton boat the best. Instead of teak chairs like the others, they are tufted semi-circle banquettes in deep red leather and are very comfortable. It was all I could do not to lay down and go to sleep on the trip back.