Day 2-Sunday
We get up early with the goal of going to the California Academy of Sciences for the day. The museum just re-opened in October to much fanfare and it reportedly extremely popular and busy. On Sundays, they don't open until 11 AM so we have plenty of time, we think, to have breakfast and get there.
First, breakfast. My research has lead me to a couple of recommendations from Chowhound in the area of the hotel. One, called the Beach Street Grill is only a couple of blocks away. According to what I read, everything is "made from scratch."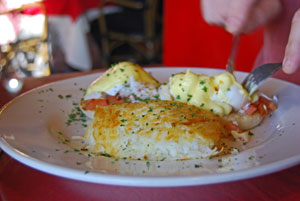 We walk outside and the streets are completely deserted. I guess that's what 8 AM on Sunday looks like here. Not a car to be seen. It's a little eery. We find the restaurant with no problem. It's a little diner-type place and we get a seat next to a sunny window. The coffee is Pete's and pretty good, though steep at $3 a cup for a "diner." The owner sets a plate of berry topped pancakes out on a table outside as a teaser to passers-by and it works; I order 2 pancakes, eggs and bacon ($9) and D orders the daily special, Crab Benedict ($14). It's certainly a good breakfast, but with tax in SF now at 9.5% and a tip, breakfast is almost $40. Ouch, we can't keep that up for long.
After breakfast, we walk up a block to the cable car turn-around and figure out how we're going to get to the museum. We need to take the cable car to the end of the line at Market St. and pick up the #5 bus which will take us to Golden Gate Park.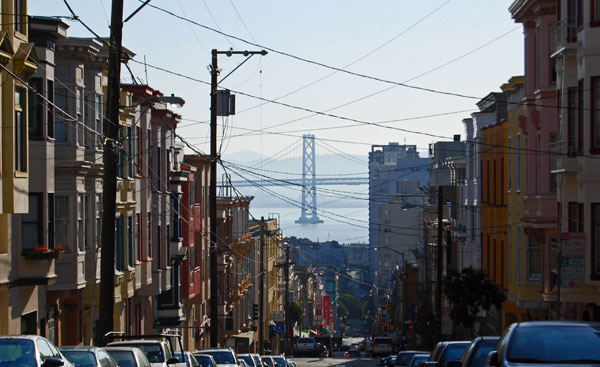 Views from the cable car. Love the windows on the building below.
We enjoy the cable car ride and I take a ton of photos from our seats on the outside bench. The bus trip isn't nearly as fun, but it gets us to the park, where we get off and walk inside to check out the Conservatory of Flowers because we are there so early.
The Conservatory is a glass and white domed wedding cake confection of a building. Entrance fee is $5 per person and to us, it's well worth it. The flowers are stunning and we spend a happy 30 minutes or so roaming the rooms looking at orchids, a neat toy train exhibit made from "found" objects and insect eating plants.
From there, we walk over to the museum which is only about 10 minutes away. The day is sunny and warm and because the streets of the park are closed to vehicles, it's filled with people walking, jogging, roller-blading and biking.
California Academy of Sciences: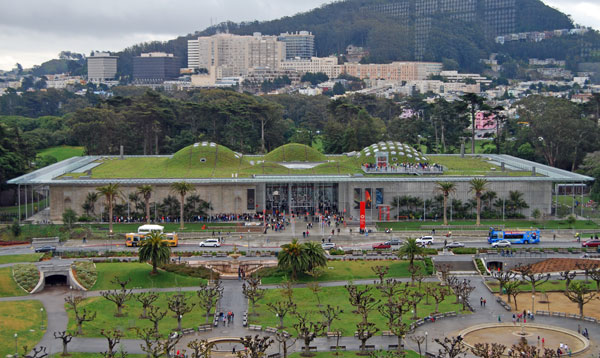 When we arrive, around 10:30, there is already a long line forming for people who have tickets.
Note; There are a few of ways to buy tickets, online before you arrive, at an automated kiosk close to the street, and at the ticket window near the entrance. D gets in line and I go to the window. With proof of using public transportation (like our MUNI Passes), we get $3 off each $24.99 admission. While we wait the half hour for opening, the line continues to grow and by 11 AM, there are hundreds of people in line.
The California Academy of Sciences touts itself as the only place on the planet where you can explore an aquarium, planetarium, rainforest biosphere, and natural history museum under one living roof. The entire facility focuses on sustainability trying to reduce the environmental impact where ever possible. Even the trash cans have 3 bins; recycle, compost and landfill.
One of the most popular exhibits is the Planetarium show for which you need a timed entry ticket. We go straight to another long line right after entering to get our show ticket. Later, when we pass by around 2 PM there was a sign stating all the tickets for the day had been given out, so make sure you get your ticket first thing.
While waiting for the Noon show, we walk around and check out the African hall, admiring the dioramas and the live penguin exhibit. There's a woman in a wet suit in with the penguins and at one point, she picks one up to move it over to another rock. The penguin fusses, tries to nip at her hand, but she talks to it gently and sets it down next to her. It then nuzzles her leg for attention like my cats do. Adorable!
More strolling brings us to the Pendulum which swings hypnotically, knocking down pegs set into the floor and a fascinating exhibit on Climate change in California. We also take a peek at the albino alligator in the swamp before getting in line for the Planetarium show. The show is fascinating and fun and lasts about half an hour. It really puts things in perspective and makes one feel that we are nothing but a small speck in the universe here on the third rock from the sun.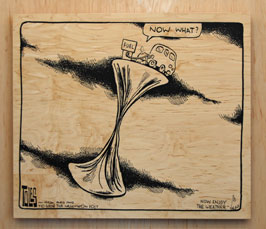 After the Planetarium show, we decide spur of the moment to see if we can get into the Moss Room for lunch. The restaurant is full and we don't have reservations, but a table for two opens up as we are standing there. There is also an cafeteria filled with interesting choices but D really wants a "nice meal" and we are on vacation, right? The restaurant is downstairs and a bit dark with the only natural light coming from windows topping a staircase on the far side of the room. There's a bar, a smallish dining room, and a glassed in room with a communal table.
Keeping with the "sustainable" theme of the museum, no bottled water is offered, just a carafe of water to fill our glasses. The wine list separates the wines by the glass into "organic", "sustainable" and "biodynamic" and I order a glass of organic Easton Zinfandel. D orders a Liberty Ale and we ponder the menu. For a starter, we share "country style pork terrine with house made pickles, fruit mostarda and frisee" ($11).
For my main I order "Duck Confit and Heirloom Chicory Salad with a poached farm egg, bacon and piment d' espellet" ($16). It's excellent and very satisfying with a perfectly poached egg, the smokiness of the bacon and yummy duck confit. D orders the "Moroccan Lamb Kefta with cous cous, cucumbers and yogurt" ($18). The Kefta is a lamb sausage which appears house-made and has great flavor. Happy and satisfied, we skip dessert and head back upstairs to explore more of the museum. Lunch for two before tax and tip was $58.
Next up is the Aquarium on the lower level and while interesting, it's so packed with people to the point where it's hard to see the exhibits. At one point, D bumps into a woman, and looks down to discover she's one of the teachers in his school! Small world...
Eager to escape the crowds we head back upstairs to see the Rainforest biosphere. We wait in line for a while, but it's very long and a museum worker tells us the wait will be at least 45 minutes. We decide to leave, consoling ourselves with the knowledge that we've been in real-life rain forests in Costa Rica and Australia. On the way out, we stop in the gift show and D buys a cool "enviro-battery" experiment for his classroom.
After leaving the museum, we take the bus back to market street where there is a huge line waiting to get back on the cable car. We decide to take a bus instead and start walking. But the street we're on is one way, opposite to the way we want to go. In the end, we just keep walking and end up walking back to the hotel, all the way through Chinatown and Little Italy.
Along the way in Little Italy, D makes us stop at every wine shop and liquor store we can find. He's looking for Amaro Lucano, a digestif we discovered last year in Rome and have been unable to find in the US. I even searched using my restaurant vendor contacts to no avail. Again, we are unlucky, most shop owners not selling any amaro, or even knowing what it is. However, we do discover a great gelato shop called Naia, where they make their gelato and sorbet fresh daily. It's on Columbus, about a block from Washington Square. Because we are so close, we also walk over to check out Liguria Bakery, well known for its foccacia. Of course, they are closed, but we now know where to go when we return tomorrow.
We finally make it back to the hotel and take a bit of a rest. Our plan for the evening is to go to SPQR which does not take reservations. It's over on Fillmore St. which is two bus rides from the hotel for us. But we're fortunate, and don't have to wait long for either one.
When we exit the bus, there's a liquor store across the street called D&M Wine and Liquor. I ask D if he wants to go across the street and check for the Lucano. I say, "it will only take 30 seconds because they won't have it anyway." We walk in and D says, "I'm looking for this really rare liquor called Amaro Lucano..." The owner says, "your search is over my friend!". Hallelujah!
We buy 2 bottles, one for us, one for our friend T. who will be joining us tomorrow and who also fell in love with Lucano when we were all in Rome together. D is elated and I'm just relieved we can stop looking in every Liquor store we pass.
SPQR
We walk down the street a couple of blocks to SPQR. The restaurant is full, but the host tells us there are two seats at the "chef's counter" in the back and asks if we'd like to sit there. Would we? Of course!
The restaurant is a narrow space, filled with small tables, close together. There is a short bar in the middle with seating and another bar along the kitchen's hot line near the back which is where we sit. It's dimly lit where we're sitting, so I'm not really able to take photos.
Our server is a wonderful woman named Natasha whose passion and knowledge of the food and wine absolutely enhances our meal. We tell her our story about finding the Lucano and amazingly, she is familiar with it and excited to learn where she could buy a bottle. Again, no bottled water is offered, just a nice looking small carafe placed on the bar. This is something I notice in every restaurant in San Francisco and I wish we would follow the trend in Los Angeles.
Natasha walks us through the wines by the glass list which is lengthy and 100% Italian. I'm shocked that I only recognize a few of the wine producers; there are a lot of unusual selections. Almost everything is offered in s 3oz taste, full glass and 375ml carafe. D opts to start with the Ferrari Brut Rose and I get the Calabrian Wine Flight which is 4 2oz pours, 2 white, 2 red for $15. D later gets a glass of Campanian red to go with the rest of his meal.
The menu is small, but packed with interesting choices. It's set up with an "Antipasti" page divided into three sections (Cold, Hot, and Fried). All choices are $8 each or 3 for $21. We chose one from each section; Tuna conserva with puntarelle, garlic, anchovy and mojama (cold), Jones Farm Rabbit with carrots, frisee, mustard and pancetta (hot), and Brussels Sprouts with garlic, parsley, capers and lemon (fried). They were all good, but the rabbit salad was my favorite. In general, I don't like brussels sprouts, but cooked this way, crispy with a ton of fried garlic and lemon, what's not to love? I'd even order them again.
Every month, the menu celebrates the food of a different region of Italy. This month was Calabria, as evidenced by my wine flight and the rabbit dish. All of the pastas are made in house so we each order one. I have the Amatriciana and D orders the Carbonara. My pasta is very good, but D's dish is the star of the night. It could not have been more perfect.
While waiting for our dishes to arrive, sitting at the the chef's bar gives us the opportunity to watch the cooks in action. There's the sous chef, standing on the outside of the line calling the orders and pick-ups. There's the young woman working the fryer and cold plates. There are two guys cooking the pastas and hot dishes and everyone is sharing a space about 8 feet long. I am impressed by how calm and organized they all are given how busy the restaurant is. There's no shouting, no missed orders, only one extra plate made by mistake. One of the guys is also training a newbie; the young kid is hesitant and unsure, but the trainer is patient. I'm also surprised they are all dressed in street clothes; t-shirts, jeans, lots of tattoos and a white apron seem to be the standard uniform. But the food coming out of the little space is impressive.
For dessert, D orders a little grapefruit sorbet and we call it a night. Dinner for two (apps, pastas, wines, sorbet) before tax and tip is around $90. We take the bus back toward the hotel and four loud teenagers get on, obviously drunk. The bus driver goes about two blocks and then pulls over and kicks them off the bus. The passengers applaud. Our second bus is not running so we have to walk about 10 blocks back to the hotel.