Saturday morning we have an early flight out of Burbank on Southwest to Oakland. The flight is uneventful and not full. We arrive a couple of minutes early and are out catching the AirBart bus from the airport to the BART Colosseum stop in a matter of minutes.
The bus is $3 per person and you need exact change (pay on the bus). The trip is about 15 minutes to the BART station.

Once in the station, we buy tickets from the machines on the wall using a credit card. I find the machines to be initially a little confusing. You have to know exactly how much the ticket to your destination costs, and then adjust the price down to meet it. So, I swipe the card and it says it is going to charge me $20. Really? Why? I push the button for two tickets. Ok, now it wants to give me two $10 tickets. Then I have to adjust the price down to $3.55 each using the $1 and 5 cent buttons. Not exactly user-friendly, but we get the tickets and go upstairs to the platform.

Before we left home, I'd printed out directions from the MUNI web site and it said to take the "Freemont/Daly City" line to Embarcadero. All right. Unfortunately, we get on the "Freemont" train and then figure out it's going in the wrong direction. Needless to say, my husband "D" is not very happy with me because he'd said this might be the case, but neither of us are certain before we get on the train. We get off at the next stop and have to go down, around and up to get to the other side to take the next train back.

Finally, after about 1/2 an hour, we're at the Embarcadero stop. I want to buy MUNI passes, and I'd read I could buy them there, but that wasn't so, at least not on that day. So we get on the F tram ($1.50 each) and take it up to Fisherman's Wharf and walk the couple blocks to our hotel.

Sheraton Fisherman's Wharf
I booked this hotel a couple of months ago when I'd read about a special on Travel Zoo. The room was $109 per night, with tax, $125 which I thought was a good deal for the week before Easter. I read they had just finished a multi-million dollar remodel and the location seemed good, so why not? Plus, I'm a Starwood Preferred Guest, so I figured I'd get points and hopefully a decent room.
Normally, I would try Priceline, but we wanted to stay in the same hotel as our friends and we could not guarantee that with Priceline because they would be arriving two days later than us.

Because we'd arrived so early in the day, people are still checking out and the desk clerk has a hard time finding a room ready for us. Finally he does, up on the 4th floor (the top) and says it's an SPG room.

The Good:
The hotel is in a good location in that it's right by the wharf, walking distance from Little Italy, and on the F tram/bus line. There are also numerous bus lines close by and a cable car terminus within a few blocks.
Across the street is a Wallgreens, a Safeway, a small mall between the two and a Trader Joe's a block away.
The room is a decent size with a King bed, large flat screen TV and a sofa. There is a safe large enough for my small laptop in the closet and they offer free WiFi in the lobby.

The Bad:
None of the rooms have a view; "We don't sell our views" said the guy behind the front desk. Some of the Starwood properties have "heavenly beds". This one absolutely did not. Given the remodel, I thought the mattress would be new and/or more comfortable. I don't think it was either. The bathrooms are minuscule. It was hard to close the door to the shower/toilet room while standing in it. The rooms don't have minibars/refrigerators.
Finally, I have no idea what made our room an "SPG" room because there didn't seem to be anything different or special about it.

Would I stay here again? Probably not. It wasn't horrible, but I think I'd try to get something better on Priceline next time.

After dropping our stuff in the room, we head out to the Cable car turnaround at Taylor and Bay where there is a MUNI ticket office. I'd planned on buying a 3 day pass for $18, but after a little consideration, we figure out that the 7 day pass would be a better value at $24 because we'd actually get 5 days use out of it. We also buy the $3 transit map which was a lifesaver more than once.

Turning the Cable Car

From there, we walk back down to Beach street to catch the F tram. Instead, a bus comes and we get on it with our new passes in hand. The driver scratches off the first day on our pass and tells us to scratch off the rest, clearly frustrated by us clueless tourists. The bus seems to take longer than the tram and make more stops but eventually we make it to Ferry Plaza where the Saturday Farmer's Market is in full swing.
Ferry Building Saturday Farmer's Market ~one of the best pork sandwiches ever..
The weather is glorious, sunny and almost hot. There are dozens of stands selling beautiful produce and all sorts of other food products. By now I'm really wishing we had a refrigerator in the room so we could buy some cheese, bread and other goodies for later.

I make note of a stand with a huge rotisserie selling whole chickens and rolled, roasted pork. Like the markets in Paris, they also sell roasted potatoes. But the thing everyone seems to be buying is a Porchetta Sandwich and the line is about 40 people long.
We wander the market for a while, checking out all the stalls and end up back at the rotisserie stand. D gets in line and I go back to a smoked fish seller to get the open faced smoked salmon sandwich he wants. It's called "Cap'n Mike's San Francisco Lox Sandwich" and comes with northwest style red lox, shaved Fennel, pickled onions and roasted peppers with horseradish cream. It's beautiful, but for $10, a bit steep in price.

Back at the RoliRoti truck, D is about 7th in line now. I watch the vendor take the huge roll of pork off the spit and start slicing it. I know what I want. The sandwich is a thing of beauty; a large mound or freshly roasted herbed pork with caramelized onions and peppercress on a ciabatta roll. It's huge and at $8.50, a great value. But even better is the taste; the mix of the meaty, moist pork, with bits of the crispy roasted exterior, the sweetness of the onions and the peppercress is fantastic and it's all we can do not to buy another.
The couple sitting next to us is enjoying one as well along with some pieces of roasted lamb they were selling that day.
We chat with them for a while, get some restaurant recommendations and they nicely offer to take our picture.
They recommend Blue Bottle Coffee inside the Ferry Building.


Us, in front of the RoliRoti truck.
After stuffing ourselves outside, we finally head inside to check out the shops and restaurants. It's a lovely building, nicely renovated, filled with all manner of food shops, stores selling house wares, and restaurants. The interior is flooded with natural light from huge windows and skylights above. We make note of the Hog Island Oyster Co. and plan to come back Monday for Happy Hour.
As if we haven't had enough pork already, we come across a shop called Boccalone with the byline "Tasty Salted Pig Parts". Now that's my kinda shop! They sell all sorts of cured meats and even sell something called a "meat cone".
This is a little paper cone filled with sliced to order mixed salami, prosciutto and porchetta for $3.50. Of course, D has to have one. After that, it's off to Blue Bottle for an iced latte which is excellent.
We wander a bit more, check out the other stalls across from the Ferry Building (lots of "crafts") and play around a bit in the huge fountain across the street. This fountain is so big, it has pathways underneath falling spouts of water, like walking under a waterfall.

Herman Plaza, across from the Ferry Building
We take the F tram back to the hotel for a little rest, waiting for a brief meet-up with D's sister, husband and their son.

A note about the trams; they are really cool, vintage trams from all over the world. Some have the original wooden seats and some, like the ones from Milan, still have signs in Italian. We loved taking them.
Afternoon and Evening Day 1:
Later in the afternoon we meet up with the family and take a walk around Fisherman's Wharf. First stop is to see the sea lions at the end of Pier 39. Our 3 year old nephew is enthralled by the barking and swimming creatures.
From there, we walk along the wharf and stop and check out the submarine from the outside. We also spend some time in the "Mechanical Museum" right next to the submarine. This place has "penny arcade" games from the 1800's to present day. There's everything from scary mechanized fortune telling ladies, to moving pictures of the 1906 quake, to pinball machines and video arcade games.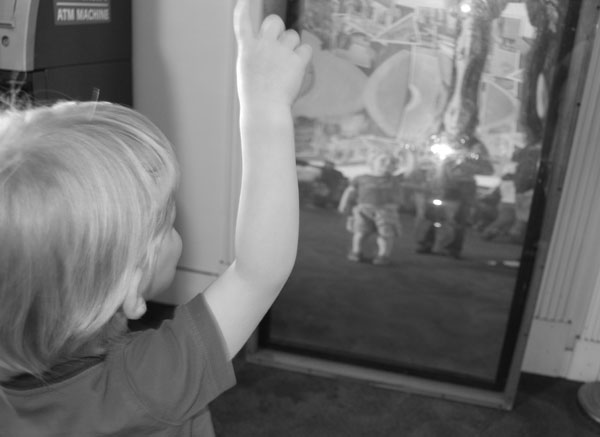 Starting to run low on time, we head for Ghirardelli square for some ice cream. Unfortunately, we have to take our leave before we get any because we have dinner plans with D's aunt. A hurried walk brings us back to the hotel with just enough time to change for dinner and meet D's aunt and friend downstairs.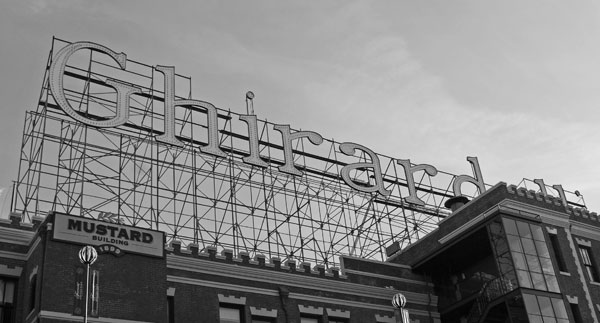 D's Aunt takes us to a Vietnamese restaurant called Aux Delices. The neighborhood, (which I think is Nob Hill) has lots of shops and restaurants. We order a bottle of wine and chat about the family for a couple of hours. For dinner, we have a sampler platter with vegetarian spring rolls, pork and chicken wraps and another type of pork spring roll. We also have a very spicy mango salad to start. For our main plates we have a curry dish with tofu and vegetables, glass noodles with crab and shrimp and "sticky, crispy, garlic chicken" which is the best dish of the bunch. Many thanks to D's aunt for treating us to dinner.
Across the street from the restaurant is a little cafe called Loving Cup which sells coffees, four or five flavors of home made organic rice puddings and organic hand churned frozen yogurt.
I try the chocolate fro-yo and it's very good. D has lemon vanilla rice pudding and it's excellent.