This morning, still not feeling well, I tried to take it easy but also wanted to see some of Lyon. After breakfast, we walked with Tracy over to the outdoor market that borders the Soane river on the Quai St. Antoine. Weekdays it's relatively small, only about 3 blocks long. But on weekends, it apparently swells to at least double. Tracy left us to go to work for a while and we walked across the river to check out some of the sights in the old town.

First we went inside the Cathedral St Jean. This church was built between the 12th and 14th centuries. The front faces away from the river and into a tiny, quiet plaza were we sat for a few minutes and contemplated the lovely facade. Inside, there's a fascinating astronomical clock which shows religious feast days until 2019. I've never seen anything like it.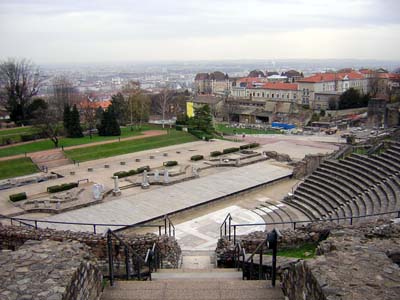 This is a couture dress made of lobster shells, lentils, and tuille. The pieces of lobster tails look like petals and the laquered lentils looked like little pebbles. This was in a shop window around the corner from Tracey's apartment.