Wednesday March 19, 2008
1:45 AM
CRASH! BANG! BOOM!
David jumps up and runs to the window in our room.
"What was that?" I say.
"An explosion!" he says.
I hurry out into the livingroom with the thought of turning on the TV or looking out the front window. We go to the window in front and can't see anything. My heart in pounding so hard in my chest, I'm certain David can hear it.
Just then, FLASH! BANG!
I'm certain we're going to die.
But it's only lightning, followed by the loudest thunder I've ever heard. Then more lightening which hits one of the buildings next to us, or somewhere close by because all the lights go out the the buildings across the way. This also brings the girls out of their room and we all stand there for a moment completely bewildered.
Finally it sinks in that it's raining and this is a massive thunder and lightning storm sitting right over our heads. There is no time between flashes of lightening and the thunder for about half an hour. We all go back to bed, praying the lightening does not hit us.
Can we find our way?
Today is our day trip to Orvieto and we have reservations to pick up a car reserved through AutoEurope at the Villa Borghese parking structure which we know from previous experience is underground, underneath the park.
I have a print out from the Rome city transportation website which shows we need to take the 116 electric bus up to the Borghese Park. It even tells us which stop to get off at. So this should be easy, right? I also know we have to buy bus tickets before we get on the bus.
We're out of the apartment early, but later than we want to be due to lack of sleep. No time for breakfast or coffee. First, we go to the news stand about a block from the apartment and they don't sell bus tickets. Two blocks in the other direction and we find a Tabachi who does. Armed with the map, we actually find the right bus stop and we are in luck, there is a bus coming when we walk up. On board, we fumble a bit, trying to validate our tickets in the machine which sells them instead of the validation machine behind it. Finally, a kind local takes pity on us and shows us what to do. It's nice to know the "tourist bus" has a machine which sells tickets onboard for all us dumb tourists! Doh! We file this info away for future use (the machine only takes coins by the way). I believe only the small electric busses have this machine.
I'm so proud of myself and my planning until we get off the bus in the park in the middle of freaking nowhere. Yes, there's the "street" where the rental place should be, but we are literally on top of it, with no clear way to figure out how to get underground from where we are.
Every trip must have a moment like this, a comedy of errors where you wander in circles saying , "I know it's here somewhere".
Twice we ask a young man in a snack kiosk for directions.
Finally, we end up walking down a ramp for motorbikes and wandering inside the enormous parking structure. We figure out we have to go down one more level and go down some stairs which lock the doors once you are inside. We had to crawl through a mesh gate to get out. After what seems like years and with everyone is starting to get cranky, we find the car rental office.
Ask me now how to get there now and I still could not tell you.
The rental process goes smoothly, $97 pre-paid for a Fiat Punto 4-door with only 5000 k. on it. We're asked for David's passport and he hasn't brought it. Fortunately, this does not derail the day and the guy lets us have the car with a credit card and his CA driver's license. By now, all of us need another stop on the Bathrooms of the World Tour. Of course, there is nothing at the AutoEuropa office, we have to go clear across the garage to where there is an an entrance to a shopping mall and supposedly a bathroom, only we can't find it. Finally we find it, and of course, there's no toilet paper in any of the stalls. I tell the girls "Wait here!" and run down the stairs into a coffee bar where I grab some napkins and get a dirty look from the barrista. Hey, a girl's gotta do what she's gotta do!
"Two for you, and two for you, and two for me".
Once we are in the car, David drives, I navigate. We don't have a decent map, only the one the rental place gave us with directions out of town. Looks easy too. Yeah, you can guess what happens next. We somehow miss a turn on our way out of the park and end up spending 45 minutes trying to find out way back. They say "all roads lead to Rome", but whoever "they" are didn't have a clue about getting out of Rome.
Finally, we are on our way and out on the autostrada. Before we can even hit the toll road, we stop at an Autogrill we we have cappuccinos and grilled panini. It's been a long morning already and we did not have any breakfast before we left the apartment. In the autogrill I also buy a really good road map for Lazio in the hopes that we will be able to stop in some of the other small towns I wanted to see on our way back.
An aside: I love Italian AutoGrills. What is an Autogrill? Think big truck stop, but instead of fast food, you've got at least a bar where you can order good coffee and grilled sandwiches. Some are even bigger with full scale cafeterias inside with decent affordable food. The mini-markets in them have a better cheese and meat selection than your local Whole Foods (only a slight exaggeration). The restrooms are clean and some have showers. I believe if we had these on our highways in the US, we'd have less road rage.
This Autogrill is so big it spans the highway. We stopped there on the way home. (Photo by Tris).
Orvieto
By the time we arrive in Orvieto, it's almost noon. We park down at the bottom of the hill and take the funicular up, catching the waiting shuttle bus to the Piazza del Duomo. It necessary to buy a ticket for the funicular/shuttle and this can be done in the office at the car park. Parking is free.
Once in the piazza, we go the the tourist office, pick up some maps and get directions to one of the restaurant recommendations I have for lunch.
Wild boar is one of the traditional, popular foods of Umbria, the region of Orvieto. At right, I caught David just as he was saying hello to his new little friend.
Trattoria Dell Orso
We meander though the streets, checking out some of the little shops, most of which are closing for lunch time. We arrive at Trattoria Dell Orso around 1 PM and decide we better stop for lunch now or risk missing it all together.
We are determined to make this a lighter lunch than normal. I order faro with vegetables (a type of thick barley soup). J and D order fresh fettuccine with mushrooms and truffles and T orders Fillete with a balsamic sauce. We get a half carafe of house red and a half carafe of house white and a bottle of water. The faro is very good, but the pasta is spectacular.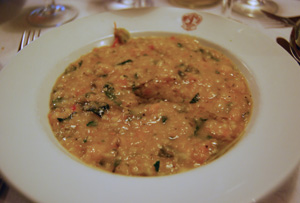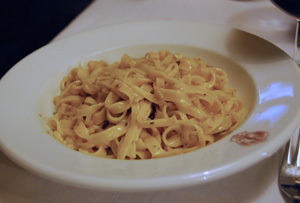 It's so good D and J order a third plate of it to share. After lunch we order a couple coffees, a lemoncello and an Amaro Montenegro. Both the drinks end up "on the house".
We spend a good deal of time talking to Ciro who runs the front of house and his partner Gabriele who is the chef. They both speak English well and have spent time in LA because Gabriele's sister lives in Santa Monica. They were both incredibly friendly and gracious. Lunch for four was 80. Thanks for buying, Jess!
Antica Trattoria dell Orso-Via della Misericordia 18-20, Tel: 07 63 341642, closed Mondays and Tuesdays.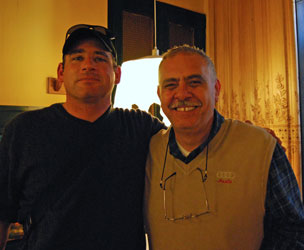 Left, David and Ciro. Right, outside of Trattoria dell Orso

Photo above right by Tris.
After lunch we walk around some more, spending time in the small church and looking at the views.
David decides he wants to find a famous well he's been told we have to see and the girls want to go souvenir shopping. I am outnumbered and realize my best laid plans are about to go awry. I must bow to Golden Rule #5 and "roll with it". I'm not going to see my other "cute towns" today. Oh well.
I don't have the patience to shop in every little store, so I set off with David to go find this well which is at the bottom of town near the top of the funicular. We agree to meet up with J and T at 5:40.
This photo reminds me of one I took in Sicily...
Before we separate, we do get a chance to go inside the famous Duomo which has reopened and is preparing for afternoon mass.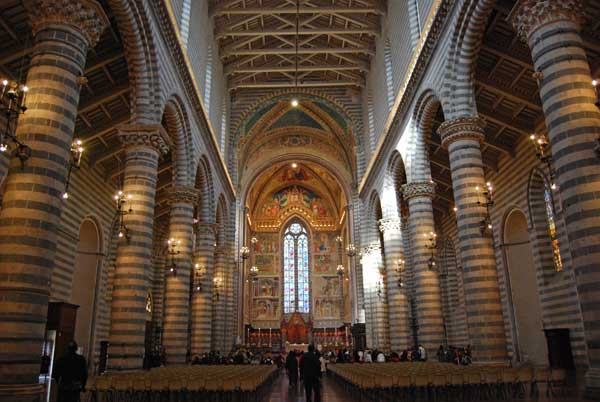 Pozzo di San Patrizio
David and I walk down to the "Pozzo di San Patrizio" which is also known as St Patrick's well. This is no ordinary well; it's gigantic and has a double helix staircase. One for ascending one for descending. It's 150 feet deep and almost 40 feet wide.
Donkeys were used to carry water up one set of stairs while others went down the other. There is a bridge to cross over to the other stairs at the bottom. Of course, we had to go down all 248 steps and back up the other 248. Like most things built in the 1500's, the steps are wide, shallow and uneven; perfect for pack animals, not so easy for humans. Entrance fee was 4.5 euros. Considering this was my third time in Orvieto and I've yet to see anything other than the Duomo, it was certainly interesting.

Photo by David.
While waiting for J and T, we investigated the fortification and little park next to the top of the funicular station. it's possible to climb up to the top ramparts and the view of the surrounding countryside is spectacular.
At this point it's almost 6PM so we decide the best thing to do is head back to Rome so we can return the car. Technically, we could keep it until tomorrow morning, but that would mean finding a place to park it safely and potentially getting a ticket for driving in the restricted historical center. One of the reasons I chose the Villa Borghese rental location is because they are open late (9:30 PM) and I prefer to have a human check the car back in, rather than just drop the keys.
The drive back was uneventful other than the stop at the huge AutoGrill which spanned over the highway for a coffee to keep David awake. The woman at the cash register yells at me for not knowing the name of my panini (one must pay first, telling the person at the register what you want and then bring the ticket to the bar). Oh yeah, and then there are the prostitutes on the highway from the ring road to the center of Rome. How do I put this delicately? Let's just say they were shockingly underdressed for the weather and I am surprised there weren't dozens of car accidents caused by "looky-loo" drivers. These girls are not shy.
After dropping off the car, we walked out of the garage and tried to find the bus stop again. We ended up walking quite a distance, but eventually found a stop way outside the park down on the Via Veneto (I think, it was late...).
Enoteca il Goccetto
It was late, so instead of dinner we chose to check out some wine bars. Our plan was to go to a few, but we ended up staying at one just around the corner from the apartment.
Enoteca il Goccetto is a tiny little place with a nice wine by the glass list on a chalkboard behind the counter. I think we had almost everything on it. They also have some light snacks; meats, cheeses, marinated vegetables, etc. There are maybe 10 small tables and the walls are lined floor to ceiling with bottles of wine.
We each start with a different glass of wine:
K: Badiola, 2005 Mazzai (4 euro)
D: Barolo, 1993 Poderi Colla (10 euro!)
J: Pinot Grigio 2006 Rittata (4 euro and her favorite wine of the trip!)
T: Gati Franciacorta Brut (6 euro)
The first four wines (photo by Jessica)
When we say we want to get some food to go with the guy behind the counter suggests he make us up a meat and cheese platter. What we get is a big wooden platter covered in prosciutto, salami, mortadella, spicy salami, gorgonzola, brie, truffled goat cheese and peccorino. We have no idea what it's going to cost and later take bets. Jessica comes closest as it turns out to be 25 euro.

Next, we get some artichokes, stuffed peppers (some with tuna, others with anchovies) and a diced tomato dish along with the second round of wine:
K: Dolcetto 2006 Dogliani (4 euro)
D: Crognolio 2004 Toscana (7 euro)
J: Segreta 2006 Planeta (3 euro)
T:Bruno Giacosa Spumante (4 euro)
Of course, we all get to taste each other's wine and Tris writes down all the wine in her little wine notebook, complete with a drop of each wine on the page. All together, wine and food for 4 was 81.50 euro. Enoteca il Goccetto (Via dei Bianchi Vecchi, 14, Tel:06 6864268)